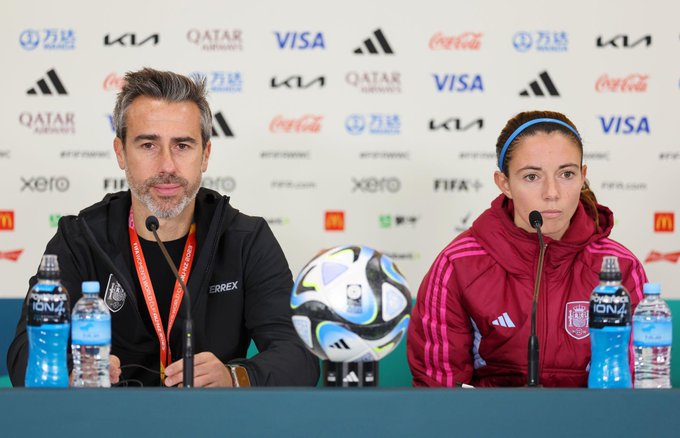 Spain advances into the semi-finals of the FIFA Women's World Cup for the first time in their history with a scar. And not just any knee scab or band-aid bruise but rather a darker, deeper internal tear. A metaphorical win on paper but a literal loss on honor, morals and values.
Set the scene. Not once upon a time but perhaps once upon a sunny Saturday afternoon in Wellington, New Zealand. Las Rojas of the Spanish Women's National Team chose to wear red kits on this occasion, a symbolic color of passion and pain. The cost of getting here consisted of real blood, sweat, and tears; not to forget to mention meeting their obligated opponents the Netherlands in the quarterfinals, who placed second to World Cup glory in 2019 and famished for fame once again. 
Sensation Salma Paralluelo (FC Barcelona) was substituted on in the 71st minute, only being 19 years of age with fervor and fire. In the 74th minute, her cross led to a handball by Stefanie van der Gragt (ex-FC Barcelona) in the box resulting in a spot kick for Spain. Mariona Caldentey (FC Barcelona) converted the penalty with ease, knocking it down almost perfectly past Dutch goalkeeper Daphne van Damselaar (Aston Villa FC). The score being 1-0, Paralluelo was also present on the pitch as her toiling teammates desperately tried to defend but Stefanie van der Gragt redeemed herself and the Netherlands equalized in the 93rd minute. Tie game at 1-1. If no winner, extra time. And if there is no tie break after extra time, penalty shootout. If one has been following along for the month of the World Cup or is an avid football fan, they would know this tournament has seen more than enough of penalty shootouts. Call it luck, call it Paralluelo's solo speed and spacing, but whatever it was ended up being the difference between the two teams as the pacy winger executed a composed finish in the 111th minute. Not only was this the latest winner scored in FIFA Women's World Cup history but it also made Paralluelo the youngest ever goalscorer for Spain at the big stage. Note to opponents: do not leave her alone. 2-1, final whistle blows. A dream conclusion, right? But this isn't a fairytale, this is reality, as told by football.
Heading into the round of 16, Spain sought to redeem the embarrassment from a 4-0 loss against jovial Japan in their last group stage match. Also in the round of 16, starting goalkeeper Misa Rodriguez (Real Madrid) had been benched for the entirety of the match vs Switzerland in favor of FC Barcelona's backup Cata Coll. Coll conceded one goal by means of friendly fire caused by a miscommunicated pass from Laia Codina (also FC Barcelona). Despite this lineup laceration along with a change in captaincy, Spain breezed past Switzerland like a boring day off. Yet, with this progression and then placing inaugurally into the semi-finals of the World Cup, there is a big white elephant in the room of all reds with Las Rojas.
We can assume goalkeeper Misa Rodriguez is no longer head coach Jorge Vilda's number one choice in goal, as she will most likely not start against Sweden in the semi-final, despite protecting in between the posts at the beginning of the tournament. Then again, fifteen Spanish players back in September of 2022 were not part of Jorge Vilda's selection either. We have mentioned the stars above, but we have not taken a seat with staff. Jorge Vilda has been in his current position as head coach of the Spanish Women's Senior Football Team since 2015 when he was appointed by the RFEF (Royal Spanish Football Federation). During this period, Spain has seen some of the most magnificent and majestic talent rise up the ranks, including 2x Ballon d'Or winner Alexia Putellas and 2x UEFA Women's Champions League winner Aitana Bonmatí, both of FC Barcelona. Not to forget Spain's all-time leading goalscorer and former Culer Jennifer Hermoso (Pachucha) as well as Spain's notorious reputation for winning international youth competitions such as the U-20 Women's World Cup and U-19 Women's EURO in 2022 and 2023, respectively. These women are born and bred with a ball at their feet, football is their excellence. So in this time frame of nearly 10 years, if given the tools to assemble the Avengers, a dream team at the highest level, why do the results equate to zero major international trophies and a FIFA ranking of only #6 in the world?
"Incompetence" is how fifteen senior players described Vilda in a joint statement back in September 2022. The 'Las 15' [Ainhoa Vicente Moraza, Patri Guijarro, Leila Ouahabi, Lucia Garcia, Mapi León, Ona Batlle, Laia Aleixandri, Claudia Pina, Aitana Bonmatí, Andrea Pereira, Mariona Caldentey, Sandra Paños, Lola Gallardo, Nerea Eizaguirre & Amaius Sarriegi] came together in mutiny to voice their complaints and valid concerns, posted in their mother tongue on social media to the public regarding previous sent emails to the Royal Spanish Football Federation about needing a change to be made, or the collective fifteen would resign. According to an article from GOAL.com, "The emails of resignation that were sent by the players referred to recent events within the Spanish team that 'significantly' impacted the players' 'emotional state' and 'health.' A number of senior figures in the group had previously made it known that they felt a fresh start was required for the team following the UEFA Women's EURO 2022, at which Spain were knocked out at the quarter-final stage by eventual winners England." [https://www.goal.com/en/news/explained-spain-womens-team-mutiny-why-players-resigned/blt64e6bb94121c2d5]  
The work environment which Vilda had created was not healthy, and his emotional abuse hinted. According to another article from The New York Times, "The federation said it had received 15 identically worded emails from 15 women in which they state that the current situation affects 'significantly' their emotional state and their health and that, 'as long as it is not reversed,' they resign from the Spanish national team." [https://www.nytimes.com/2022/09/23/sports/soccer/spain-soccer-women-jorge-vilda.html]
It says a lot when only eleven can start a match, and fifteen go out of their way to risk their reputation and international career to say something. The brave women who decided to speak up include the likes of FC Barcelona players Ona Batlle, Aitana Bonmatí, Mariona Caldentey, Sandra Paños, Mapi León, Patri Guijarro and Claudia Pina. The federation's handling of the situation only seemed to make matters worse, clearly taking the side of the coach and staff, stating "The RFEF is not going to allow the players to question the continuity of the national coach and his coaching staff, since making those decisions does not fall within their powers. The Federation will not admit any type of pressure from any player when adopting sports measures. These types of maneuvers are far from exemplary and outside the values ​​of football and sport and are harmful." Since then, only a handful of players from that list have been recalled to play in the World Cup, with their individual reasons for going back unknown as to why. 
Controversially, this isn't the only fiasco surrounding the Spanish team as of late. Always one for the spotlight, in a most recent interview Vilda stated "The value of the armband is significant, and I'm very pleased with all the players because they can embody the values of the National Team. I have 23 captains," prior to the game vs Netherlands. Yet, the armband was taken away from the returning Alexia Putellas simply because the two time Ballon d'Or suffered an injury that kept her out of action for a year. La Reina, who has opted to stay out of the media spotlight, continues to be a captain without an armband as well as an inspiration for not only her teammates but for a generation of young girls and boys.
Speaking of Barça icons, Vilda holds quite the pride in experiencing Johan Cruyff's golden era at Barcelona: "I feel privileged for it. Cruyff changed football, and this National Team has a philosophy that aligns with what he wanted to do." Remarkably, the former Real Madrid player has no silverware to back this claim during his 8-year managerial tenure. Funnily enough, in a video that made rounds on social media, the Spanish coach was seen wandering around in search of a hug from one of his players during the post-game celebrations but he had no success in that either. But the fact remains, The Reds have advanced to their first ever World Cup semi-final and will take on Fridolina Rolfö's Sweden on August 15. Regardless of the result, our 9 Culers in Spain or Rolfö representing the Scandinavian blue and yellow will not have to worry about packing their bags just yet, as the loser of this match will still have to take on the loser of the other semi-final between England & Australia on August 19 in a clash for the bronze medal. As for the winners, they will have a shot at glory in the coveted FIFA Women's World Cup Final on August 20 at Sydney Olympic Park, against either the hosts Australia or Lucy Bronze & Keira Walsh's Lionesses.