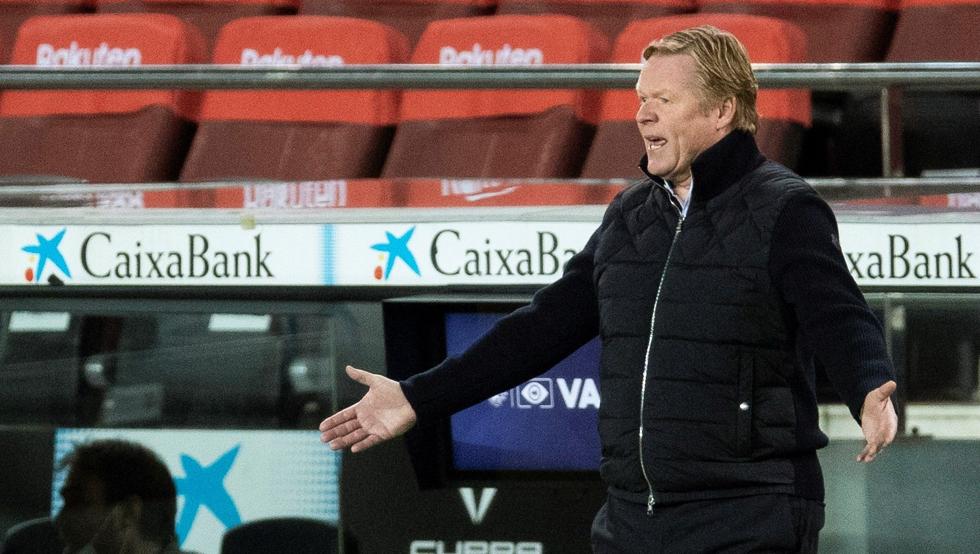 Following Eibar's visit to Barcelona with the Catalans being held to a draw at the Camp Nou in the final game of the year, Ronald Koeman gave his thoughts and confirmed Philippe Coutinho's discomforts that saw the Brazilian helped off the pitch.
In a game that on paper had Barcelona written down as favorites, with the Catalans in the upper end of the table with the guests from Eibar at the time struggling in the relegation zone, Barcelona came away with one point.
Kike García gave the guests the lead early into the second half, capitalizing on a mistake by Ronald Araujo who did not find a fitting option to pass to, and the 31-year old forward thus got his fifth league goal of the season.
Ousmane Dembélé, having received the medical green light shortly before the squad list was announced, scored on his return to the Camp Nou, set-up by Junior Firpo, and tied things up for Barcelona. Koeman expressed that the Frenchman is 'very important due to his pace on the wing' and that the team 'is happy' to have the 23-year-old Vemon-born winger back.
As Ousmane Dembélé had made his return from injury, Philippe Coutinho had to be helped off the pitch due to injury towards the latter stages of the match, having been substituted in only a few minutes prior.
"[Philippe] Coutinho has some discomforts in his left knee, and more tests have to be conducted," Koeman stated.
Although the scoreline suggests the game was an even one, the home side had the majority of ball possession, 16 shots although only 5 on target, and a passing accuracy of 87 percent. Both teams were held to a draw, and while reflecting on the game, Barcelona head coach Ronald Koeman deemed the final score unjust, as he felt the Catalans had merited all three points on the night.
"[The result] wasn't fair; we played really well," Koeman told the press, before pin-pointing the home team's issues during the match.
"We have to recognize that we have had big problems in building from the back. We did not look for the line-breaking passes and maybe we should have taken more risks in getting the ball to Martin [Braithwaite]. It was another game where we had a lot of chances to make it count," Koeman explained.
"The feeling that I sit with, and I get tired of saying it, is that [I am wondering] how we didn't win; we created chances, we missed a penalty and gave away a goal in their [Eibar's] only shot on target," he continued.
Early on in the game, Barcelona had a chance to break the deadlock as they were awarded a penalty. Martin Braithwaite stepped up to take the penalty, but shot wide at the mark, seeing it go past the post and out for a goal kick. When Koeman was asked about why Braithwaite was the penalty taker, and not Antoine Griezmann, he said the decision was made between the players.
"Martin [Braithwaite] scored the last penalty he took in the Champions League and Antoine Griezmann missed his [last penalty]. It was their decision to make," he said.
Following the draw against Eibar, Barcelona currently sit sixth in the LaLiga table, seven points off of league leaders Atlético de Madrid and runner-ups Real Madrid, with the two teams tied on points. Koeman does not want to let go of the league title just yet, but also admits that it seems a rather impossible achievement at this point.
"We have to be realistic and recognize that it will be very complicated [to catch up to Atléti]. In life, nothing is impossible, but right now there is a huge gap in points between us and Atlético de Madrid, who are playing really well, winning almost every match [having only lost one in the league] and conceding very few goals [five in the league]. It will be very complicated," the Dutch manager analyzed.
A noticeable absentee from the squad list was Lionel Messi, who has been undergoing treatment on his right ankle, although he, luckily for Barcelona, is expected to return to training in the coming days. This was not the first game without Lionel Messi in the limelight this season; in fact he has been completely rested in two Champions League matches against Ferencváros and Dynamo Kyiv respectively, and only played 45 minutes in Barcelona's 5-2 win over Real Betis in November.
All three games have been wins for Barcelona, some of them more convincing than others – and this has raised the question about whether the Catalans perform better without the Argentine magician. Ronald Koeman's answer was a categorical no.
"You can never say that. Messi always makes a difference, but today we had a different midfield, other players, and I think that we had a good game overall, but it was hard for us to score. We committed individual mistakes that cost us a lot of points," he said, partly referring to Ronald Araujo's mistake leading up to Eibar's opener.
However, he made sure to not solely blame Araujo for the goal conceded.
"I'm not going to blame Araujo because everyone can make mistakes, but it is evident that we commit many mistakes that end up costing us very dearly; on this occasion they only had one shot on target – and it was a goal," Koeman explained.
Koeman, despite the draw and his comments, however made sure to emphasize his awareness of the team being in a transition phase, and that he is a fan of the mix of experience and energetic youth in the squad.
"I don't want to say that we lacked experienced players [today], because we know that we are in a transition phase and we opt for youth players, partly due to the injuries in the squad. I think that in the squad [today], we had five or six youngsters, but we also had experienced players in the team. Yes, we were missing Leo [Messi] to make a difference," Koeman said.