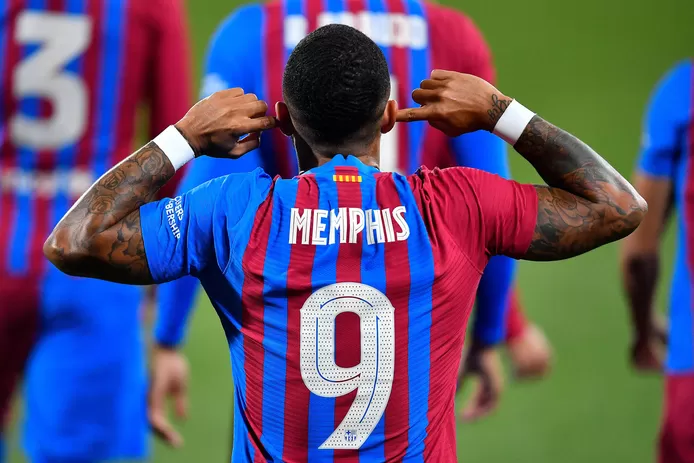 Memphis Depay spoke with the Dutch press about the team's performances, if he regrets his move to Barcelona and the pressure on Ronald Koeman.
Memphis (27) had a great start to his first season as a Barça player as he scored or assisted in most of the games he played, but seems to have entered a more difficult period. As the Dutchman's goals stopped coming, the team also started dropping a lot of points. Now, ahead of the World Cup qualifiers, the attacker took the time to answer questions from Dutch media outlets NOS and ESPN.
About the team's recent form:
"What happened since the last international break hasn't been great. There's no way around that. After disappointing results, you're always in a worse mood."
"Everyone is acting like it's already over. We need to be better, we know that. Everyone is panicking because over here, they're not used to such results. They're only used to winning and great football, but I'm not worried. I know that things will change."
About building a new team:
"It takes time. You saw the same thing here in the Dutch national team when some of the older legends retired. There was nobody who stood up when the most important players left. There was nobody who was aged in between young and experienced. This is a similar situation."
"I'm very positive. We have a lot of talented players. In the last few games, we've played with a 17-year-old, an 18-year-old, and two 19- and 20-year-olds. They're so young! Do you expect us to perform the same in every game?"
About the pressure on head coach Ronald Koeman:
"Koeman is a strong man with a strong character. I don't think the right way to say it is that I feel bad for him because he knows what he wants and he knows how the world of football works. Of course, I would've liked the situation to be different. You also know that financially, he hasn't had the same options that the club used to have."
About the feeling of playing for FC Barcelona:
"Although the results haven't been great, I'm super happy in Barcelona. It's a dream for me. I've got to say that I'm positive, about the club and about the president. The season is still long, I'm preparing for that mentally and physically."
About regretting his choice to sign for Barça:
"How can you even ask me that? It's Barcelona, man. I don't think you understand how big that club is and what it does to a player when he can move there. No, I don't regret my choice for FC Barcelona. There's still a lot of games to play, so everything is still open. Everyone seems to be panicking, but we just need time. I'm not worried, my feeling is still good and I think the tables will turn."
After the international break, Memphis will return to Barcelona with a home game against Valencia next up in La Liga. So far, the forward has had to do a lot of the attacking work by himself, but he will soon receive help from other attackers returning from their injuries, like recently showcased by Ansu Fati, who scored on his return. Memphis started the season with three goals and one assist in seven La Liga games.