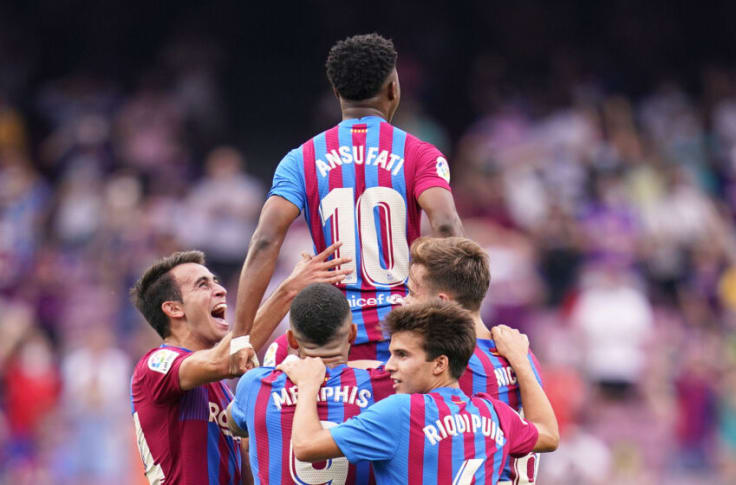 With all the reports surrounding his future, I for one believe Ansu Fati deserves one more season to show what he's made of.
Ansu Fati made his debut for Barcelona's senior team on August 25, 2019, in a La Liga match against Real Betis. Despite playing only a few minutes as a substitute, he impressed with his performance. In the 2020/21 season, he was officially promoted to the first team, and he proved his worth by winning the La Liga Player of the Month award in September 2020. He scored two goals against Villarreal, forced a penalty, and also scored in the following game against Celta Vigo.
At the age of 16 years and 318 days, Fati became the youngest player to score a goal and provide an assist in a single La Liga game. Described by FourFourTwo magazine as a player with a strong physique and excellent dribbling skills, he brings a physical approach to the game, which is sometimes lacking in Barcelona's technically gifted side.
Unfortunately, tragedy struck on November 7, 2020, during a league game against Real Betis when he tore the meniscus in his left knee. Initially expected to be out for four months, his recovery took longer, and he spent a total of nine months on the sidelines. However, he made a remarkable comeback on September 26, 2021, in a La Liga match against Levante, scoring a goal shortly after coming on as a substitute.
Unfortunately, Ansu suffered another injury on January 20, 2022, during a game against Athletic Bilbao, which sidelined him for three months. This was a significant setback for a young player who was just 19 years old at the time. Despite his limited appearances, he has shown his prowess in front of goal, with 25 goal contributions (goals and assists) in La Liga over the past three seasons, placing him among the top five players at the club.
Ansu Fati brings a different dimension to Barcelona's attack, combining directness, trickery, strength, good shooting ability, an eye for goal, and a high technical level. His shooting ability is very strong, too. He has also displayed his impact on the team, as seen in a recent game against Real Sociedad this season, where he came on as a substitute and created goals for Lewandowski and Dembele before scoring one himself.
These achievements clearly demonstrate Ansu's talent and potential. At only 20 years old, it would be a mistake to give up on him. Despite lacking confidence due to multiple injuries, this could be the perfect opportunity for Barcelona coach, Xavi, to instill belief in him. His profile is well-suited for Barcelona, similar to Sadio Mané's impact at Liverpool. The recent game against Mallorca, where the youngster scored two goals in less than 30 minutes, is proof that with more confidence and support, he can deliver exceptional performances.
Given his age and the fact that many players his age are still striving to become regular first-team members, Ansu deserves another season at Barcelona. It is my strong belief that he should be given this opportunity, and I hope he stays with the club.