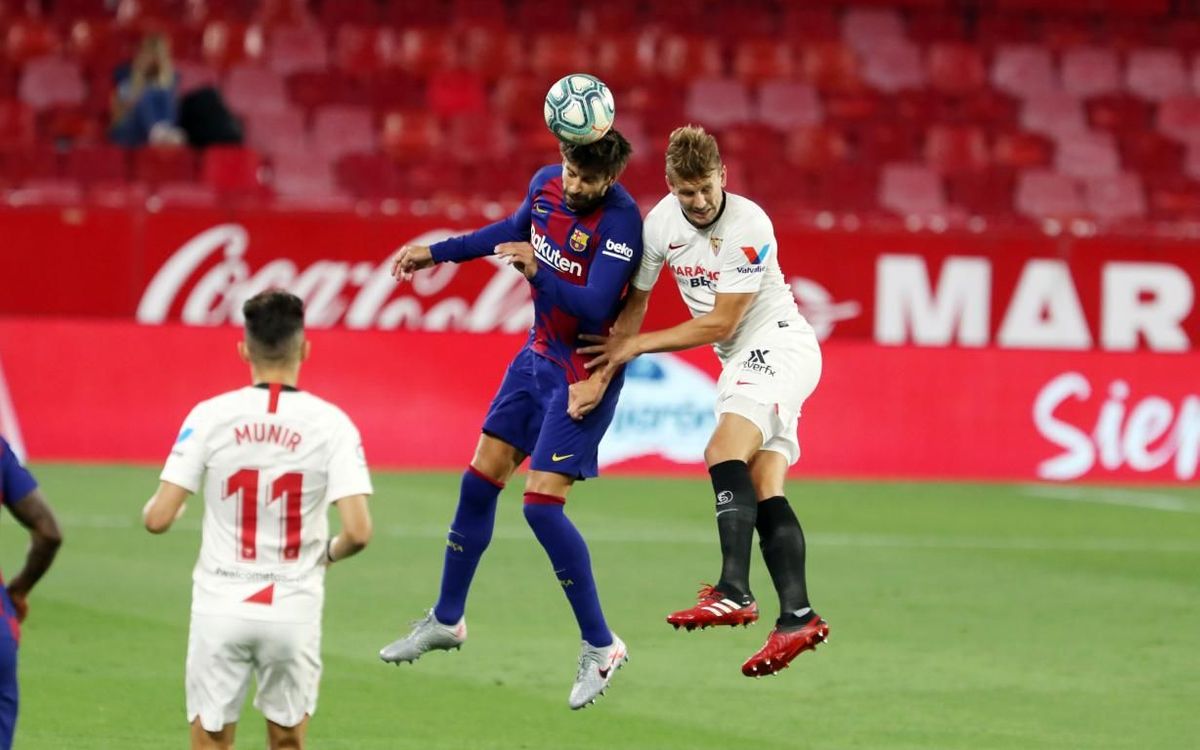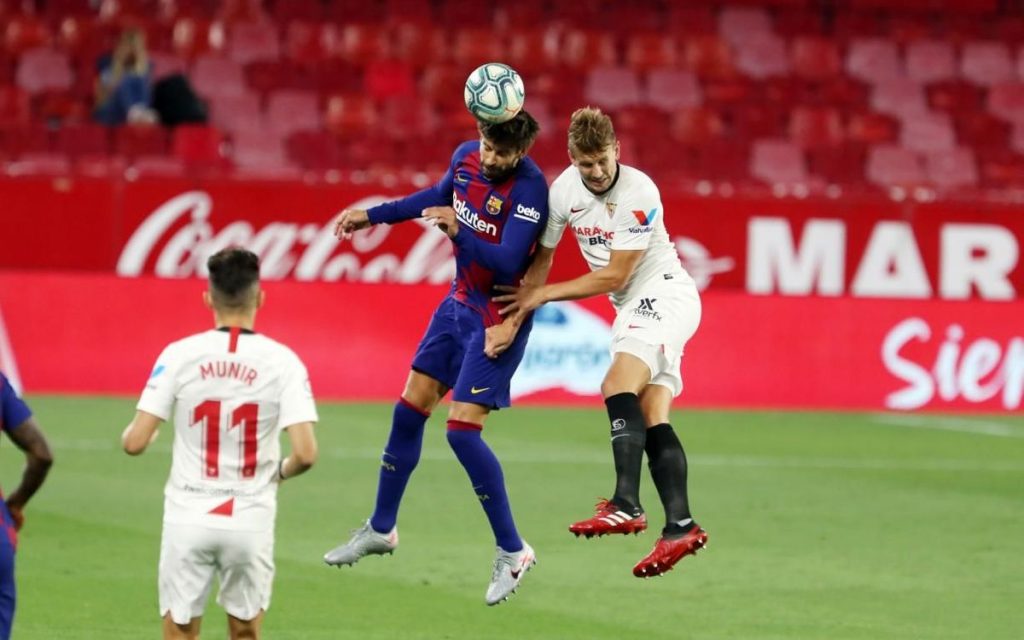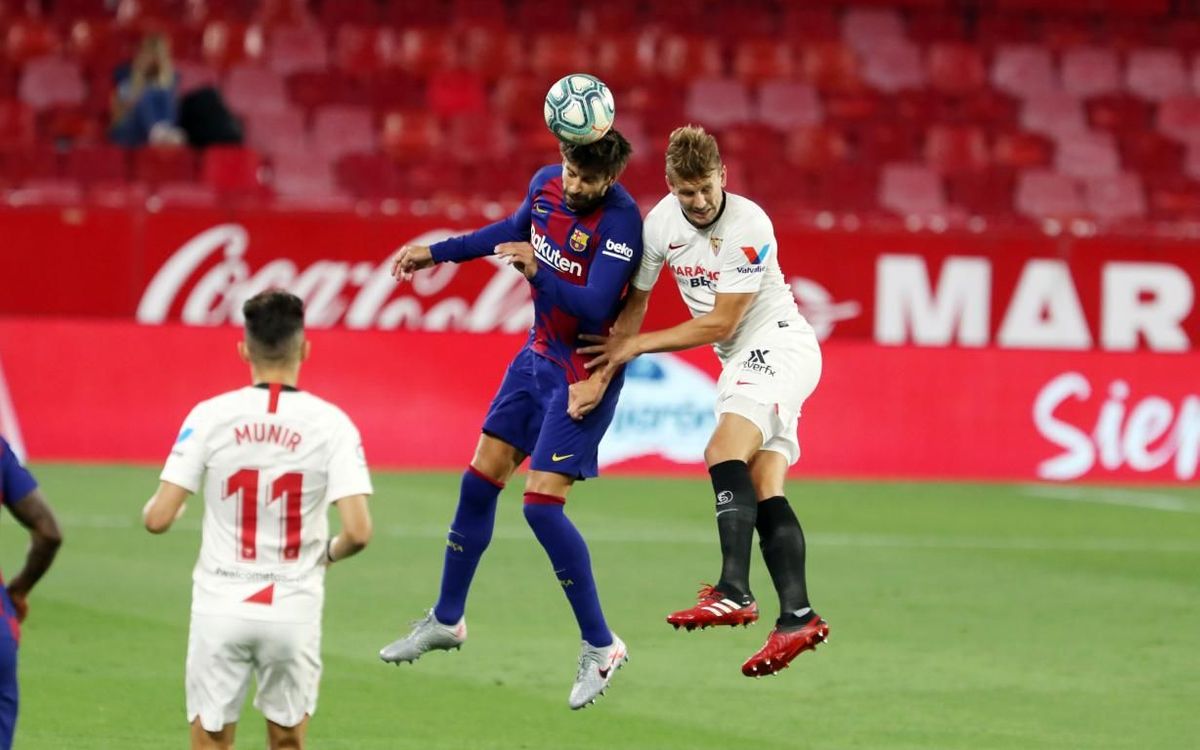 After the draw, against Sevilla at Sanchez Pizjuan, Quique Setién, Gerard Piqué, Marc-André ter Stegen and Guillermo Amor gave their post-match reactions.
Barcelona's performance against Sevilla at the Ramón Sánchez Pizjuán went from more to less and ended in a goalless draw that feels more negative than positive for the Catalans.
Barça no longer depends on itself to win LaLiga and if Real Madrid, second in the standings, win on Sunday at Anoeta, they would tie the Catalan club on points and place themselves as the leader.
Quique Setién responds after the draw that could result in the loss of the leadership.
"We were very hopeful after the first thirty minutes, which were extraordinary, playing in the rival field, without letting Sevilla come. After the break for hydration, we gave them a little life with some losses. In the second half, cost us more, we continued to have losses and we became uncoordinated, allowing them to leave with the ball under control. And Sevilla is a team that hurts you with space. In the end, we did not know how to generate danger because it was very difficult to penetrate those plays with so many people in the area, could not be; we tried but it could not be."
The Barça goalkeeper, ter Stegen was the figure in the match and a key factor for Barça to keep a clean sheet.
"It is true that the goalkeeper also counts and having Marc [ter Stegen] is a guarantee; it is obvious that we risk a lot in playing on the opposite field and we take risks, but it is also true that we have had our options, quite clear. We should have played more time as in the first half-hour, being consistent enough and being organized, is not easy with teams of this level," explains the Cantabrian coach.
About the fight to become champions.
"We have [possibilities], I will not say the same options, but Madrid will have to win in San Sebastián and there will still be many games left to be pessimistic now; the reality is that we are fine, I am happy with many things, but we must improve some others. We lack a little definition, I am still as optimistic. I was sure, and I am sure, that neither of the two teams is going to win everything, I'm sure the rival will also drop points."
"We knew it was very difficult to win every game, and this was a difficult match, but one point is a lesser evil. There will be time to be pessimistic. I hold that we have done many things well, with good responses at times."
Setién analysing the game.
"We started well, but with the stoppage they overlapped, we gave them a little life. In the second part, we have not gone well, we didn't reach the pressure, we have become disorganized. We have had phases where we closed them in their area, but it was very difficult for us to find space."
"We should find more solutions, even more, when the rival is locked up in his area. It has already happened against Leganés. It is difficult, it is not easy. We should learn to defend better with the ball so as not to give the rival options."
On the short participation of Griezmann and the absence of Ansu Fati.
"Ansu Fati? We have considered him. It may have gone well, but decisions must be made. Sevilla is a complicated team and we also had to watch out the losses. Accumulating offensive players weakens you."
"Griezmann? These are decisions that must be taken into account thinking of the match, the rival … we considered Braithwaite's option was better given his speed."
Post-match impressions.
"We had created expectations for ourselves, we knew it was an important game. And we have demonstrated this for 30 minutes. The problem is that we have not been able to maintain it. Tomorrow we will see it differently. Some things must be improved, but I am optimistic."
"Piqué's pessimistic message? It is the result of the frustration of the moment. The feelings today are not positive for not having won, but tomorrow we will see it differently."
One of the team captains, Gerard Piqué, also spoke and gave statements that left much to talk about.
"Sevilla is third in the table because they are a high-level team. It is a very competitive team. This draw leaves us in a position where we no longer depend on ourselves, but the feelings have not been bad. We have had more chances and control of the game. They looked more tired, we moved the ball, but they closed the spaces."
"We have the feeling that we lost two points because we have been better than them. We have created but we have not scored," he declared.
"It will be very difficult to win this league because it does not depend on us. I see it difficult for Real Madrid to lose points, seeing how these two days have gone will be difficult. I think very few points are going to be lost, but we are going to try," Piqué said with some irony.
The figure and the best player of the match on Barça's side, Marc-André ter Stegen, in the end, shared his feelings on the match.
"They were a very tough opponent, first of all, I think we did a good job. I think it was very intense, it was a lot of back and forth so, in the end, we won one point but of course, we lost two. We are going to fight for the next three points, we have to be positive and as I said, I am happy with the attitude, if we show it again on Tuesday I am sure that we will have a good result."
"I think that both teams did a good job, so a draw, in the end, was fine. I think that nobody deserved to win today, we both had chances but in the end, it was a tough battle and the draw is fine."
"We have to focus only on ourselves and we want to improve. I am sure that if we show the atmosphere that we have now and the ambition, I think that if we can show this in each match we are in a good situation. We will fight for each point, each game and we will see, nothing matters more than winning the remaining points."
Finally, the director of institutional relations of FC Barcelona, ​​Guillermo Amor spoke about the draw.
"There are many points at stake and it is always said that the leagues are decided in the last ten match-days."
"The image has been very positive throughout the match and we are the ones ahead of Real Madrid. Two points of advantage now are three and they have to win in a very difficult field."
"A good start and a good end for the team, although it cost us a bit in some intermediate phase," he concluded.