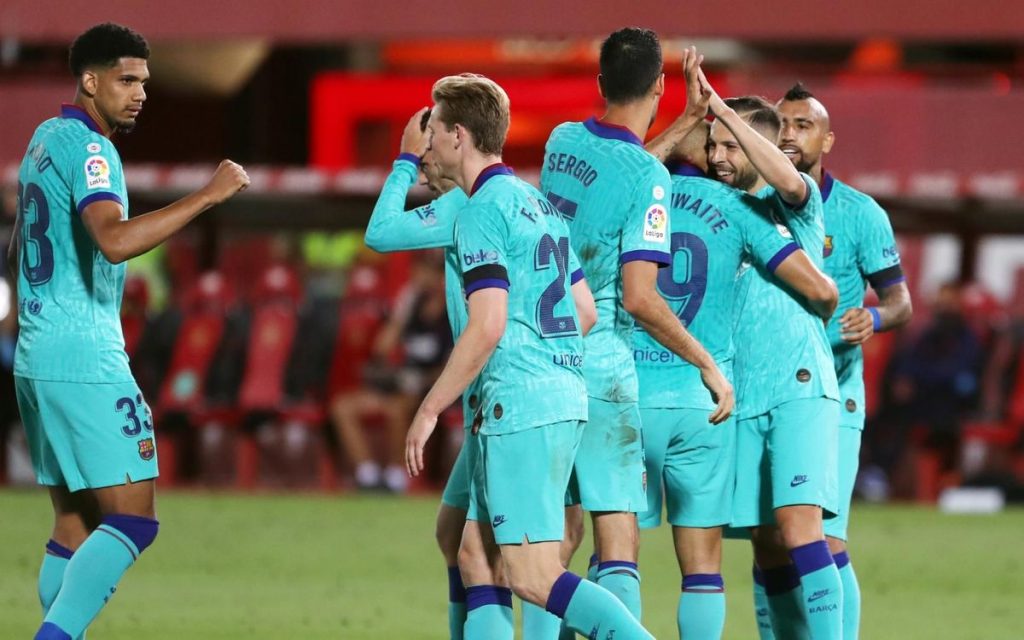 Jordi Alba and Martin Braithwaite addressed their post-match reactions and feelings after the away victory against Mallorca.
After 98 days of wait, Barça finally returned, and it couldn't have been better. This Saturday the Catalan team won 4 goals to zero against Mallorca. The first game after the break transmitted good feelings for Barcelona, ​​with goals from Arturo Vidal, Martin Braithwaite, Jordi Alba and Lionel Messi.
The good game, the positives dynamics and the football played by the Blaugrana team in the former Son Moix, gives hope to the Barcelona faithful to aspire to win LaLiga and the Champions League.
The Camp Nou team maintains its advantage to continue to be first in the classification. After the game, two of its protagonists, Jordi Alba and Martin Braithwaite, declared the post-match statements in an interview for Barça.
The left-back, Jordi Alba, played a very complete game, tying the night with an assist and a goal, being his best game so far this season.
"It was an intense match, I think we have done very well, we were focused on winning the match, and create opportunities which are not easy. It was a very important game, we started with a victory and we think we played a good game, I am happy with the victory and the game."
Individually, the Spaniard confirmed the good feelings he had after this performance.
"In this season I have had many injuries, three. I have not had the continuity that any player would like but I think the break has come in beneficial. An assist, a goal and anything to help the team is welcome," he added.
Barcelona's first goal came just after the first minute of the game, assisted by Jordi Alba and a header by Arturo Vidal put the advantage on Barça's side which had a positive impact on the Catalans and a low mood on the Mallorcan side, Jordi Alba speaks regarding.
"The idea was to go to win, play a good game, create chances but it is clear that with a goal in the minute one gives a lot of confidence. I think that from that goal we generated many occasions, especially in the first half and we arrived in their area. I am very happy about the game."
The newness concerning one of the obligatory measures in the return of LaLiga football is to play behind closed doors, which completely changes the atmosphere and the experience of living a game, which until further notice will continue to be without fans.
"It is a different experience but it is how we play now, especially at home but also away we miss the fans and we hope that people can come to the stadium soon and that they can also enjoy football."
For Martin Braithwaite, it was a very special night since he scored his first goal with the Barcelona shirt, after having signed for the club in January. Also, he completed a solid match and gave good feelings regarding his effort, precision and work-rate for the team.
"We were waiting for this for a long time, it is amazing to score my first goal and it was really important to start like we did today, so we are happy and we have to continue like this," he explained.
"As an offensive player you want to score goals and I've been working a lot in this break and I've been looking forward to playing this game and hopefully get a goal, I'm happy really happy," the Danish commented about his first goal with Barça.
Barcelona starts on the right foot and maintains the advantage over the second place, waiting for how the points will remain after the corresponding match between Real Madrid and Eibar. For now, Barça remains the leader with 61 points.
"It is really important [to start with this result] because we have to start with confidence. Also, to score four goals and not concede any goal is really important for us. We start good and we need that to keep pursuing what we want."
Talking about the experience of playing behind closed doors, without people.
"It is really special but it is what it is, we just have to get the best out of it."
On Tuesday, Barcelona will play their next game against Leganes at the Camp Nou at 10 p.m. Spain time. Martin Braithwaite played in Butarque before coming to Barça, which will mean a distinct game for him when facing his former team.
"It will be special because I know a lot of people there and I played there but it is a football game to become champions and won it on the pitch."