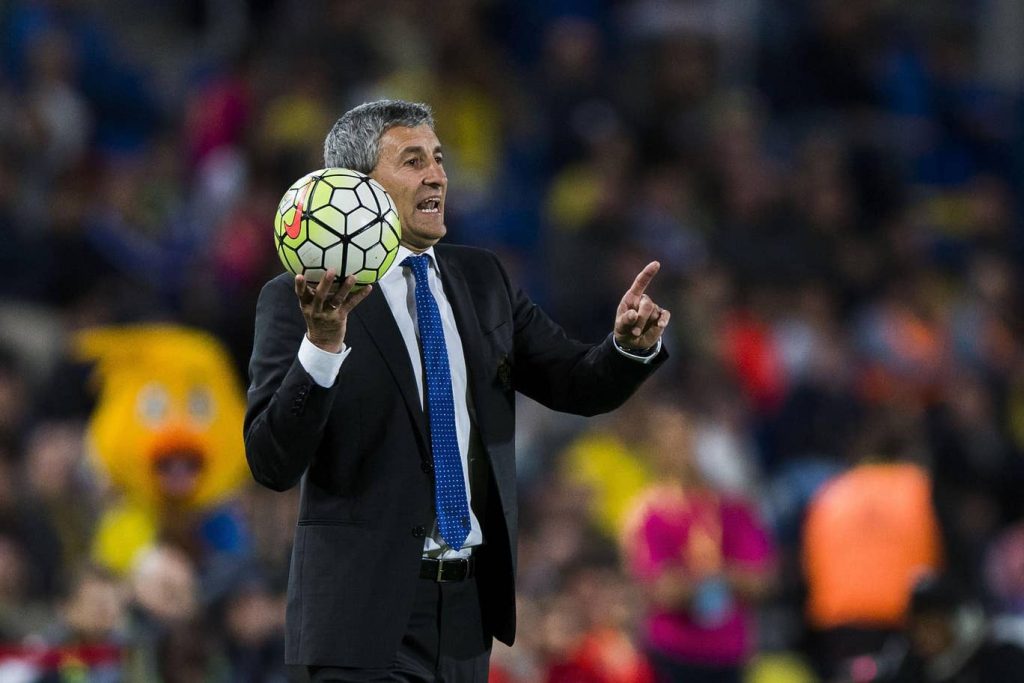 This article was written in collaboration with Aina Canales.
Quique Setién is a fan of Philippe Coutinho and Riqui Puig, but does not believe the club's academy players are ready for prime-time just yet.
In a recent interview with SER Catalunya, on the Catalan news outlet's talkshow, El Larguero, Barcelona manager Quique Setién has spoken out about several aspects of his team. The manager is pleased with his team's growth since his appointment, but says there is room for improvement.
In the lengthy interview, the manager also highlights his admiration for several Barcelona figures, and speaks out about the talents in the club's ranks, including the on-loan Philippe Coutinho.
The Cantabrian also says he backs Josep Bartomeu, whose time in office comes to an end in 2021, and says the players and staff wanted to take the pay cut, but were unsettled by the internal talks being leaked to the public.
On his admiration for Johan Cruyff
"When I used to play against Cruyff's Barça we were running for 80 minutes straight, and I said: that [playing like Cruyff] is what I want."
On his odds of joining Barcelona mid-season
"It was a huge surprise to sign with Barça. I was realistic so I thought that it would not happen, but the circumstances helped me. It happened some days before I was about to go to manage [in a club] in Egypt."
"Yes, I would definitely train Barça for free. Well, not for free, but almost under any circumstances."
On Xavi potentially managing Barcelona
"Hopefully Xavi comes [to Barcelona] and does very well here. I have always admired great players like Xavi. If I have to leave in order for him to come, well, things are like that, that is the world of coaches."
On Neymar and Lautaro Martínez
"I like all the great players and Neymar is one of them. But we will see if it [his return] is possible or not. For me, both [of Lautaro and Neymar] would do well at Barça, they are good footballers."
"Neymar? As things stand, we have to think of whether it is possible or not. He is a footballer who costs a lot of money, and it is not easy to get him."
On Coutinho
"I have always liked Coutinho — who does not like him? He is a great footballer. We do not know what Bayern will do; [we do not know] whether he will stay with them or not."
On Betis players being good enough for Barcelona
"For sure, some Betis players could play in this Barcelona team. Yes, he [Joaquín] is an extraordinary person, he could be good for us in many aspects."
On Josep Bartomeu's presidency
"I hope Bartomeu sees his presidency through until the end [in 2021]. I have a great relationship with him, we talk very often. He has given us explanations, both to me and the players. We believe him."
On players potentially leaving the club
"Every Barcelona player is likely to stay in the club. I have no information regarding Rakitic wanting to leave the club. He has never told me that he wants to leave."
On his verbal rivalry with Getafe manager, Jose Bordalas
"If I will give Bordalás a hug when this is over? I said what I had to say and I haven't said anything else about him. I respect him. Hug him? You hug who you want to hug."
"Many Barça B players are likely to be in the first team. For now I am not completely convinced by them in order to give them more playing time."
On Riqui Puig
"Riqui Puig is a great footballer, but he needs time. He is an extraordinary footballer. I have no doubts about that. And he is an extraordinary kid, his attitude is very good"
On the pay cut
"In the first conversations that we held with the captains about the salary reduction, it was clear that we all were going to reduce our salary. The only thing that bothered us was that everything was made public."
On Messi wanting Neymar back
"Messi has never given any reference about bringing back Neymar, and I don't think he will [say anything about that]."
On his admiration for Sergio Busquets
"If I could reincarnate [and be any player in the world] I would also choose Busquets, just like [Vicente] del Bosque.
On whether he counts on Messi for the upcoming season
"I hope he still counts on me! We will convince him to stay [here] with a winning project."
On how Eder Sarabia is holding up while in confinement
"Eder Sarabia is on the exercise bike all day. One day he will go out of the window," Setien says, laughing.
On LaLiga ending prematurely
"If the competition can not be finished, it would be logical if Barça are crowned champions. [We are] first in the league and are two points clear [of Real Madrid in second place]. I would love to finish the season. Being crowned champion like this, I would definitely not celebrate the same way [as if we won it by playing]."
On Setién's Barcelona
"There have been moments when we have played really well, but we lack continuity and winning some games in which we have suffered. But I am pretty satisfied with the ride, there have been improvements."
On Messi saying it would not be enough for Barcelona to just win the Champions League
"We have to understand why Messi said that it was not enough to win the Champions League. But now that Liverpool is out, there are eight teams that can win it. He wants to win it, while being superior and playing well."