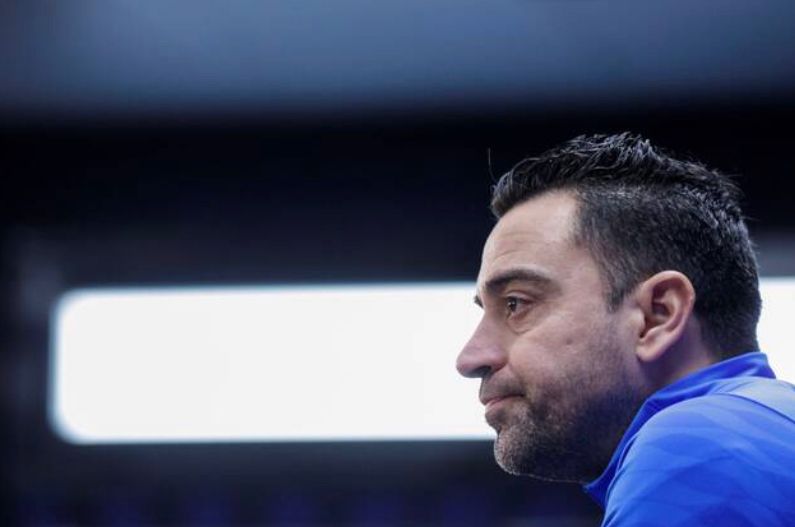 In the first press conference of the new year, Xavi spoke about Sunday's game against Mallorca, a possible Álvaro Morata transfer and Ferran Torres joining the team.
Tomorrow at 21:00 local time, FC Barcelona will look to start 2022 off with a bang against RCD Mallorca. The game will be played at the Son Moix stadium in Mallorca, an island to the east of Spain. Mallorca currently finds itself in 15th place in the La Liga table. They're not in great form: out of the last ten La Liga games, Mallorca only managed to pick up one win. However, that win was against one of the big boys: last year's champions Atlético Madrid.
Barça is hoping to perform better in the new year than it did in 2021. Because of some disappointing results, the Blaugrana team sits seventh in the league table. Something that hasn't helped is the constant unavailability of players because of injuries and Covid-19 related absences. Once again, Xavi will be forced to play a lot of youngsters in tomorrow's game. The list of unavailable players includes Jordi Alba, Gavi, Dembélé, Memphis, Ansu, Busquets, and more. Xavi talked about this and other topics during today's press conference.
About La Liga not wanting to postpone games when teams have a lot of Covid-19 cases:
"Honestly, I don't know. That's a question for the president and those who decide about the league. It is evident that we have 17 absent players, 11 of them due to Covid. La Liga can't afford it, it's going to be a game where both Mallorca and us can't play our strongest team. We're doing antigen tests right now, so there may be even more cases. But if we have to play, we'll play, we don't make the decisions."
"This is the situation there is, we have to face it with positivity, Mallorca also has a lot of cases. We're Barça, whoever plays, we're going to compete. It is evident that if this match isn't suspended, I'm not sure any other game is ever going to be suspended. A few months ago the Sevilla game was suspended with only three cases. There's no common sense."
"We're facing an extreme situation. We have either 17 or 18 casualties, depending on Umtiti. It's the right moment to suspend the game. The competition is adulterated. Mallorca has also asked for the game to be suspended. South American games have also been suspended. You have to appeal to common sense. It's not just a complaint, it's the reality. Basketball has been suspended. We'll play if the league forces us to play. We're training well. But it's a chaotic situation. We'll try to win."
About some of the injured players possibly being available for tomorrow's game:
"I'm not counting on them, although they're very close to returning, both Memphis, Ansu, and Pedri. But in principle, they won't be available."
About Riqui Puig getting an opportunity tomorrow:
"Yes, tomorrow will be an opportunity for those who start the game, also for Riqui."
About the Ferran Torres transfer:
"I'm delighted, he's going to add a lot to the team. He has played under great coaches like Pep Guardiola and Luis Enrique and he is going to help us a lot."
"He's able to adapt to all of the three attacking positions, he wins duels, he can score goals… He'll help the team a lot."
About the possibility of signing Álvaro Morata:
"Let's talk about the players we have here, like Ferran Torres and Dani Alves. We've already brought them in and they'll help us a lot. The rest are hypotheticals – talking about both Morata and Haaland. They're assumptions. We're going to compete in Mallorca with the players we have available."
About certain players being sold to other clubs:
"We are working on it. When we sign players, others have to leave the club, that's clear."
"Luuk de Jong and Yusuf Demir are part of the team and they have a contract. Right now, they have a contract here."
About Ousmane Dembélé's contract situation:
"We're going to wait, another meeting has been arranged, so we're going to wait. There's no need to rush."
"I have simply told him that we need him, that he's going to be an important player. He's giving assists, he's creating a lot of things in attack. We have a very interesting sports project for him, I can only tell him about the sportive aspects, not the economic ones."
"I don't think he's going to be happier anywhere else than he would be here. Barça is the best club in the world, the sports project is going to be more important than the economic one, and I've made that known to them. So that's why I'm hopeful."
"The negotiations are very difficult. It's a process, I'm optimistic. His agents don't understand the situation. I've spoken to him again, and we'll see. I'm not disappointed with him. There's a long way to go, but I hope he'll stay. He's a player who makes the difference, he can be one of the best in his position."