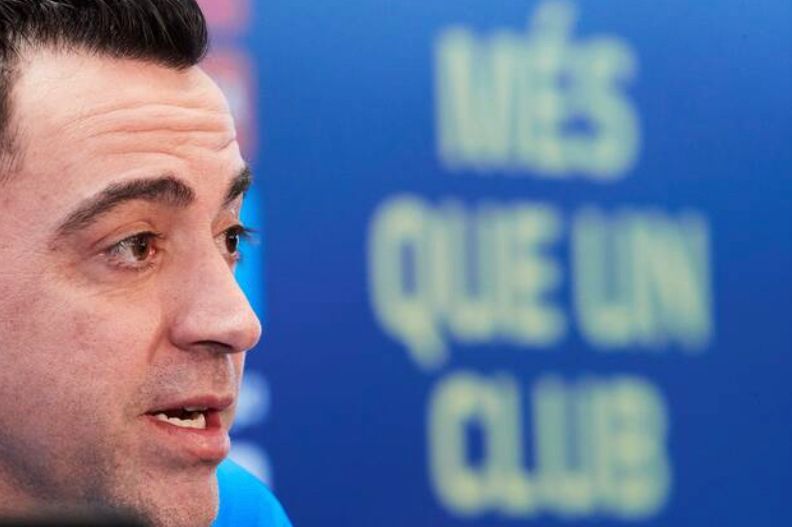 Xavi appeared at the press conference to talk about Saturday's game against Real Betis, the game against Bayern, Dembélé's contract and more.
Since Xavi's arrival, FC Barcelona has won both of its games in La Liga. The Catalan derby against Espanyol was won 1-0 thanks to a Memphis Depay penalty, and Villarreal was defeated 1-3 at home with goals by Frenkie de Jong, Philippe Coutinho and Memphis once again. Now, Real Betis awaits. The team from Sevilla sits in fifth place and has won its last four games.
Although Barça faces Bayern Munich in a few days in one of the club's most important Champions League games in the last few years, the Blaugrana men will look to continue their form under Xavi in La Liga tomorrow at the Camp Nou (16:15 local time). Xavi was asked about both of these games and more during the press conference.
About tomorrow's game against Real Betis:
"The goal is to win the game, but there's more to achieve than just that. We've had time to correct some things, like playing the ball out, some defensive aspects, putting pressure on the opponent… If we win like we did against Villarreal, that's much better than just winning. I'm positive after watching the training sessions. The 3 points are vital. Betis is a difficult opponent and a direct rival."
About the game against Bayern Munich:
"I don't look further than the next game, every game is vital. Tomorrow is also a final. We can't lose points if we want to find our way back to the top places and fight for the league. We'll play with our best eleven."
"It's an important week, just like next week will be. And in January too. This is required daily at Barça and in every game. Every week at Barça is vital. There's no rest until the holidays and especially in this situation, we can't give any points away."
About Ansu Fati returning from his injury:
"He's showing great signs but we still have to be cautious. We can't lose him and the best thing would be for him to be 100% fit. These are vital matches and he'll play when he is completely ready. We can't lose more players. It won't be easy for him to be ready for the game against Bayern."
About Sergiño Dest's availability for the game:
"He's already completely fit. All the players show commitment and they all want to play and compete. It's good for the group and Sergiño is one more, he'll be available."
About Ousmane Dembélé's renewal and availability:
"What I know is that it's not only the economical side. We have left him in a very clear position. He's a very important player with a lot of talent. I already said that he can be the best player in the world in his position, it depends on him. We think of him as a key figure in our project. He's happy about the sporting project. We're going to be positive about it. It's not just an economical issue, he wants to feel loved and he will be."
"It wouldn't be the objective to send him to the stands if he doesn't sign a new contract, as long as you have a contract I think you have to play. You have to be positive. I'm very clear that if you have a contract you have to play, also because of the image of the club. I don't value that option, I don't even contemplate it."
"He's okay, he's 100% fit. Tomorrow I'll decide how we want to play. He's okay, he's happy, he's training."
About the Ballon d'Or winners and comparing Leo Messi to other greats:
"I want to congratulate Alexia Putellas, she has made history and she's a great friend. At a young age, you could already see her great professionalism and ability. I congratulate Pedri too, who invited the team to dinner, a great idea. And to me, Messi seems to be the deserved winner, he's the best in the world and in history. I think it was Pep who said that it's never unfair to give Messi a Ballon d'Or. I think the same thing. Maybe Lewandowski also deserved it but when they open the envelope and it says Messi, for me it's fair."
"Leo is the best. In the end, there's a vote, the votes are counted and he won. Comparing him to other greats of footballing history, my argument is that Pelé was the best of his time, Maradona of his, Di Stéfano perhaps of his, but everything evolves. And if in 30 years someone like Leo appears, perhaps we can say that he's better than him. So right now I believe that Leo is the best ever. As far as Neymar, I think he's in that position because of the importance of winning titles."
About the possibility of managing a women's team:
"Women's football has been growing massively in recent years. It's difficult if you're not a professional, but now they are. They have improved a lot, in the tactical and technical aspects, I give them all my respect and admiration. I have seen a lot of games, I like it and I see a lot of talent, with Alexia, Aitana, Jenni, Mapi León… Many players in the national team are very talented. I don't rule out coaching a women's team at all."
About the possibility of signing Edinson Cavani:
"He seems like a good player to me but I prefer to talk about our own players. They need our support and that of the fans to perform at their best, starting tomorrow."
About Sergi Roberto's injury and a possible renewal:
"He's a person who is an example for the kids at la Masía, for the professionals and he has been playing for almost a year while suffering from injuries and that isn't fair. He has been criticized, even whistled despite being one of our own. He has never been 100%, he has tried but couldn't do it. I recommended him to take a little break and get his body ready. We have to value him, he's a fundamental player for the team. We hope that when he recovers he'll be happy, that he can perform at his best because the team needs him."
About his confrontation with Villarreal coach Unai Emery after the game:
"Everything is already okay, we shook hands and shared a hug. It's the stress of having to win a game. They're also in a difficult situation. It happened and will happen again. It's not important."
About Frenkie de Jong being linked to other clubs:
"Yes, he's not transferable. He's very important, capable of making a difference with goals and also the last pass. He scored in the last game. He played between the lines, that's the Frenkie we want, he was excellent against Villarreal."