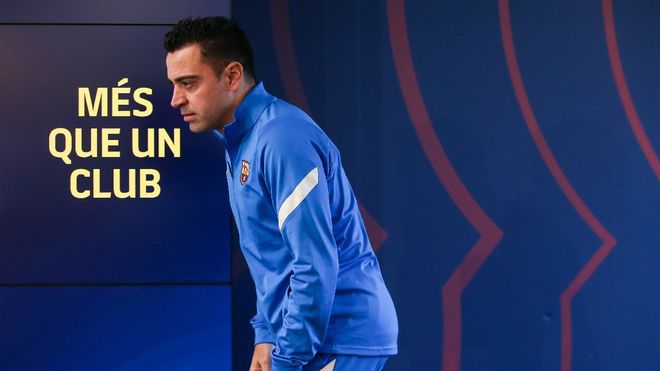 Xavi was present at the press conference before Saturday's game against Villarreal and spoke about the medical staff, the transfer market and some of his players.
Xavi's FC Barcelona come off a 0-0 draw against Benfica at home. That result is hard to take, considering it makes Barça's chances of progressing to the next round of the Champions League very small if the game against Bayern Munich isn't won. Now, Barça will look to bounce back by getting a good result against Villarreal. The Yellow Submarines had a great last season in which they even managed to win the Europa League by defeating Manchester United in the final. However, they have struggled to combine playing in the Champions League with performing in La Liga this season. Villarreal finds itself in twelfth place, while Barça sits in seventh.
Before the start of the press conference, the squad list for tomorrow's game was revealed. Both Ilias Akhomach and Ez Abde are back in the squad. This gives Xavi some more options on the offensive side of the lineup. When the players were done with their training session this morning, Xavi came to the press room to answer some questions.
About the game against Villarreal:
"Villarreal is a more offensive team. Both Espanyol and Benfica defend in a low block. It'll be a difficult game, especially because it's in their stadium. They have one of the best coaches in Spain (Unai Emery). It'll be a very difficult team to play against."
"It would be a turning point to win against Villarreal, but we're in an emergency situation and that means that we have to win every game, starting with tomorrow's game."
"There's no option other than winning, but I think we're on the right track. I think we played good last game, we dominated the game, but we have to improve in other areas. We must maintain what we have achieved and improve what we lack."
"I'm very happy with the reaction of the team, we won a lot of duels, we're pressuring well. I think that on the attack we have to be less scared. We have great players who are very young and have to dare more. It happened to me too at this age. We're able to score goals, I see it in training. We have to dare more. It's not enough to just do the right thing, you have to aim for a perfect 10 with the things that you do."
About the new medical staff:
"Honestly, I want is to surround myself with people I trust, loyal and faithful people. For me, it's essential to have Ricard Pruna here, he's the best doctor that Barça has had since I've been here in my opinion. Pruna never should've had to leave the club. For me, he is number one."
About Ansu Fati's recovery:
"It's going very well, he's feeling good. He has started with doing some running, but we have to be careful. Then we'll see if we take the risk or not. The other day we did it with Ousmane, he didn't find the goal but he came close and that has to be appreciated. Ansu is a very important player and we can't afford to lose him again, but it'll depend on the player's feelings."
About the rumours that some midfielders would be on the transfer market:
"We need them, they're players who are having playing time for us and they're not for sale at all. What we want is for them to be here and to improve them, we don't want them (Pedri, Gavi, Nico, Frenkie) to be on the market."
"They all have the quality to take more shots, Coutinho, Gavi, Riqui, Nico, they have a good shot. The one I personally identify with the most is Busquets, because of his experience and how he understands the game."
"Busquets is a very intelligent player and for me a fundamental piece of the team. He's the thermometer of the team, he's fundamental to me, as a coach, and as a captain."
About Riqui Puig:
"He is part of the squad and, just like everyone else, he'll have his opportunities. He's a player who has an innate talent and who will have his moments to be important, just like De Jong and Coutinho. He's a player who has a good shot and he has to dare to use it."
About Ousmane Dembélé:
"He's fine, but we have to be careful, we have to take care of him. Tomorrow we'll decide how many minutes he'll play."
"I had an individual chat with him, I made it clear to him how important he is to me. Not only for this season but also for the future. The renewal depends on him. Hopefully, he'll renew because he's a player capable of making a difference in the coming years."
About the possibility of signing FC Basel striker Arthur Cabral:
"Transfer rumours are hypothical things. In the winter market we'll see if we can strengthen ourselves or not and if we have the financial capacity to do so."
About the situations of Samuel Umtiti and Clément Lenglet:
"They're both doing very well, they're an example for the squad. They're all training very well and they all deserve to play. I'll be unfair a lot of times for a lot of players. They're all good enough, they're all Barça players and they can be useful to us at any time. We decided to play Lenglet because of his defensive and offensive profile."