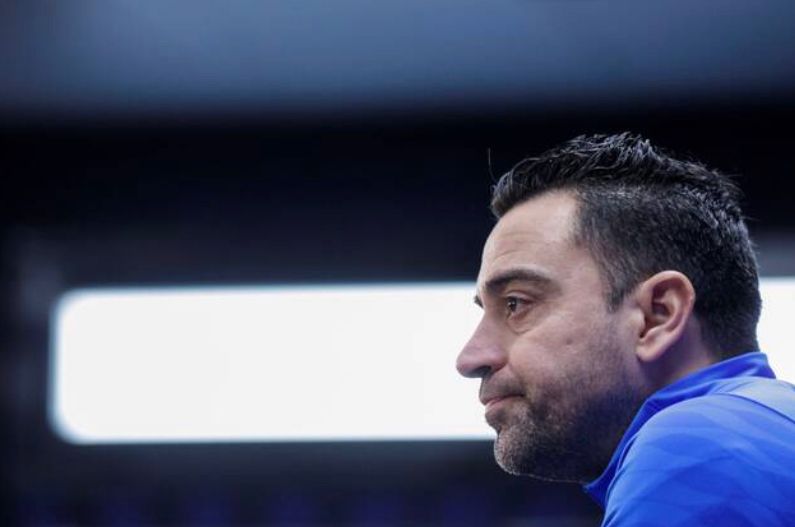 Xavi Hernández appeared at the press conference ahead of Saturday's game against Elche and talked about Frenkie de Jong, Ousmane Dembélé and more.
After four consecutive games without a win, FC Barcelona is looking to get back to winning ways against Elche. Barça lost against both Real Betis and Bayern Munich, followed by two draws against Osasuna and Boca Juniors, who ended up winning the Maradona Cup on penalties. Elche, who sits in 16th place in La Liga, lost its last game against Valencia but won the two previous matches.
Barça desperately needs a win to climb up the table. League leaders Real Madrid may have played one more game, but has still created a gap of a staggering 18 points. Xavi was present at today's press conference to answer questions from the press.
About the game against Elche:
"We're trying to change our way of playing, which is costing us more than we think. The team is improving. This is the last game at the Camp Nou before the break, we need the support of the fans. We need more time than we expected, but I'm positive and I see people who are motivated and eager to take a step forward."
"The team needs a win. We're working really well, with attitude, with commitment, they really want to win. It's not about the attitude. We need a win to change the dynamic we're in. Good results are urgent and we need all six points, we also need to beat Sevilla. We're doing certain things well but it's not good enough for us to compete."
"There are players that have difficulty understanding some things, it's hard for us to change the system. We're improving, the players are making a great effort. It's strange that there are Barça players who don't understand the positional game. We have to be positive and courageous. Press up front, press after a loss of possession, attack the spaces… That's what we want."
About tomorrow's lineup:
"Eric Garcia is going to start, we need everyone. The players need to be prepared for when we need them. Maybe tomorrow Lenglet won't play and then you'll ask me questions about him."
About still competing for La Liga:
"There's no other option but to keep working, to believe in what we do. Fighting for the Cup, the Europa League… And tomorrow is all about winning, we have no other choice. The league is what marks the feelings of the team. And now we're in eighth place. There's no other choice but to work hard and believe in what we're doing. From here, we need to fight for the Copa del Rey and the Super Copa and keep growing."
"This club was made to win titles. There's the Copa del Rey, the Super Copa… I'm positive, but why not. We're improving, the team believes it, but I think we're on the right track, realistically we have the ability to win titles. We can't give anything away. History tells us that this club was made to win titles. We're working hard and improving a lot. The team is adapting to our game model. We're on the right track."
About Frenkie de Jong's form:
"We're helping Frenkie and everyone else. Where to run when we have possession, how to find the spaces… In Pamplona, if we had made the field bigger, we would have scored the 1-3. He's experienced but at the same time he's still young, he's able to make a difference. He's also doing a very great defensive job. There's psychological work to do and we must help him."
About Marc-André Ter Stegen:
"He's still one of the best goalkeepers in the world. If he doesn't perform, it's a psychological issue. We have to fight so that the points stay at home. We need a win and that will help us see things differently, with Marc or with Frenkie. Confidence is key. We have to improve in this regard. If we win tomorrow, we'll all look prettier on Sunday."
About Ousmane Dembélé's renewal:
"I had a meeting with him, he told me he's happy here. It's a matter of coming to an agreement between his agent and the club. He knows our project and the importance he will have in that. I see him being happy, content and the only thing missing is scoring a goal. He gives us a lot of things, he can make a difference. I'm very clear with him and I hope he can renew."
About Dembélé and Jordi Alba possibly missing out with injuries:
"They're fine, they suffered cramps from the effort we made in Pamplona. There's no need to worry."
About the possibility of signing Haaland and outgoing transfers:
"At the moment we're in a difficult economic situation so that won't be easy. We have a salary limit. As for names, we haven't discussed this possibility. Tebas' words? It would be of interest to him if players like Haaland were here for the good of the League."
"I had to come in during the middle of the season. The squad is what it is, I've been here for a little over a month and things have to change, not only players but also game dynamics. New aspects take time. There's no preseason in between. We need to strengthen the team, especially the attack. I see that some things have to change. Players, yes, but also dynamics, habits, concrete aspects… We, for example, don't defend the same way as with the previous coach. It's clear that we have to strengthen the team."
"We value all possibilities. If we reinforce the squad, there also must be exits. We have to think about Elche and Sevilla, get results. But we value all possibilities. If we sign someone, there will also have to be someone on his way out."
FC Barcelona will face Elche at 18:30 local time tomorrow at the Camp Nou.