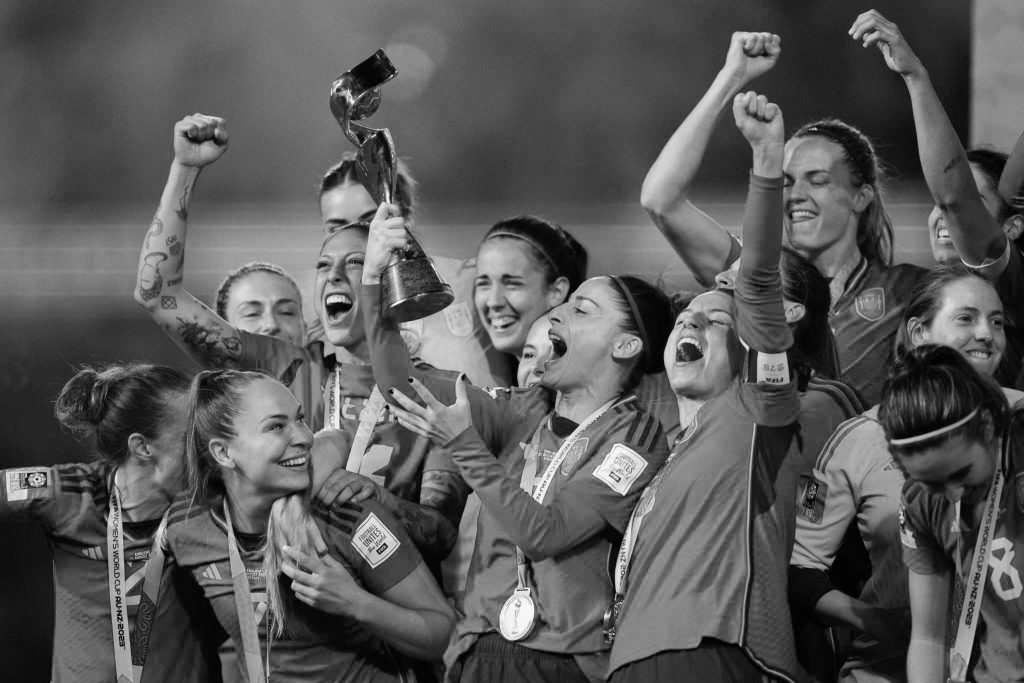 How the inappropriate actions of RFEF President Luis Rubiales on an international stage prompted all twenty-three players from Women's World Cup winning Spain to resign from the team only 5 days after triumph along with an additional sixty Spanish nationals until Rubiales is removed from office.
Blink and you might miss it. Unless you've been paying attention to mainstream media such as the BBC, CBC, CNN, PBS, ESPN, AP News, USA Today, Bleacher Report, The Guardian, Sports Illustrated, EuroSport, even Daily Mail. Which in that case are major means. The 2023 Women's World Cup hosted by Australia/New Zealand is now over and has left a big black cloud like a bad hangover. Where we last left off, the Spanish national team had advanced into the semi-finals of a World Cup for the first time in their history. Not without controversy and clashing heads of course, with head coach Jorge Vilda painted as the antagonist and produced public shame ever since fifteen players resigned from the team in September of 2022 claiming "incompetence" and an "unhealthy emotionally abusive work environment." [For more context, we go into depth here: https://www.blaugranagram.com/salmas-victory-spains-bitter-history/]
Jorge Vilda has still not stepped down from his position as manager of the Spanish Women's national team and we are nearly in September 2023, a year later. Las 15 and their uphill battle for a safe work environment and competent coaching were not forgotten during this tournament by supporters and participants alike. Dignity and morals are worth far more than any trophy can offer. Yet, those who willingly went back and/or those who were selected for the World Cup including Culers Cata Coll, Ona Batlle, Irene Paredes, Laia Codina, Aitana Bonmatí, Alexia Putellas, Maria Perez and Salma Paraluello put on such spectacular, secular solo performances that Spain slid just one more goal past Sweden in the semi-finals to secure a 2-1 victory. Tactically, the Spanish team relied on themselves to stick to tiki-taka triangle passing patterns, along with keeping as much possession of the ball as possible. For those unfamiliar with Spain's style of play, an identity of keeping possession for as long as possible in a game plus passing in triangles to advance the ball upwards are bread and butter. Very on brand. So don't think that Jorge Vilda is a tactical genius just because they won, think about the players on the pitch and how these women have known this style all their lives, know how to play it right, and capitalized on opponent given opportunities with fanciful footwork. Going into the final, many fans were in a frenzy between knowing that as La Roja continued to advance, unfortunately so did the unfit man in charge.
Despite the circumstances, Spain were to face England's Lionesses in the final. Heavyweights England entered the octagon with a bejweled belt around their waists, having been crowned European champions in the summer of 2022, and knocking La Roja out along the way. Royalty was present at the final in Sydney with Queen Letizia and Princess Sofia (who is also a footballer) in attendance. So it commenced, the 4th ranked team in the world and 6th ranked team in the world facing off for a first Women's World Cup title– each. England started off strong with world class wingers and durable defending, yet what's that one quote that goes "If at first you don't succeed, try, try again." And as mentioned earlier, the "trying again" factor was utilized using tiki taka triangle passing and possession. Over and over again. The Spaniards stuck to their tactical roots and retained 57% possession of the ball for 90 minutes and a whooping 395 completed passes. Bread and butter. Those stats were enough to propel a goal past FIFA Goalkeeper of the Year Mary Earps and often in football one goal is all it takes.
1-0. History. From a Fox Sports article published on the day of the victory, the unknown author clean and simply puts "Though the on-field celebrations were joyous and robust, the emotions of the next few hours and days will likely be complicated for Spain, a nation at odds with its manager, Jorge Vilda. Fifteen players walked away from the national team last September in protest of Vilda's coaching methods and management. Vilda refused to resign when the players demanded he step down, and months later only three of the original protestors were included in the World Cup squad. That La Roja made it to the final — and won it — despite such upheaval and strife should only underscore the impressiveness of their achievement." [https://www.foxsports.com/stories/soccer/womens-world-cup-2023-top-plays-spain-england]
Although by the time this story is published, it will only have been less than a week since this groundbreaking World Cup result, but not even the celebrations could cover crime and scandal. And not just any crime or scandal, but blatant misogyny and assault. Blatant misogyny and assault during the trophy presentation in front of thousands in the crowd and millions on international TV. Not even a week later, (and if you thought fifteen players resigning was a statement), how about eighty-three players resigning. Yes, eighty-three. Not even a snowball could accumulate so much traction in so little time. The Spanish Women's national team are World Cup Champions, look up their names and the results are overshadowed by the Spanish Federation's President, Luis Rubiales. Luis Rubiales and the non-consensual kiss planted on the lips of Jenni Hermoso.
Video evidence, photo evidence, social media upheaval and uproar, even taken to the streets. We all saw it. With respect and solidarity for Jenni, there will be no content posted here, but RFEF President Luis Rubiales kissed her on the winner's podium during the trophy presentation without consent, not even an hour after securing victory. Inappropriate and inexcusable. Immediately after the match, during locker room celebrations "Jenni expressed her dislike of the kiss during an Instagram live stream" (The Guardian, YouTube). Causing concern from all corners of the globe, Rubiales was forced to make an apology video in which his acting skills were mediocre at best. "Because at a moment of maximum effusiveness, without any bad intentions, without any bad faith, well what happened… happened. We didn't understand the controversy because we saw it as something natural, normal" (The Guardian, Youtube). A lousy excuse for a lamentable action which was caught on camera from all angles.
After Rubiales' apology, Jenni herself released a public statement along with her agency TMJ and FUTPRO players union claiming that she did not agree to the kiss, was almost manipulated into a joint apology video with the president, and felt "Vulnerable and a victim of impulse-driven, s**ist, out of place act without any consent on my part" (Jenni Hermoso, X formerly Twitter). Just hours prior to Jenni's statement (attached below), the RFEF (Royal Spanish Football Federation) held an emergency Extraordinary General Assembly in Madrid filled with board members (most likely chosen by and have political connections to Rubiales) in which the public, press, and players alike expected him to resign due to pressure and improper conduct. It wouldn't be the first accusation in the Federation. Instead, when the council commenced, Rubiales shamelessly refused to resign, stated it five times out loud, "No voy a dimitir" and offered Jorge Vilda a contract renewal to an appalling applauding audience. We must also remember that these clapping board members, Jorge Vilda and men's head coach Luis de La Fuente were most likely picked by the president, most likely following along with fright and remembering their fat paychecks.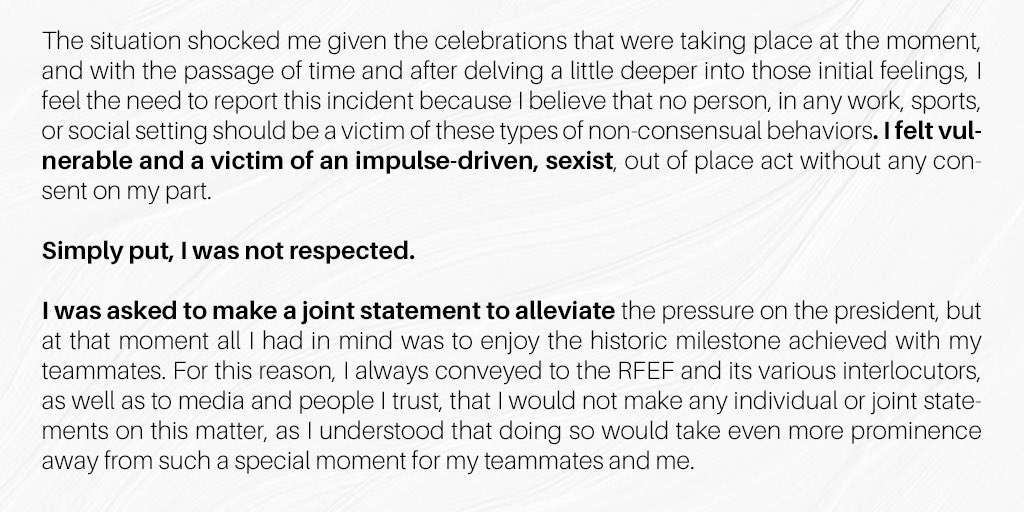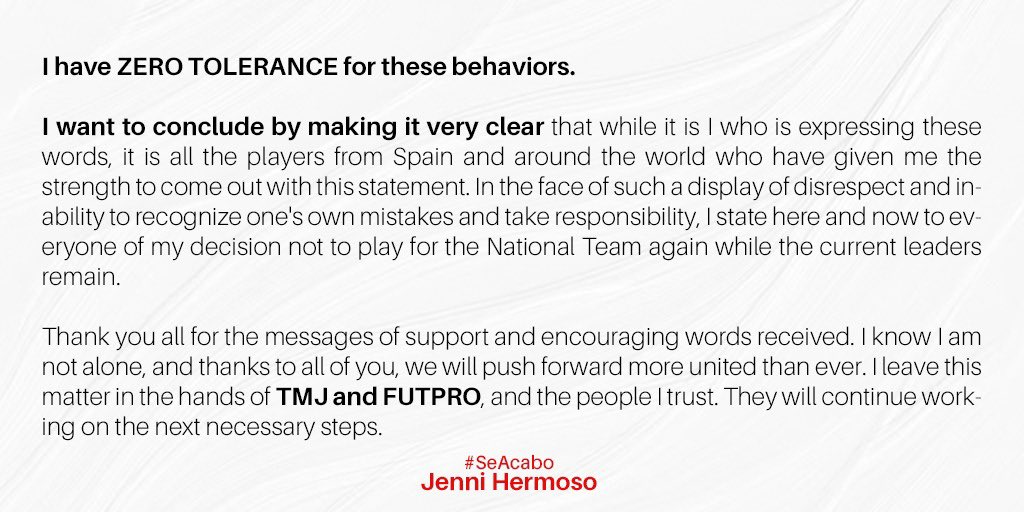 After the public statement issued by Jenni Hermoso and adamant argument from Luis Rubiales, it had gone too far. A sad day for Spanish football.That's when the players decided to take things into their own hands once again. Eighty-three to be exact. Player union FUTPRO, along with all twenty-three World Champions, an additional sixty Spanish nationals who are eligible to play for their country, including the original Las 15, now say they refuse to be called up until Luis Rubiales is removed from his position as president of the RFEF effective immediately. The outpouring of support and solidarity for Jenni has been so overwhelming and empowering, goes to show there is power in numbers. From teams in Mexico and America such as the Orlando Pride, San Diego Wave, Tigres Femenil, Rayadas, Jenni's current club Pachucha to the England Lionesses who had their hearts broken by Spain 6 days ago releasing a joint statement, the hashtag everyone is using is #SeAcabo. International players from Pernille Harder of Denmark, Ingrid Syrstad Engen and Caroline Graham Hansen of Norway (who both have FC Barcelona club teammates), Swedish World Cup bronze medalists Magdalena Eriksson, Kosovare Asllani, and Zecira Musovic have had something to say regarding the matter. Australians Sam Kerr and Steph Catley, Brazilians Ary Borges and legendary Marta, two-time Women's World Cup Champions Germany, famous Spaniards including government officials and pop singers have had enough. This trend of abuse by those in power is all too common, especially in the women's game. The Royal Spanish Federation's priority of protecting one guilty man has gone past the point of no return.
Most recently, after all of this backlash and bombshell accusation, instead of condemning Rubiales, firing him and banishing him for life, the Royal Spanish Football Federation announced "Instead of removing president Luis Rubiales, they will take legal action against player Jenni Hermoso as they claim she 'lied' about non-consensual kiss. The federation also says players have an "obligation" to play for the national team after 83 female players said they would not play until Rubiales was removed, in solidarity with Jenni Hermoso" (X, formerly Twitter). A fall from grace would be an understatement. What's worse than bad? The worst.
On the evening of Saturday, August 26th, the mother of all federations, FIFA, finally broke their silence and released a provisional suspension proclamation to Luis Rubiales, stating a "Suspension for an initial period of 90 days pending investigation… Also orders Rubiales and RFEF to refrain from contacting or attempting to contact Jenni Hermoso" (Ana Crnogorcevic, X formerly Twitter). Not only that, but simultaneously accumulating with the eighty-three players, eleven members of the World Cup winning technical coaching staff have stepped down in protest of Rubiales, minus Jorge Vilda. The last man standing, back to the start just like in September 2022.
This is still a developing story that will continue to be updated, as Spain are set for a rematch against semi-final opponents Sweden in September, although wearing a jersey for a federation that prioritizes those in power instead of players is the least of their concerns. Eighty-three are stronger than one. Protect the players.