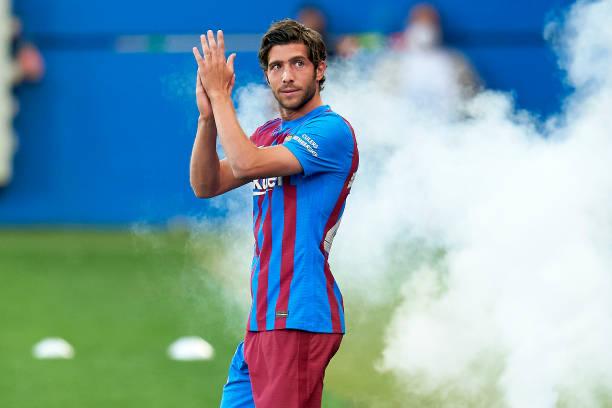 The 29-year-old spoke in an exclusive interview with La Vanguardia regarding the side's mentality going into the 2021/22 season without Messi, speculations regarding his reluctance to wage reduction, and more.
Things have not been too well for FC Barcelona lately, and Lionel Messi's departure has only added to the club's despair. Sergi Roberto, set to don the captain's armband with Gerard Pique, Sergio Busquets, and Jordi Alba in the upcoming season, talked about the recent happenings, and the dressing room's state in his latest conversation with La Vanguardia.
Here are key excerpts from Roberto's answers, including the Messi situation and how the club will continue without him after a long time:
Regarding his injuries last season
First, Roberto talked about his injury-hit 2020/21 season and what went behind the scenes. "Last year everything was going well until November," he said. "I was injured and on top of that, I tested positive for COVID. Recovering at home was not the ideal thing and I went down with a new relapse. I wanted to help the team but saw that I couldn't."
Roberto also admitted playing in pain, with an injury towards the end. "Yes, in the case of the heel injury, I played with it. Playing in pain prevents you from performing well. I have thought about it afterward and it would have been better to stop. If you want to give your best you must be one hundred percent," he confirmed.
Regarding his position for the next season
As it has always been, Roberto expressed his desire to fit in the Barcelona midfield, especially considering the options that Barcelona have on the right side of their four-man defense. "I ask myself the question every year, but this time as there are two full-backs and because of how the training sessions and the games are going, I see myself more in the center of the field," answered Roberto on question-related to his position. Emerson Royal is set to compete with Sergino Dest for the right-back position this season.
"I want to play there, but the coach decides, of course," he added.
Regarding Messi's last-minute exit from the club
Roberto said the dressing room is still "in a state of shock" regarding Messi's last-minute exit due to the club's inability to register their captain.
"Leo came from Ibiza and we thought he would sign the renewal in a couple of days. Nothing made us think of anything else. When we returned from Germany, we took it for granted that he [Leo] would come to train with us now. That's how he and the club wanted it too. But there was that problem that Leo and the president explained with LaLiga. Even so, we were very surprised and I told him so," said the 29-year-old.
Regarding Barcelona's road ahead without Messi
"Everything changes. We had the best in the world and all the offensive plays went through him. He was everywhere, he associated with me, he went to the middle, he connected with Jordi [Alba] on the left," the La Masia graduate said about the the road ahead.
"We have to be more united than ever, be a more compact team with the ball and without it, press up together," he added. "If we don't manage to score Messi's 40 goals, then let's try to score 30 but concede 10 fewer goals. You have to balance. We have a very good squad. Help us, encourage us, the situation is difficult for everyone. The best way to get this done is to be united. The League begins on Sunday and we have to win. If you give us your support we will try to return it with great success."
Is this an occasion for La Masia to step-up again?
"Very talented and eager players are coming up," the midfielder answered. "Gavi, Nico, Balde, Yusuf – who has just arrived – have done well. For whatever reason, they are having more possibilities than in other years, and recovering that idea of ​​the Masia is very good. At the base of the glorious years, we were almost all from home. All these players are giving a very high level. I would tell people to be excited about them, their response is not normal because of their age."
On speculations about his reluctance to receive a wage cut
Roberto denied the speculations, and further explained the situation. "It is totally false," he asserted. "Last year we accepted the reduction of salaries and the entire squad from the first moment has been open to help the club, to collaborate so that it is financially stable."
"We've cooperated from the first minute. I have read things about players who said no when it is precisely the opposite. Myself, the captains, the companions, as far as I know, have been supportive and open to negotiations," he added. "What we feel is that much has been said without knowing. I, for example, am waiting for the club's proposal. My situation is different, I have my contract until next year and I will renew soon with a lower salary. We are helping."
Regarding mental health and how he's handled it
"It is very important to talk about it [mental health]. The head is sometimes much more important than the legs. Positive dynamics multiply your confidence, while emotional blows make you enter the opposite loop. Many athletes have opened up about it," he said about the question. "I have had very hard times, when my mother passed away I surrounded myself with the closest people. Criticism in a club like this must also be managed. We are on a roller coaster, sometimes you don't even want to leave home."