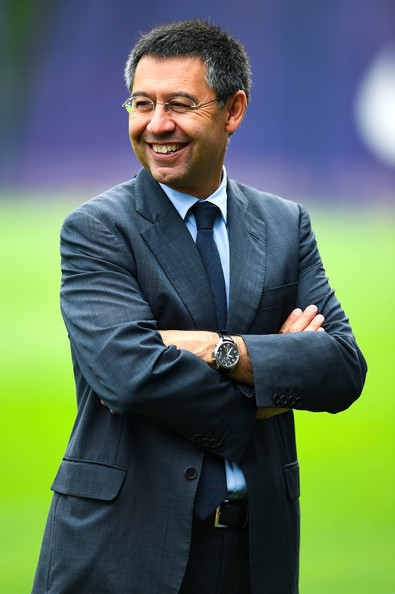 FC Barcelona president, Josep Maria Bartomeu, gave an exclusive interview to SPORT in which he reviewed and talked about the current issues faced by the team and the club.
The Arthur case
The latest controversy that has shaken up the Barça dressing room is the Brazilian's decision to not join the team for the Champions League. In addition, Bartomeu explains that the midfielder's transfer operation to Juventus was a decision of the player himself.
"What Arthur has done is a lack of respect for his teammates, because the team wants to do well in the Champions League. And also for the club, it is not logical that while playing in such an important competition, a player decides to erase himself. It is unjustifiable and totally incomprehensible", says Bartomeu.
"We are talking about a player, who doesn't want to renew for Barça because of the amount he wants, then he has a better offer and he explains it, but Barça is unable to match that offer and discard it. In turn, the player decided to leave, and then the operation started" explained Bartomeu.
"We had reached an agreement with him that he would continue to play for Barça in the League up to the end of UEFA the Champions League campaign. He is a player who has a certain importance in the team, who could help us."
"But he did not appear from the return of the mini-vacations. It is an unacceptable act of indiscipline. And that is why we have opened a case against him because there is no argument to justify his absence. He called and said, 'I will not return, I will stay in Brazil'. It is his decision, no one has given him the permission," adds the president.
Trust in Setien
Bartomeu also assured in the interview that Quique Setien will continue at Barça next season, regardless of what happens in the Champions League.
"Setién has a contract in place. When we hired him, we explained to him that it was a project for the remainder of the season and the next. Measuring a coach in a few months, with a pandemic in between, is very complicated. Arturo Vidal already said that they have had little time to get to know and work on his strategies."
"At no time did we ever think about changing the coach. I know of some misinformation that came out saying that if he did not win two games we would replace him with 'Pimienta', but that was never the case. Neither Abidal nor Planes, not even the board of directors discussed the matter. Setién is our coach", reiterates Bartomeu, who discards other names as possible candidates for the bench.
"We have not spoken to anyone. Neither with Laurent Blanc nor with anyone else. I talk with Xavi because we have a good relationship, but he recently renewed with his team. Xavi will come one day to train at Barça. And he will decide when."
Ansu Fati
Bartomeu acknowledged that he recently spoke with Ansu Fati, to convey the unequivocal message to the player and his family that the club has not considered transferring him, despite the interest of other teams. 
"We have not received any formal offer for him, but there has always been interest from different clubs. Our answer is clear, Ansu is not for sale. He is essential for the future of this club, and moreover, he represents the La Masía academy, through which many players have been promoted into the first team", says Bartomeu.