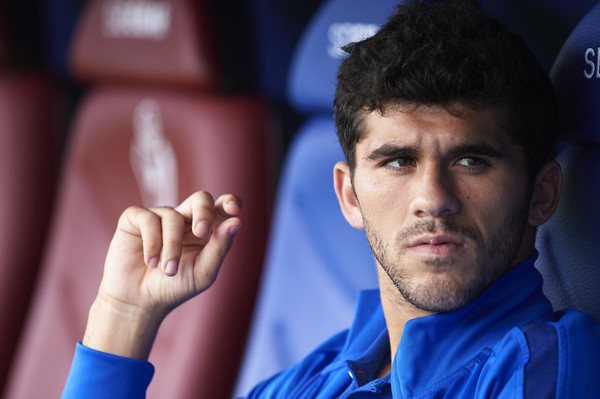 After only enjoying 170 minutes on the pitch under the new coach Ronald Koeman this season, Carles Aleñá is supposedly thinking of changing the shirt colors as early as the upcoming month of January, RAC1 reports.
It has been almost half a month time since the last of the 22-year-old Catalan midfielder was seen on the pitch against Real Sociedad. The fact that Ronald Koeman is unable or possibly unwilling to find a place for him in the system he is currently trying to implement, is becoming clearer every week. Culés, who were expecting the La Masia midfield duo of Alena and Puig to play significant roles for the team this season, have been left disappointed thus far.
As it seems, Carles Aleñá will be the first one to act on his lack of playing time, per the reports coming out of Spain today. According to RAC1, the midfielder, who has already spent half a season on loan at Real Betis this year, is already determined to free himself from the chains tying him to the bench at FC Barcelona. Whether he is leaving his boyhood club for good this time or going out for another loan spell is unclear as of now. As per reports, his options seem to be various.
Important to note are the words of Ángel Torres, the president of Getafe, in which he told El Transistor that Carles Aleñá could also be an option for his side, after primarily speaking about the Japanese prodigy Takefusa Kubo, who is reportedly keen on joining his side. However, he pointed out that no actions are going to be taken in a rush, from which we can gather that nothing is close to being finalized as of this moment.
Furthermore, Carles's future may lie outside of Spain this time around, as there are supposedly clubs interested in his services. Nonetheless, no actual sides were named in connection to the member of the U-21 Spain national team. There is a possibility that we may know more by the time the 4th of January rolls around and action may be taken concerning any transfer Alena could be the protagonist of. Whichever decision the club and the player will undertake in regards to his future, culés can only hope it is going to be the right one, as Alena would hardly be the first La Masia graduate whose career was misdealt with during the tenures of Sandro Rosell and Josep Maria Bartomeu.