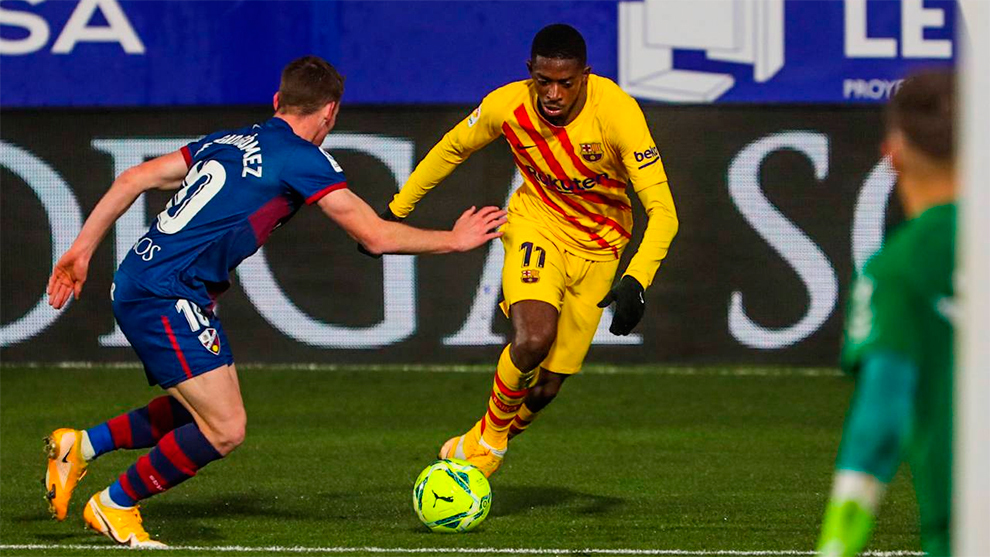 After a formidable defeat against PSG in the Champions League last week, the team once again has shown grit & a promise to dominate their opponent till the last minute irrespective of the end result. Beating the French giants on a 4 goal margin was of course, highly unlikely but considering the current display of football from Koeman's side, it's comfortable to say that the Catalans have a golden opportunity to get back into the LaLiga t**le race alongside Atlético & Real Madrid with more confidence.
FC Barcelona host SD Huesca at Camp Nou tonight. A squad consisting of 22 players has been announced by Koeman with the likes of Araujo who had recently injured his left ankle, included. We are likely to see the same formation we saw against PSG last week, a 3-4-3 with De Jong as the centre back & the wing-backs upgraded to the midfield. It does give the Catalans more possession & chances to be more offensive in the final third but considering that De Jong had been yellow carded in his last match, I personally would find it risky to play him as a centre back at all costs. Araujo, if he's deemed 100% fit should get the defence sorted alongside Mingueza & Lenglet.
Putting Dembélé as a striker alongside Messi & Griezmann does give us the advantage to get the early goal but the young Frenchman's lack of finishing & decision making is a concern. He would rather work better in a 1v1 situation. Factually, our finishing as a whole has been our biggest downside this entire season. So, it needs working as a whole.
As far as things for Huesca are concerned, they currently stand at the bottom of the league table with 20 points and only 1 win in their last five fixtures. However, their 3-4 loss to Celta & their 3-2 victory against Granada has confirmed one thing for sure, that they will be going all-in for the goals till the last minute of the final whistle tonight. Their striker, Rafa Mir who has 7 goals to his name is someone to keep a watch on with their two wing-backs Javi Galán & Pablo Maffeo who should be restricted from getting the ball inside the delivery box.
To conclude, it's undoubtedly an easy win for the Blaugrana tonight, but more importantly, a crucial win to get those 3 points and close in the gap to just 4 points with the current league leaders Atlético Madrid who recently dropped points following a draw against Getafe yesterday.
Considering the current form I'll go with a 3-0 win for the Blaugrana tonight. What do you think?