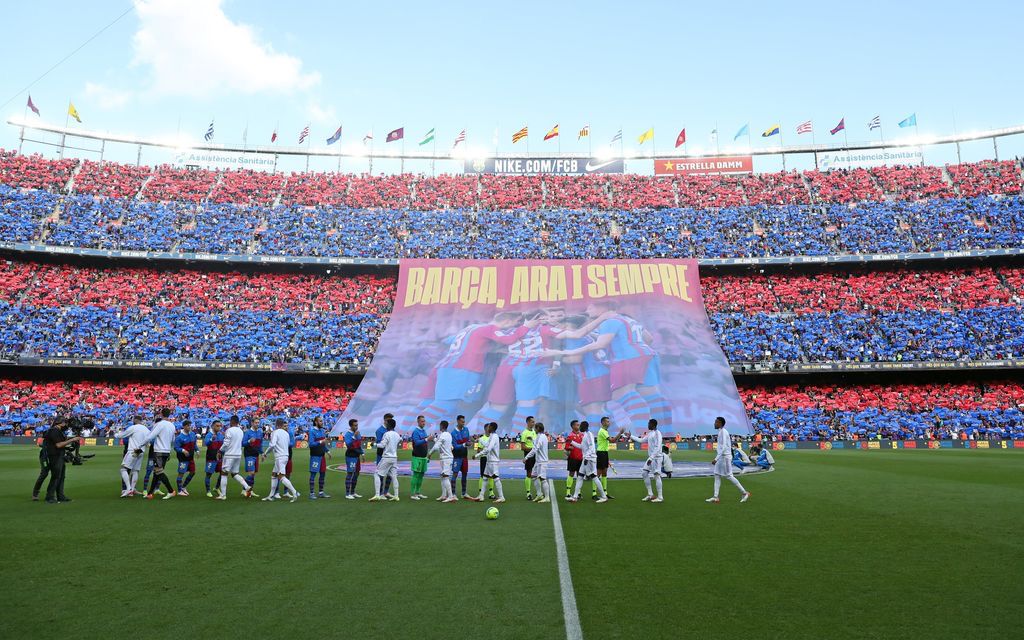 FC Barcelona and Real Madrid clashed for the first time this season, with the team from the capital coming out on top in the end. Ronald Koeman, Eric Garcia, and Sergio Busquets spoke to the press after the match.
After a David Alaba stunner in the first half and another counterattacking sequence finished off by Lucas Vazquez in the second, Real Madrid managed to get their fourth consecutive El Clasico win. Sergio Aguero pulled one back by scoring on his Clasico debut, but it came too late for the Catalans.
Ronald Koeman gave his comments on different things:
What is your opinion on the match?
"I think we have done enough to deserve a different result. We had a clear opportunity to score first and get in a lead, but then they scored first and defended the result well. We got good feedback. I believe we were good, the team was great, but we did not get the result we wanted."
Do you think there was some improvement?
"We were good in the first half. There was one clear chance and two or three minor ones. It makes a difference when you take the lead. They waited for their chance and took it on the counterattack. You cannot always fight against such quality in attack. We looked at different options, but it was complicated."
Are you still optimistic?
"There is a lot of matches left to be played in the league still. There is another match on Wednesday and we have to try to be better. Ansu worked hard but had a hard time creating chances. They defended well."
Can we talk about losing more than just three points?
"In El Clasico, yes. Having a background with the club, I know it is more than just 3 points. But we cannot relax- We know that the league is long and things can still happen. We have to keep working and improving. As I already said, we can be sad today, but we have to also get prepared for Wednesday."
FC Barcelona continues not winning the bigger matches.
"The expectations need to be high of course. We have shown today that we are not inferior to Real Madrid. If instead of conceding first, we scored first, everything would be different. I think we are closer and closer to also be successful in bigger matches."
Are you sure Ansu is okay?
"I do not think it has anything to do with his knee. He has minor discomfort, but I really do not think it is anything serious. He played 70 minutes. It is a lot for him at this point. He needs rest in order to be available on Wednesday."
How are the players after this loss?
"Well, like all Barcelona fans, we are disappointed by the final result. It is like that and it is understandable. We did our best and the fans helped us until the final whistle. This is no time to give up, as we play again on Wednesday."
Madrid had fallen back in the second half. Could they have scored more?
"I think that is exaggerated. It is true that they had two chances to score, but it is always very important to score first. They had it easier realizing their plan after scoring because they are very good at counterattacking. That is sometimes hard to control. They were more dangerous in the second half than they were in the first."
What do you think about the 34 crosses into the area?
"We kept possession, but there are things to improve. The final pass, crosses in the area, and positioning in the box. I do not support the crowd whistling Luuk de Jong. He is a player who offers us different things and he can be useful when you are losing the match with ten or fifteen minutes to go. I think it is something you have to get behind."
Do you understand that people are a little frustrated?
"Yes."
Ramon Planes said that you do not have the players with the same individual quality as before?
"This is not the time to talk about it. I am behind all my players. We are working hard to improve."
Sergio Busquets also offered his opinion on the match:
"It is not a fair outcome for what each of the teams showed. They scored their chance and then they waited for another one. We knew they were going to let us have the ball, but they had the speed upfront with Vinicius and Rodrygo. We controlled it quite well but against a team of such quality not stopping a counter or not being careful at marking can be enough to be punished by conceding a goal, which then changes the whole match."
"Dest had a great chance and Ansu before that. I do not think we played a bad match at all and we did not deserve to lose, but that is just how football is. Whoever scores first has a better chance to win. In the second half, we had possession and control of the match, but we did not manage to enter the dangerous areas and create clear chances. It is how football is. They managed the space well and were better in that regard."
On the referee:
"There were situations, but we cannot undo anything after the match has finished. In general, the referee did a good job. Controversial situations are not for me to respond to. The gap is getting bigger, but the team is also improving. We have to wait for Dembele to return now and work on shortening the point difference. The league is long."
Eric Garcia was the last one to speak to the press:
"We controlled the match in the first half and had our chances. We had to open up in the second half due to having to attack more directly. I think the team deserved more today."
"Between having the support of my teammates and having the support of the fans, it was a very special Clasico debut for me. I will not remember it in good spirit due to the final result, but I thank the fans for making it special. I hope we can repay them by giving them something to be joyful about this season."
Rayo Vallecano awaits FC Barcelona in the league now.