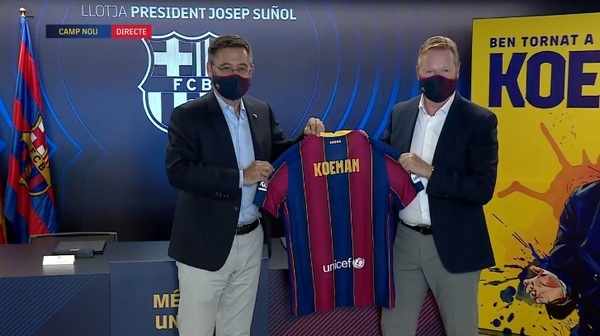 After signing the contract with FC Barcelona, Ronald Koeman spoke to the media for the first time as a Barça manager. The Dutch talked about different things including the rebuild, his dream of coaching the Catalan club, and much more
ON JOINING FC BARCELONA
"It is a day to be very happy, and proud. Everyone knows that Barça for me is my home and having the possibility of training Barça is a challenge. It is not easy at all because this job always demands the maximum and I like it that way. There is still some quality in this team to compete for the titles. Yes I have signed, and if I am the coach, I think that we have to make changes, the image of the other day is not what anyone wants. You have to work hard to regain prestige. Barça is the best team in the world and this is a dream come true. From now on, we want to work and to fight to be on top of everything, we will work together with players who have everything to achieve it".
ON BEING A DUTCH COACH
"I am Dutch and we always look to have the ball. The intention is to dominate the ball, play good football, and win games. I have learned from many coaches as a player and I have experience as a coach. I think I am qualified to coach Barça. The connection between Barça and the Dutch exists. These days are more complicated by COVID-19, but football should be enjoyed, and without enjoying you do not get the most out of it. I have to be proud of each of the players and me as a coach also to be in this club".
INTENTION TO DISCONTINUE IMPORTANT PLAYERS
"I don't like to talk about individual players. I have to find what is best for the club. There are players of a certain age who may have doubts about their performance but we must respect all the players and our technical plan is to seek the best for the club, the team and if decisions have to be made, they will be made. Everything has gone very fast and we are working and talking about the decisions that we have to make but I will not take names regarding the players".
ON MESSI
I do not know. As a coach, you want to have the best player in the world in your team and not the other way around. He has a contract and from today we will talk and start our work. I hope Messi stays here for more years. If I say it here, I won't have to meet him. They are private things and I'll talk to him about what he thinks of Barça, how he wants to continue and I am the coach to make decisions not only for him but for other players. He has a one-year contract but you always want him on your team."
CHANGE THE BACKBONE OF THE TEAM
"Not at the beginning. A player with the age of 31 or 32 years is not finished. It depends on how hungry the player is to still be here. There are 20-year-old players without hunger or work. We need the best team to win games, and work with people who want to give their best and nothing else".
FEELINGS AFTER THE 2-8 DEFEAT
"Like all culérs, I felt very sad because of the result. This can't be accepted even against a good team like Bayern, that is not the image we want. It was a sad day and after a sad day we will have different days".
ON HIS CONTRACT WITH BARCELONA
"First you have to put energy into the things which you have in your hands. The only thing I can do is to get good results. I have a two year contract. I know that there are elections and that there will be a new president but I can only work and if I win, the next president won't have doubts with me".
ON SUÁREZ
"I don't like talking about names, Messi is different from the others, if there are positive or negative decisions, the first thing is to talk to the player itself. I'm not going to talk about them here, out of respect for the players".
ON FRENKIE DE JONG
"For a player who comes to Barça, it is always complicated. His first year was good and he played many games. Yes, I have said that he has not played in his position, in a different position than in the national team with me. You have to play where you feel comfortable because that is where you will get the best performance out of the player".
ON COUTINHO AND THE STAFF
"He is a Barça player and if we have to make decisions, we will make them. I have time to get to know the young players out there. It is time to give young players opportunities, and I have no doubt about playing young players when they deserve it. Not only young players, but you also have to have the balance, the team that has to change to maintain its identity".
ON REBUILDING
"It is not a revolution, we must look for the best for the club and if that implies changes, we will make changes. But we will do so by talking to the players. We are clear that what we saw against Bayern is not the Barça that we want to see, we want a very different image".
Statements by FC Barcelona president, Josep Maria Bartomeu
"The first thing is to welcome Koeman to his home, which he loves so much. Today a dream is fulfilled for him. He was a key part of Cruyff's Dream Team and we recognize him for all that he contributed as a player, with so many successes. Koeman has been waiting for a long time, and it was written that one day he would be Barça's coach and that moment has come. I thank you for the challenge you accept, these are not easy moments".
"Ronald has knowledge, charisma, he is brave and loves Barça. What he did as a player, it is a pride for us that he does the same now as a coach. We have spoken these days, these are not easy times, due to the pandemic and the club's sporting situation. It's time for a new season, from here on we can build a new cycle, we are convinced that it will go very well, Koeman makes us very excited".
"Barça has a very good economic, social, and economic health, but it is a sports crisis and that is why sports remedies must be applied. That's the reason why signing Koeman is the first measure in that regard".