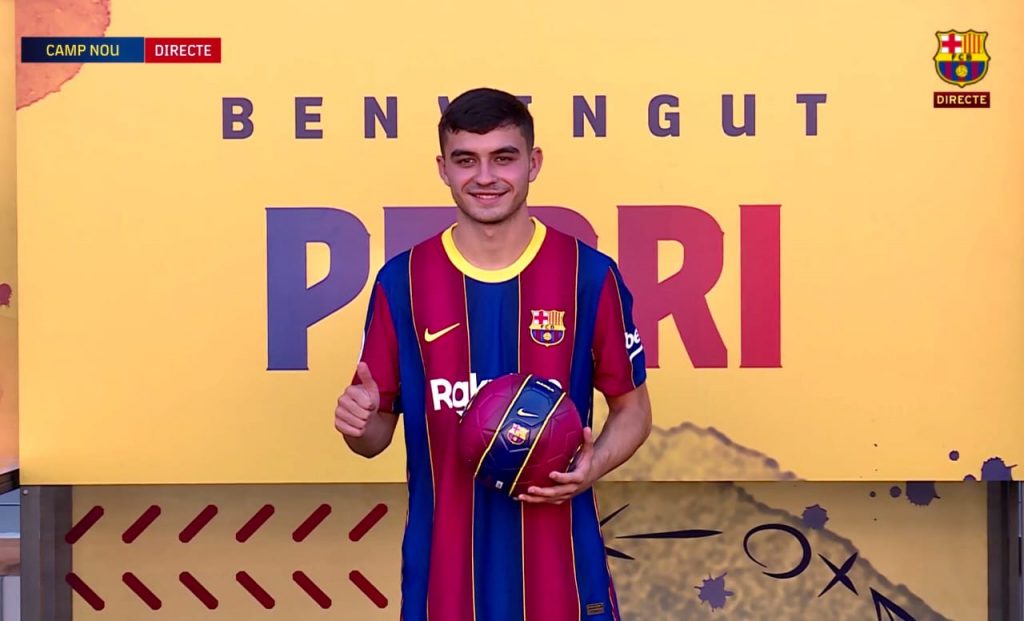 FC Barcelona's youngest addition Pedro González López, commonly known as Pedri was presented at the Camp Nou today and gave his first-ever press conference as a Barça player.
President Bartomeu addressing Pedri: "Presenting a young player as Pedri excites us a lot. I hope that he complete his dream of playing for FC Barcelona, I wish him the best."
"We signed him a few months back and we have been following his progress and how he plays. Today he has been selected for the under 21's squad of the National team, a good day for him and for all the Catalans."
"Pedri is a very talented player and here, we will help him grow. I have no doubt that we are seeing one of the next stars of European football."
RAMÓN PLANES:
"I take this opportunity to thank Abidal who has done a great job for two years, and signing Pedri was one of it."
"We have a player who can mark an important stage in the club. He was a very fast signing, it was done in a month and when we saw him play, we knew that he has a Barcelona profile. We have signed a very talented player."
About the meeting between Messi and Koeman: "Yesterday Koeman announced that in the next few hours he will see Messi, it is normal because he is the captain and the best player in the world. It was a private meeting."
About the departures: "We have to work internally, privately, and have respect for the players who have given a lot to Barça. We have to change things, we have discussed everything with Koeman but some things should be kept private.
On Pedri being sent on loan: "We have received many loan offers for him, some important teams from Europe and La Liga are interested but the idea is to have him here at Barcelona for many years to come, the coach should make the decisions but we are sure that he will be with us for many years."
On offers for Ansu Fati: "We have a lot of young players on our team and there is no possibility of listening to offers for these players. Koeman's philosophy is to be brave with the young players and we have to follow that path which is what Barcelona supporters want."
On La Masía: "We have always looked at our talents first and we will continue to do that, there are already some players who have debuted for the first team. Moreover, you have to have balance of the experienced and young players, this is how you create a winning team."
PEDRI:
"This has been my dream since my father founded the Peña del Barça, I hope to show my talent and succeed at Barça."
About his loan spell: "Signing for a club like this, doesn't happen every day. It fills you up to do things right, the loan was one of it."
Pedri about his style of play: "I like to have the ball at my feet, my idol is Andrés Iniesta and now I hope to learn from the best that is, Messi. I hope he stays."
About possibility of a loan: "The first option is to stay and learn from the best players. I don't discard the option of a loan but the first option is to stay."
"I really hope to show my football to the fans, the pressure is high but it generates enthusiasm and makes you do things in a best way possible."