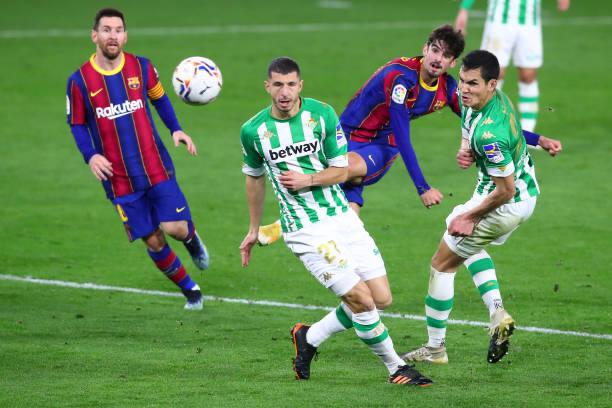 In another exciting match, this time against Real Betis in LaLiga, Barça came from 1-0 down to win 3-2, thanks to a Trincão goal in the 87th minute. Koeman, Trincão, and Mingueza all spoke post game about the win.
Here is what Ronald Koeman had to say:
On what he was writing in his notebook at the end of the first half
I was planning to make changes during the game. There were players with many minutes and Araújo's injury complicated things for us even more. We must highlight the mentality of the team, which has been able to get up. We have again demonstrated a strong character. In the first half we were missing something. We lacked the spark, but we improved in the second half.
On his choice of Frenkie de Jong in central defense
I like to have a player who has the profile of a central defender. I like to have a right footer and a left footer in central defense. Dest had discomfort in training yesterday and we opted for Frenkie. He usually plays less there, but then he finished in the second half as a midfielder.
On whether the Copa del Rey is the team's main priority
It is the shortest path to win something.
On Trincão
I am very happy for him because he has been working since the beginning of the season. He has to learn but those goals give encouragement and morale to Francisco. In the last few games he was unlucky not to score. I love it because I like him as a player and this goal for him is a step forward.
On what Messi & Pedri's changes gave the team
With Pedri and Leo there was quality between the lines to create scoring opportunities. And that's what Leo did.
On resting Messi
I always talk to the players about my thoughts and I talked to Leo about giving him a break and if we needed him, we would give bring him in. We were losing 1-0 and in a few minutes everything changed. Messi has given a lot to Barça tonight. In 35 minutes he has proven that he is a vital player for this team.
Here is what Francisco Trincão had to say:
On if he needed the goal
I didn't need it, I was just doing my job, defensively and offensively, and if it could be with goals, the better. I am very happy for the victory.
On the team's improvement in the second half
In the second half we changed our attitude and that was the important thing for the victory. In the first half, both teams were afraid to take risks, in the second we risked more, and we won.
On the team's celebration with him when he scored
I received a lot of encouragement and my teammates congratulated me after scoring the goal. They congratulated me because I had been looking for this goal for a long time. I don't care if I score when it's 5-0 or comeback, the important thing is to win.
On his goal
I work every day to help the team. I have to try to shoot more, today I shot and I was lucky.
Here is what Óscar Mingueza had to say:
On Trincão's goal
I am very happy for Trincao for his goal because he had been looking for it for a long time.
On the team being able to come back from behind to win again
With the experience of this season, we have improved to have this cold blood and to be able to win.
On how Barça won
At first they were calmer, but then we increased the rhythm of the ball and we knew how to press to turn the scoreboard.
On the team's improvement
We play against opponents who are difficult, but we have improved our attitude, our character, our desire to win. It is something that gives us a lot of life.