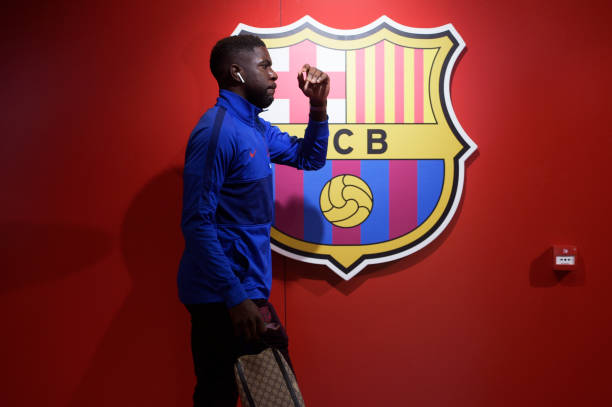 FC Barcelona defender, Samuel Umtiti gave an interview to Canal+ in which he expressed his feelings regarding his time at the Catalan side.
Samuel Umtiti a few seasons ago was seen as a crucial part of the project at Barcelona. However, since the 2018 World Cup nothing has been the same for Big Sam. The French defender had a constant knee injury prior to the World Cup. He decided to not go through with surgery and play with the French National team. As a result, he was sidelined him for the majority of the 2019 and 2020 season. Umtiti was never the same player after his decision. Once he recovered he became unreliable and was just a shadow of the the great player he was a few seasons prior.
Currently, Sam is playing for Serie A side, US Lecce on a loan. During his spell in Italy he has recovered his confidence and slowly built his level back up. Nevertheless, according to multiple reports, he will not be playing for Barcelona any time soon and is currently on the exit ramp.
This past week, Umtiti gave an interview to Canal+ where he expressed what is was like after his injuries at Barcelona.
On how he felt after arriving at Barça
"At the beginning, after my move to Spain, I felt appreciated and I played at a good level. Then I started to feel distrustful, I felt bad and I realized that nobody believed in me anymore" he stated.
Regarding his time spent injured
"In Barcelona, I spent 4 years in prison. I just wanted to feel appreciated and respected." Sam added.
He also added on how he feels playing for Lecce and in Italy
"It was a challenge for me. I know well that avoiding relegation, around these parts, is worth a championship. It's good, because in Salento I found my smile again and I'm grateful with club for that" he concluded.
Due to his "prison" statement a lot of Catalan fans took to social media to criticize Big Sam. However, the French defender published a story on Instagram to clear the air. It would seem the Spanish mistranslated his statement, confusing the word "depression" for "prison". As a result, various news outlets have changed their original posts and publications.
We do not know if Umtiti will ever play with the blaugrana shirt again, but we can only hope he can surpass his struggle with depression and enjoy the beautiful game.