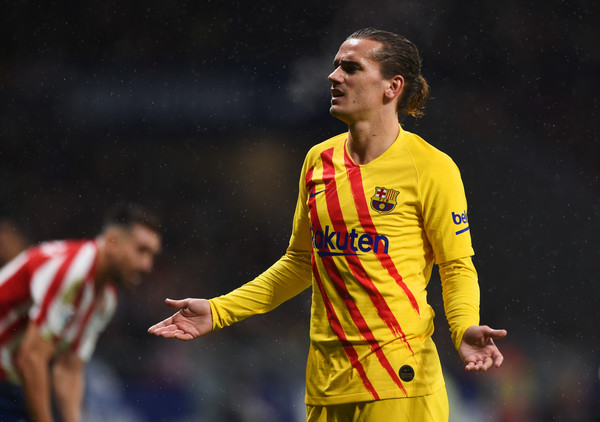 After numerous months of keeping quiet in regards to many topics, Antoine Griezmann has had enough and decided to participate in the Universo Valdano program to clear the air after comments of his former agent, Eric Olhats, created certain tension with Lionel Messi and the dressing room.
This Monday, November 23rd, an interview held by Jorge Valdano with the Barcelona and French superstar, Antoine Griezmann was released. In this conversation between the two football icons, the Frenchman spoke about his emergence in football, his current state with the Blaugrana club, relationship with Messi and why he has decided to break the silence that he has sustained since his arrival at Barça.
On his beginnings:
"I went in stages and that helped me not to burn stages, to be calm and to have my feet on the ground. For the fans I was the Real boy, the president, the coaches and the press behaved very well with me and that me helped to grow. I am shy, although inside my house I am very funny. When I do not know someone I am very shy."
About his stage with Atletico de Madrid:
"Each training session with Cholo was like a match, very intense, I was yelling very hard, Godín, Koke too. They yelled at me, because they wanted to see me on the field, push me, give me confidence and help me do my best for the team. Cholo is of the idea that everyone runs for others, everyone helps, everyone attacks and defends. I felt very comfortable with that way of playing, helping back to recover balls."
On his participation with the French International team:
"At the World Cup we had a great team. Pogba, Mbappé … The teammates gave me a lot of confidence, all together, all of them working like crazy in the games and in training. I thought we could do something. I remember the game against Argentina. The coach called the headlines and I told Deschamps, that for me we had to do 4-4-2, that Kanté is attentive to Leo and that's it. "What do you think, that we are Atlético?", they told me. And in the end we played 4-4-2. The coach talked a lot with me and continues to do so. At the football level, it is my great joy so far, winning the World Cup with my country."
On his decision to reject Barcelona:
"My parents were angry because of the decision, because of the documentary, which they didn't like. They prefer that I say it without so much story and because they wanted to see me at Barcelona and I thought I wasn't ready. Then there came a moment in which I needed a change, I had already seen a lot, important colleagues from the dressing room left me and that in a way helped me decide. Godín and Lucas left. I already felt prepared."
His arrival to Barcelona:
"I arrived in Barcelona, ​​which I had rejected a year before. There could have be comments even in the locker room, but I wanted to apologize if I had to, in the field. I spoke with Leo when I arrived and he told me that he was mad when I refused to go the first time, because he had made public comments and that in the end I said no, but that he was going to death with me and that's what I notice and what I feel every day."
On the critics he has received:
"Sometimes they are harsh. I accept criticism, because the best Griezmann is not being. I am an easy target because I do not speak or make my people speak. A year and a half and three coaches. It is very difficult when you come from another team and come to Barcelona, ​​which is the opposite, you have three coaches and a pandemic is difficult. And that makes you need more time. And then comments that are made, even those who may be candidates for the presidency who speak I have enough with the pitch for them to say if I'm a good signing or not."
On Valverde:
"He asked me to play on the left and go into space. Sometimes going inside, but especially being with Jordi Alba going into space. He is the one who brought me and I have a lot of respect for him. I could see his confidence."
On Setien:
"I learned a lot from getting the ball out, losing the defense and passing during the game. My relationship with him was normal. After Athletic I played for five minutes, he told me he wanted to talk to me and I told him it was not necessary. He told me how long I would be angry. I told him to be calm, that I would work and I wouldn't fault it. If you want to put me on, you put me on it. I'm still mad at Quique "
On the statements made by his former agent:
"With Eric (Olhats) I have not had a relationship since I got married. He did not come to my wedding, I was very angry, he is not my representative and I have no relationship with him. As no one around me speaks, he thinks as anyone does and can do a lot oof damage, it can create doubts in the dressing room and in my relationship with Leo. Leo knows that I have a lot of respect for him, that I learn from him every day. And then my uncle, who doesn't know what football is about. A journalist comes, he is with you for two hours and it seems that he is your friend, but what he wants is to get a sentence out of you. I told Leo that I have nothing to do with them. The other (Eric Olhats) I have not talked to him for three years and neither I even have my uncle's whatsapp."
On why he decided to speak up:
"I told Leo that I would speak to clarify things, although I don't like it. I need a little help from everyone, from the fans, from the club. From my teammates I already have it. That people go easier on me, journalists, that don't give me so much sticks, that they leave me a bit calm. I have the confidence of the coach and in the dressing room I'm fine "
On how the season is going:
"It is difficult. We have had difficult two years, but (this season) there are many games to play and I think we have the level to win important things, but we have to respond and it is also up to me to show that I am ready to play for this club."
On how he feels in Barcelona:
"I am very well here (at Barcelona), they have welcomed me very well. I want to help the team. They trusted me to sign me and now I want to reciprocate that trust by helping the team to win. There is no problem with anyone, I'm really fine and I just ask you to leave me a bit alone (he says goodbye smiling)."
That concludes Griezmann's interview with Universo Valdano.