Barcelona led the Spanish Super Cup final twice, but were defeated 3-2 after extra time.
The last minutes of extra-time summed up the game perfectly. Athletic committed a number of cynical fouls in quick succession to stop Barcelona from getting any sort of play going. The frustration amongst the Barcelona players grew, and in the end it boiled over for Leo Messi. In the final seconds of the game, the Argentine was sent off after VAR spotted Messi having a swing at Asier Villalibre.
Here's the post match reactions:
Koeman: "They scored right before half time and right before full time, that's very difficult to handle. The last goal was worse, because when they score at the end of the game it's very hard to believe."
The dutch coach insisted that the defeat is not a step back for his team.
 "It is not a step backwards. Winning a title is good, but it's only one game, We're still on the right track"
We are disappointed because we wanted to win, but that does not mean that we are on the right track, because we are improving. Today it just wasn't meant to be". Koeman emphasised that there will be no time for rest and that "We have to prepare another game. Today I saw things that I liked." Koeman also pointed out that "In our own box we have to get closer to the opposition players. That's what we have improve."
Koeman also smartly played down the disappointment of losing the super cup:
"The tournament is not very big if you win it and I don't think it's serious if you lose it" trying to get across that there's more important titles to be won. Although he did admit that "losing today was very hard."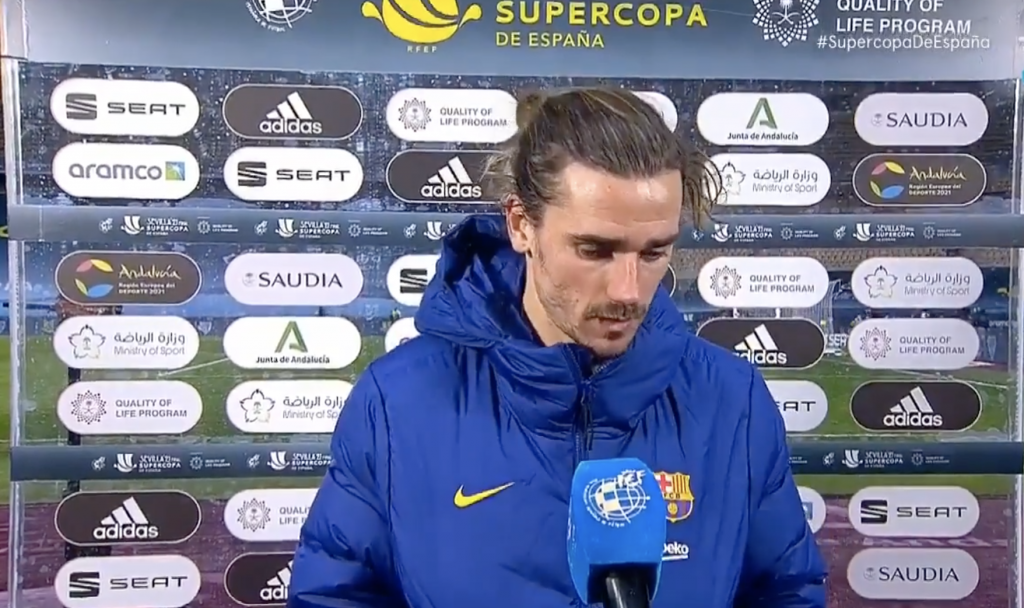 Griezmann: "I'm ruined, angry and upset. Every bad feeling you can have after losing a final. We know that Marcelino's teams work very hard, and press very well. That's what Athletic do, they give everything until the last minute. They pressured us and didn't let us play. We took the lead, but conceded right after, that cannot happen"
The frenchman also emphasised the lack of communication between the players, as a reason for the poor defending of set pieces.
"We defended very badly. We don't speak (to each other). We have to work on these things during the week, because they are very important details that define games. Someone has to yell."
Alba: "We didn't deserve to lose"
Atheltic's 1-1 equaliser came after they caught Jordi Alba ball watching and failing to recognise De Marcos' run in behind. After the game, the left back claimed that Barcelona didn't deserve to lose the game.
"It's a painful defeat that we didn't deserve. The team really wanted to win the title". He also expressed his dissatisfaction with referee. "A doubtful foul has penalised us a lot" he said, referring to the foul that was given against Barcelona in the 90th minute with Barça 2-1 up. The resulting free kick ended in Asier Villalibre tapping the ball behind Ter Stegen from close range, forcing the game to extra time.
The next game for Ronald Koeman's men is on Thursday, away at UE Cornella in the Copa del Rey.