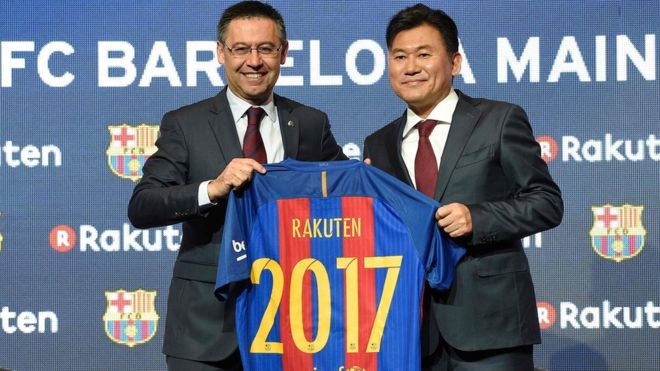 After what has been a fruitful partnership thus far for both parties, Barcelona are planning to renew the contract with Rakuten.
The current agreement between Barcelona and the Japanese company, Rakuten, was originally from the 2017-18 season until the 2020-21 season, with Rakuten being seen as a global partner in innovation and entertainment. This year, both sides are planning to negotiate a new agreement.
Since the 2017-18 season, Rakuten has showed its name in the front of the Barça first-team kits, in addition to being present in the Camp Nou facilities, the tickets, and at the club's official training facilities, the Ciudad Deportiva Joan Gamper. Moreover, the Japanese company has had its name well presented across digital platforms and the club's digital commerce.
It is worth noting that the Japanese entertainment company was also the producer of the documentary series 'Matchday', in which Barça was seen from within, including the Anfield debacle — the episode that garnered the highest amount of views. The series was broadcasted on Rakuten's own entertainment platform, Rakuten TV.
In the current contract, the company led by Hiroshi Mikitani pays Barça around 55 million a year, according to the Spanish newspaper Mundo Deportivo. The same report states that initial talks have taken place, with the objective of reaching another agreement during the last year of Josep Bartomeu's term as the president of Barcelona and his Board of Directors.
The conditions of the contract signed in 2017 are, according to the same report, a contract with a duration of 4 years, with an option to renew if both parties consider doing so feasible. This would see the club's income rise from 55 million to 66.5 million dollars per season, with a bonus of 1.5 million for winning LaLiga, and another of 5 million for winning the Champions League. From Rakuten's side, the first team has had to fulfill several advertisement commitments.
In 2014, Rakuten Inc. bought Vissel Kobe, a club that plays in the Japanese first division. The company's ownership and the global partnership with Barça played a big part in the agreement over the transfer of the Barça legend, Andrés Iniesta, to Kobe where he would spend his last years as a footballer. Other former Barça players such as David Villa and Sergi Samper also make the list of players who have featured for Japanese side.
The Japanese company, owned by Hiroshi Mikitani, last summer organized the 2019 Rakuten Cup, a preseason game that took place in Japan, in which a match-up between FC Barcelona and Vissel Kobe took place, where Andrés Iniesta faced his ex-teammates for the first time in his career.
With a year remaining on the contract, Barça and Rakuten — the company known as the 'Japanese Amazon' — already plan to renegotiate, looking for a new agreement to gather more benefits that both can obtain through their partnership.