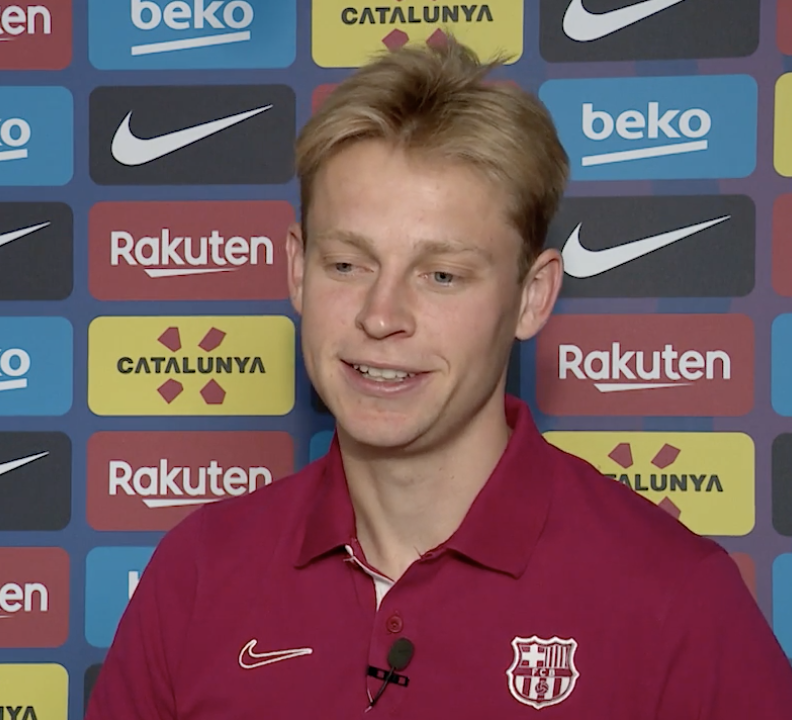 The Barcelona squad are currently in Baden-Württemberg, Germany on pre-season camp. Midfielder Frenkie de Jong took some time off to talk with SPORT in an exclusive interview.
Below is the full interview translated to English. Some parts have been edited for brevity and clarity
How's your form?
"I feel good. We're preparing for La Liga and we're growing every day."
This is your third season in Barcelona. Where have you improved?
It is difficult to say, but I think I have grown a lot as a person and as a footballer as well. I want to keep growing. 
Do you feel like you've gained influence in the dressing room?
I don't know. I'm still doing the same thing I did when I came here. I am the same person and that won't change.
What does being one of the most valuable Barcelona players on Transfermarkt tell you?
For me it means nothing. How i perform on the field is what's important.
During your time at Barça, the team hasn't won as many trophies. What needs to be done to start winning?
This season we have strengthened the squad and we're growing as a team. It's Ronald Koeman's second year in charge and teams usually improve in the second year. I believe that we will have opportunities to fight and win important titles (this upcoming season).
I guess you want to win more than anything, right?
Yes, of course, like everyone else.
Did the Copa del Rey title give the team some confidence?
The atmosphere is very good now. We have a lot of quality. The youngsters are talented and the squad is very strong this year. We will fight for everything.
Can you compete for all titles?
Yes.
Because of the mixture of youth and experience?
That mix is ​​very important, we have people with a lot of experience and a lot of quality and young players with a lot of talent who are eager to show what they can do.
Do you have a prediction for where the team will be at the end of the season?
It is difficult to know, but we have a very good squad this year and we are going to fight for everything there is.
Are you optimistic?
Yes, you always have to be optimistic. All Barcelona fans can be optimistic.
What has Koeman told you?
My relationship with Koeman is very good. I know him from the Dutch national team and he asks me to take responsibility and improve every year. 
That's natural to you, no?
Yes, I try to play as I have always played. Of course I want to get better, but my style of football will remain the same.
Was it a relief that Koeman stayed?
I am very happy with that, yes.
You gotta give the coach time, right?
Projects get better when there is more time, yes.
Your friend Memphis played a great game the other day, didn't he?
For me, Memphis is a player with a lot of quality. He can score, dribble with the ball, assists and he works hard for the team. He improves the squad.
How is Memphis settling in?
Memphis is fitting well into the group. When you play well you're an instant fit.
And with you assisting him like against Stuttgart it'll be a lot easier right?
I look forward to giving him more assists this season. 
But you gotta stop him from nutmegging you. (Video here)
(Laughs) It can happen. It was a bit unlucky. 
But you'll get him back, right?
Yes, I guess so.
Memphis looks like he's been playing for Barça for three years.
He'll adapt fast. He is a very good player.
Are you surprised by the self-confidence of the young players? Did you know any of them?
I know Nico (González) a little. I have seen him play a couple of games with Barça B. All our young players have a lot of quality.
Gavi, only 16 years old, played well didn't he?
When you have quality you can play in any team. Of course, with age you improve, you grow, but they have a lot of quality and i think they're ready for the first team.