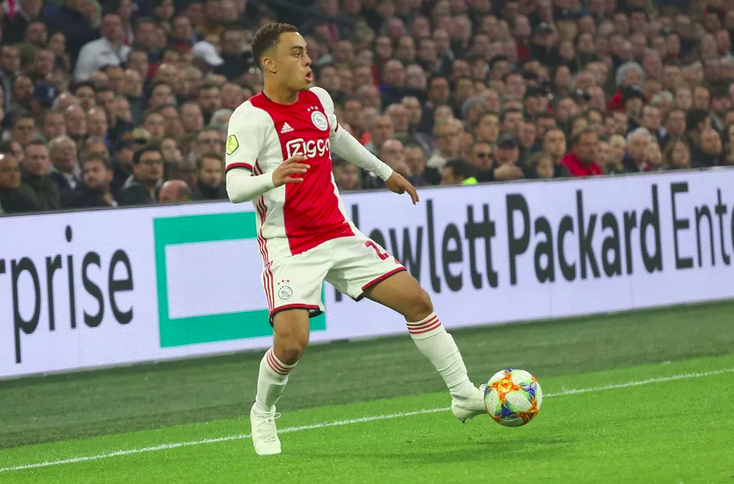 This article was written in collaboration with Omar Hawwash.
With several clubs planning for the summer, club sources from Ajax confirm to Blaugranagram that no interest has been shown by Barça regarding Sergiño Dest.
Sources from Ajax confirm to Blaugranagram that there has been no interest from Barcelona over Ajax Amsterdam's American full-back, Sergiño Dest, amid rumors stating otherwise.
Friday afternoon, the Dutch TV channel, VeronicaInside, reported that Sergiño Dest was very close to being Barcelona's new full-back, with him looking for a way out. The Dutch channel stated that the clubs had been in talks, as well as Barcelona with the player, and that an agreement was close to being reached.
However, the rumors were quickly shut down by the player's current agent, Joes Blackborn.
"Barcelona once asked about Sergiño [Dest]'s situation, but that's it. No genuine interest. Neither towards me, nor towards Ajax," Joes Blackborn told the Dutch journalist, Mike Verweij.
Sources from Ajax since confirmed to Blaugranagram that Barcelona have shown them no interest over a move for Dest this summer.
Although Dest only made his way into the first team this season, he has been linked with a move before, and Bayern Munich have reportedly been showing interest for a while now. However, according to multiple reports from the Netherlands, no club has formally contacted the Dutch side over a move for the Dutch-born American full-back.
The 19-year-old defender has played 20 official games so far, and has scored twice during those appearances. He made his debut against PSV during the Johan Cruijff Schaal match at the start of the 2019/20 season, and his Eredivisie debut followed on the 10th of August that year.
After a few good matches in Amsterdam, he made his international debut with the American national team in October, thus officially ruling him out from playing with the Dutch national team.
The talented full-back recently won Ajax' "Talent of the Year" award, as announced by his current club, Friday evening.