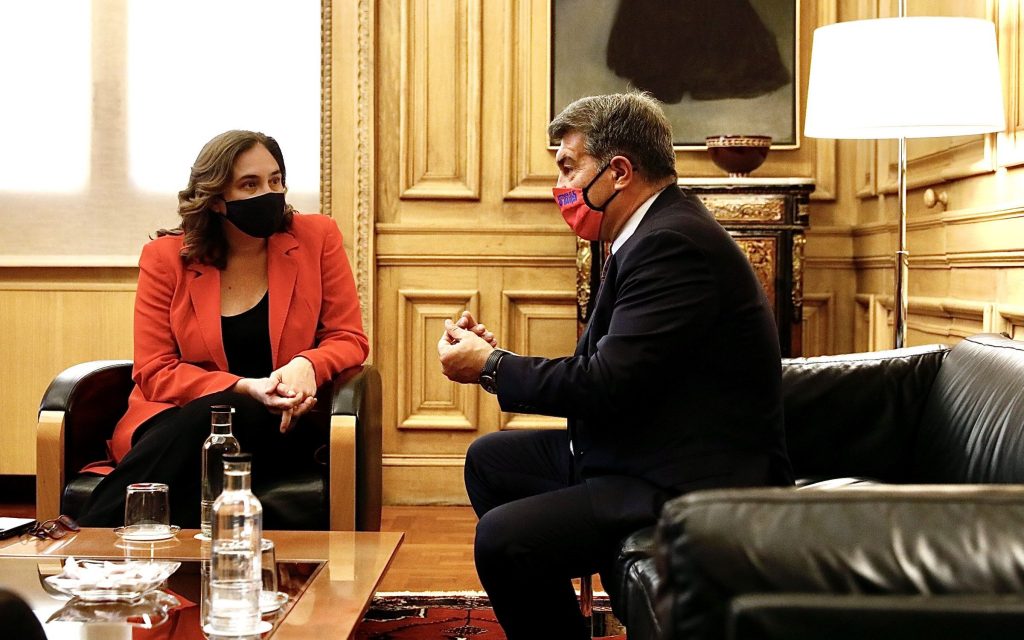 FC Barcelona and Barcelona City Council agreed on small improvements to the Espai Barça project on Thursday, the club said in a statement.
According to the statement, club president Joan Laporta and other representatives told Barcelona Mayor Ada Colau that FC Barcelona wants to conduct "a series of small architectural changes in the Espai Barça project to make it more sustainable and technological."
Both parties came to an "absolute understanding," being that the project positively impacts the club and the city.
The meeting, which occurred in the mayor's office at noon CEST, was the first institutional meeting between Laporta and Colau since he took office on March 7.
The Espai Barça project was originally approved in April 2014. It will renovate Camp Nou, construct the Estadi Johan Cruyff at the Ciutat Esportiva Joan Gamper training centre, and construct Campus Barça which will be home to a new Palau Blaugrana, a Petit Palau, an Ice Rink, and coach park.
Espai Barça was originally scheduled to be completed in 2021, but is now scheduled to finish by 2025 after it was put on hold for years. FC Barcelona representatives asked the city to accelerate the necessary permits to get the project underway.
Laporta and the city council also discussed the possibility of the club playing its matches in the Estadi Olímpic Lluís Companys on the Montjuïc mountain while Camp Nou undergoes renovation.
The project is estimated to cost upward of €1.24 billion, according to Forbes.