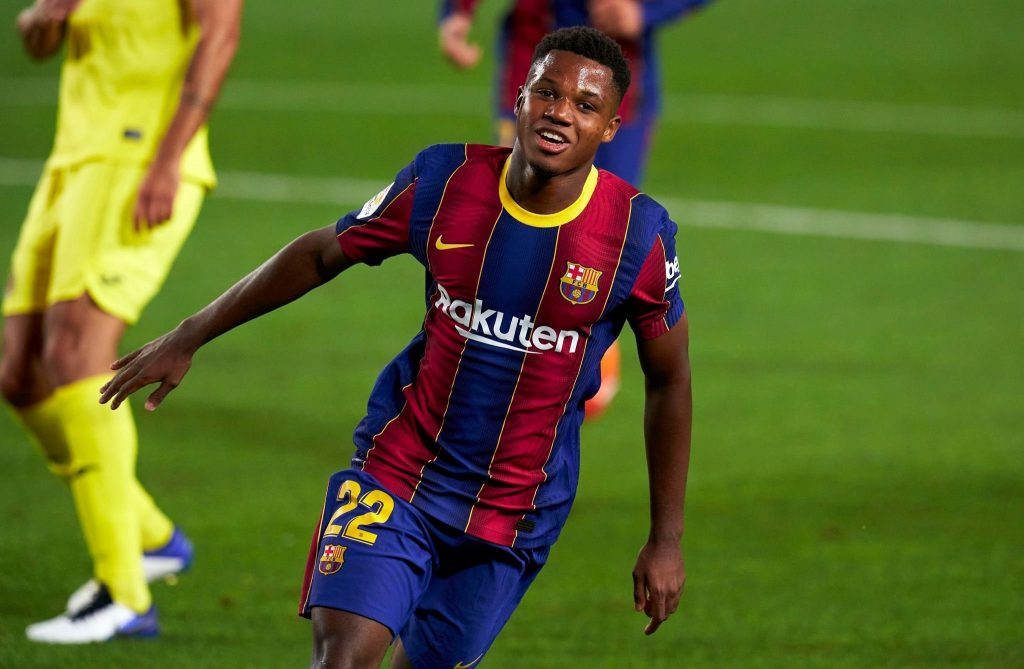 Barça started the new season with a 4-0 home win over Villarreal, here are the three things we noticed from Ronald Koeman's first official game in charge.

Barça press effectively in the new system

The season opener started with the Barça players paying attention to Lionel Messi addressing them in the tunnel before stepping out onto the pitch then Villarreal kicked off the game with the first attack in the initial 15 seconds. Barça maintained a 4-2-3-1 shape in possession. Moving the ball with some intent. Villarreal looking to exploit Barça's highline which is a result of their high press. Then Villarreal created the first opportunity of the game that was subsequently fumbled by Chukwueze. Barça counterattack immediately, but Ansu Fati can't sort his feet out. Brief spell of possession and Alba wins Barça a corner which eventually resulted in a Coutinho shot. Barça moving the ball quickly and no one taking excessive touches and notably, everyone is ready to press immediately to win the ball with Messi as the 9 and Griezmann moving out wide. Some sleek interplay on display as Barça had the larger share of the possession as was expected, possession resulting in crosses that came in quick succession. Then Ansu Fati scored for Barça in the period of dominance as Lenglet cut Villareal open with an exquisite ball over the top, Alba's impressive pace came to the fore as he chased down the pass and crossed for the new number 22 to finish. 1-0 Barça.

Barça not so dependent on Messi on initial examination; Astonishing Ansu and Phenomenal Phil have their say

Swirl of passes around. Swift counter attack. Coutinho slides Fati in on goal at the expense of a sideways pass to Leo Messi. Fati doesn't miss. 2-0 Barça. Magnificent. The transition from defense to attack in seconds was great to see, the willingness to press is impressively immense. 20 minutes in. Barça 2 goals up and looked like they'd score more which they did. Barcelona were impressive in the first half hour and most of the team's attacks came down the left, Ansu Fati was mighty impressive on the night, with 2 goals and also winning a penalty that was taken and scored by Messi to make it 3-0. The second goal gives hope that this Barça won't sit around waiting for Leo Messi to save the day. Not a bad way to start a new era, Barça moved the ball around nicely, looking for a 4th and Roberto, with a goal saving block from a passage of play that was offside, is something fans can maybe see as a sign of things to come. Messi with magnificent quick feet on the counter that culminated in a cross that Pau Lopez eventually put past his own keeper. 4-0 Barça. And with that the first half came to an end. Messi with a hand in 2 goals and on the surface, he's contributed to 50% of Barça's goals, but his penalty was won by the impressive Ansu Fati and his influence was nonetheless Messi-esque but the attack showed that there is something to look forward to, with or without Messi.

Impressive squad

Magnificent stuff. Barça look a different team and that's a big compliment to Ronald Koeman's work thus far with a few weeks in and the team looks and feels different. The game slowed down in tempo in the second half with not much of note. Dembele and Pedri came on, Dembele for Ansu Fati, Pedri for Coutinho, injected some freshness into the press. Busquets misplaced a number of passes in this game and the cameras panned to Pjanic sweetly. Messi missing a header he should have scored, and then Trincão and Pjanic come on for Griezmann and Busquets respectively. Trincão sprinting to press, that's the sort of intent that is admirable. Villarreal took control of the game going into the last 10 minutes. Barça remained resolute at the back. De Jong provided the team with a scare, the clean sheet was saved by some diligent defending, then Asenjo made two quickfire saves from Trincão and Messi respectively. The Barça subs put some energy into the game after it had slowed in tempo and that's a positive thing. That the Blaugrana now have options off the bench that can be match winners is impressive, the ability of the players who came into the game is something to note.

Conclusion

And from the Villareal side of things, Take Kubo came on to good effect and gave the Yellow Submarine an outlet but the threat was contained effectively, there wasn't really much to say about Villarreal in this match, they were kept in areas where they weren't dangerous, what a way to start the Koeman era. Fans can certainly look forward to seeing how this new team performs under sterner tests as the season progresses but this was a great game to see, a really good way to start the new campaign. This bodes well for the future.