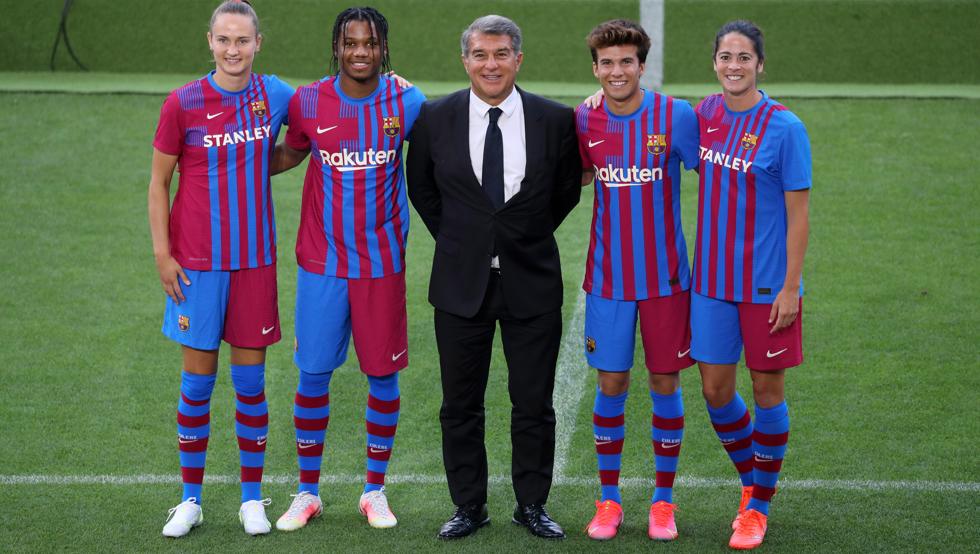 FC Barcelona, in a presentation held at the Camp Nou, unveiled their home kit for the 2021/22 season. President Joan Laporta spoke at the ceremony.
FC Barcelona have finally presented their home jersey for the upcoming season in a ceremony at the Camp Nou. At the event, Marta Torrejon and Hansen from the women's team, and Riqui Puig and Ansu Fati from the men's team were present to model the new kit.
Barça's new strip makes the maximum use of the club crest. On the front, at chest height, fans will find the St George Cross, representing the patron saint of Barcelona and the Senyera (the striped Catalan flag). Two elements that define the club's identity and its ties to city and country, but reimagined in this particular instance in the famous blaugrana colours, while the traditional vertical stripes feature below, albeit somewhat stylised to give them a more modern look.
Meanwhile, the Barça crest appears on the left of the chest in its usual colours, with a white Nike logo on the right. On the back, just below the neck, there is a Catalan flag, while the players' names and numbers, and the UNICEF logo, are printed in white this season.
After the conclusion of the ceremony featuring musical performances and the presentation of the new kit, president Joan Laporta took the stage:
Laporta: "All the culés are proud of our club, of what it represents and also of the city and the country. 122 years ago, Joan Gamper decided to give the club the name of the city and later adopt the Creu de Sant Jordi and the Senyera."
"It is the pride of belonging to this club, this city and Catalonia. A country that believes in coexistence. All of this makes us grow as a club and as a society, although sometimes this has provoked criticism."
"The culés want us to feel different, starting with our model of ownership. A few months ago we chose who had to be the president. All decisions are voted on by the members of the club."
"We have our own style. We like to attack with the ball, letting our inspiration run. A model that we try to improve, because we are nonconformists. It is a style that Johan Cruyff taught us and it is the one we want to see in the first team. It is non-negotiable."
"We also want this style in the female category and in the lower categories. Marta, Carolina, you have won the treble respecting this style."
"I wanted to thank all the people at the club who have worked with Nike for this effort of imagination so that the Catalans can wear a shirt that is fantastic."
"The shirt is inspired by the club's crest and by everything that makes us more than a club. I'm looking forward to seeing all the Catalans with this new kit when they go to the Camp Noù, Johan Cruyff Arena and the Palau. I also hope to see all the culés of the world wearing this jersey. Thank you."