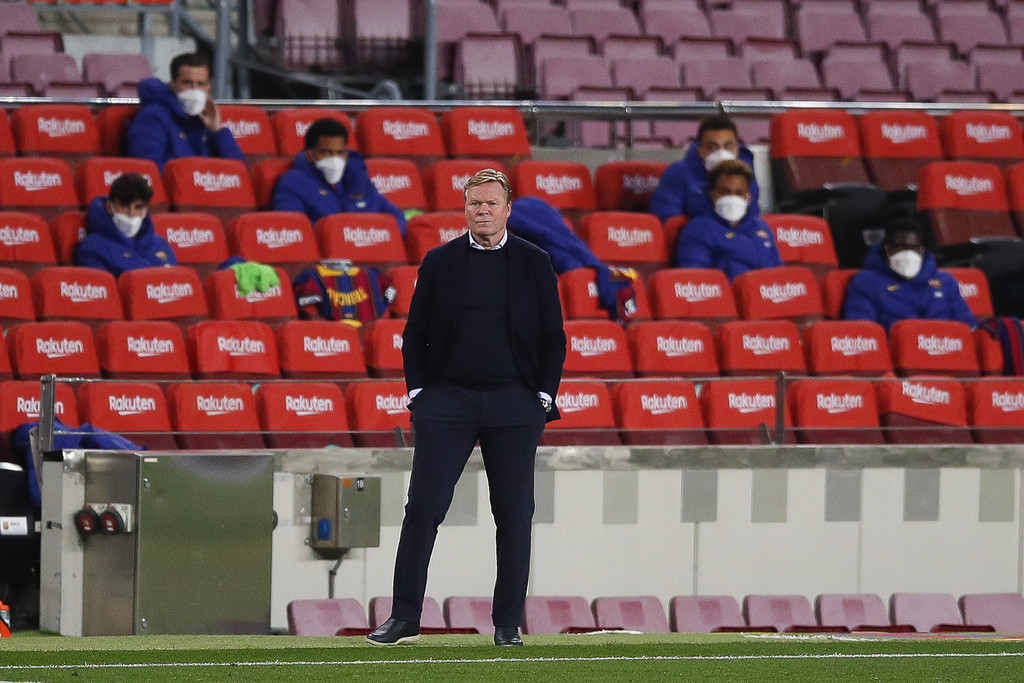 After the draw against Granada at Camp Nou, which saw FC Barcelona move to 7th place in La Liga, albeit with a game in hand, the future of Ronald Koeman seems ever further away from the Catalan club.
There were probably not that many Barça fans watching the match yesterday and not thinking to themselves that this might be one of the last matches Koeman spends as the first-team coach. It was pretty evident that the team lacked any clear idea on how to penetrate the opposing defense. The 54 crosses (2nd most since the 2005/2006 season) aimed towards the box paint the picture just fine.
ESPN's Moises Llorens and Samuel Marsden report that Laporta held an hour-long crisis meeting just as the match ended. The president was unsure of whether to keep Koeman in charge even before the season started, but his doubts seem to be doubling or even tripling a month into the new season. There is already talk about the possible replacements. Paying off Koeman for his contract termination would not be a problem for the club.
It is no secret that Laporta is a big fan of Hansi Flick and Julian Nagelsmann, but their respective jobs lie at Germany national team and Bayern Munich currently. Rumours about Roberto Martinez and Xavi are something cules should have already gotten used to, but they do seem like the most realistic options for now. There is also talk of someone who has a history with the club, but the sources could not disclose his name.
Laporta apparently does not want an interim manager and is only willing to go after someone who could be at the centre of a long-term project. Consequently, he is cautious of making any rash decisions. It is expected for Koeman to remain in charge for the trip to Cadiz on Thursday. What might happen after that, no one knows.
Koeman has been very protective of his situation at the club. He remains convinced he is the reason this club has any future at all. He has lost some big names in the last two summer transfer windows, such as Lionel Messi, Luis Suarez and Antoine Griezmann. The many injuries have left him with having to play multiple inexperienced teenagers, who are still making a name for themselves on the biggest stage.
All this aside, Koeman has failed to improve where he clearly needed to and it seems he is running out of time and patience. All FC Barcelona fans can hope for now is a new coach with a clear idea and a long-term project, which includes the young La Masia products and an attractive approach to football.