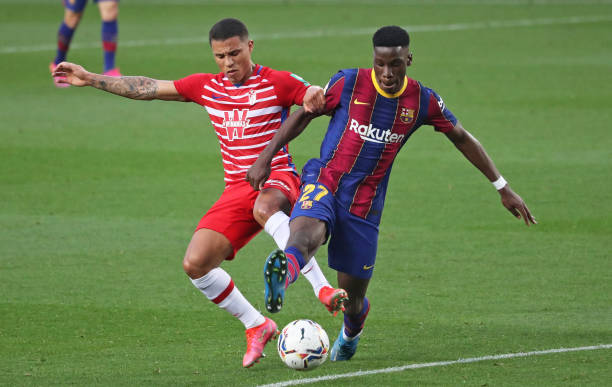 Ilaix Moriba and his agents have communicated their decision to FC Barcelona.
Ilaix Moriba's agents have communicated to FC Barcelona, that the player would like to join RB Leipzig, during their last meeting. Ilaix has overlooked Tottenham's interest and is adamant on joining RB Leipzig in 2022. At the cost of getting no playtime for either the first or B team of FC Barcelona. Ultimately, hindering his development. As Fabrizio Romano said, "Ilaix Moriba and his agents have an agreement with RB Leipzig since weeks. It's a five-years contract valid from June 2022. Moriba's agents still want this deal to go through. Barcelona are waiting for proposal to sign Moriba immediately."
Ilaix Moriba's agents have an absolute agreement with RB Leipzig for 2022. FC Barcelona and the German club are quite distant in negotiations. The German club has offered 6 million euros to Barcelona for Ilaix Moriba. Which is far from what FC Barcelona desire. Barcelona's stance is clear, Ilaix goes for the right price which is 20 million euros, or spends his season in the stands.
The impending sale of Marcel Sabitzer to German Champions, Bayern Munich may allow RB Leipzig to raise their offer. Ilaix is the chosen one to replace the Austrian International. If the Marcel Sabitzer deal goes through. It remains unclear, whether RB Leipzig would be willing to raise their offer. If not, the player would spend the rest of the season on the bench. Unless the club reaches an agreement to renew his contract.