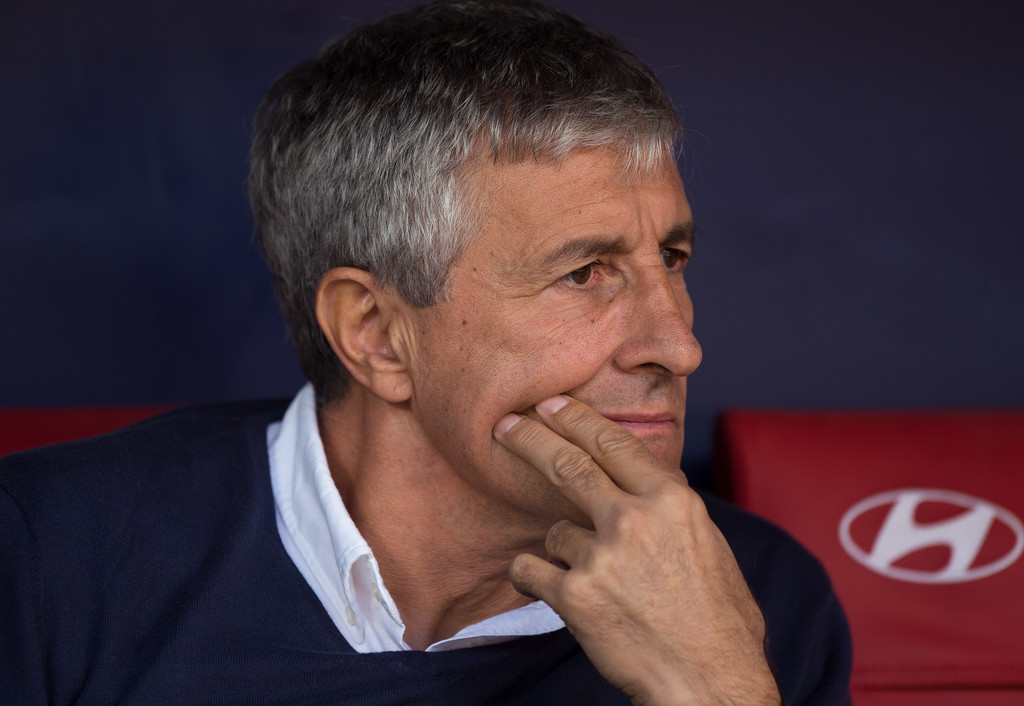 Among all the noise that surrounds the difficult situation at the Catalan club, Quique Setién talked at a press conference about the match against Atlético de Madrid, Arthur and his relationship with the players.
Barcelona is experiencing a complicated situation in both sportive and administrative areas. In the last hours, there has been news that point to a total break between the dressing room and the coaching staff, to which was later added the official announcement of the mismanaged departure of Arthur Melo.
Despite all the problems that thrill the club, Quique Setién spoke at a press conference ahead of Barça's important match against Atlético Madrid. For those of the Camp Nou, it is to win or to die since their aspirations for the t**le are hanging by a string.
"The games against Atlético, which is a great team, are always very difficult. It is normal to expect that they will make things very difficult for us, but the next games will be just as important. Winning now is decisive for us because there are fewer games left and the margin of error is already smaller. We attach great importance to the match, like everyone."
"We have to improve and that is the only thing we must focus on. Thinking of ourselves until the last day and not of the rival."
"Atlético must be attacked as Barcelona has done it many times. They are a terribly solid team, which makes their goals very profitable. It will put us in great difficulties, it is necessary to have great mobility between the lines and to be successful in the short space; controlling their counterattack they are a team with very talented footballers."
"Pauses during games sometimes come in helpful and others will be better for the rival. In Seville, for example, we could say little because we did things very well and it was only to clarify individual aspects. It is something new and allows us to point things out, but the reality is that we do not usually vary the general approach."
Barcelona no longer depends on itself to win LaLiga, however, they have to keep adding up all the remaining points to fight to the end and claim the t**le if the rival stumbles.
"If we do not win Atlético, the chances of winning the t**le will be reduced. We have to win all our matches and what will happen later we will see."
Setién spoke about the relationship he has with his players, after rumours about a break in the Barça first team, between the players and the coaching staff.
"It is true that there are always controversies. It is normal that there are differences. I was not an easy player at the time either. The important thing is to convince all footballers that the idea we must develop is what we are doing. There is good communication With the players, I do not give importance to the possible discrepancies."
"When the victories do not come, everyone takes the lead. The circus is set up like this. The relationship with the players is good, I do not see any major problem."
"We have a lot of meetings with the players, but we focus on football issues. The situations are normal, it can change immediately if we get a more relaxed victory and better resolve some situations on the field."
"All of us, also footballers, must give in. Not everything we would like can be carried out. This is a team and we must act as a team. We must sacrifice personal things for the benefit of the group. I have no problem recognizing that this is not new for me. It has nothing to do with footballers. It happened to me in Las Palmas and Seville."
"Nothing happened between Messi and Sarabia. An indication what do you want me to answer…"
"I feel just as strong as when I arrived. I am doing everything I can to make this go well, win matches and achieve the successes that we all hope for. I am convinced that we are doing a good job, but I know that victories hide many things and defeats… There are moments and moments. You win, you enjoy; you have to feel uncomfortable when you lose."
"The noise is up to you … I am on the sidelines. I focus on what I should focus on because I already know how all this works. I don't get worn out on things … The players, I think, do the same thing."
About Arthur Melo and his departure from the Catalan club.
"I am not aware of what Arthur's mother says … I have no doubts about his commitment until the last day. He has made a commitment to his colleagues and will dedicate himself fully to achieving his goals. I have no doubts neither me nor his companions. "
"Arthur's lineup will depend on the characteristics of the matches. The important thing is that he is willing to play to the end; for me, it is the highlight."
About Antoine Griezmann.
"They can only play eleven. Sometimes they will play some and other times they will play others. They are all important and all the players have their options, regardless of their hierarchy."