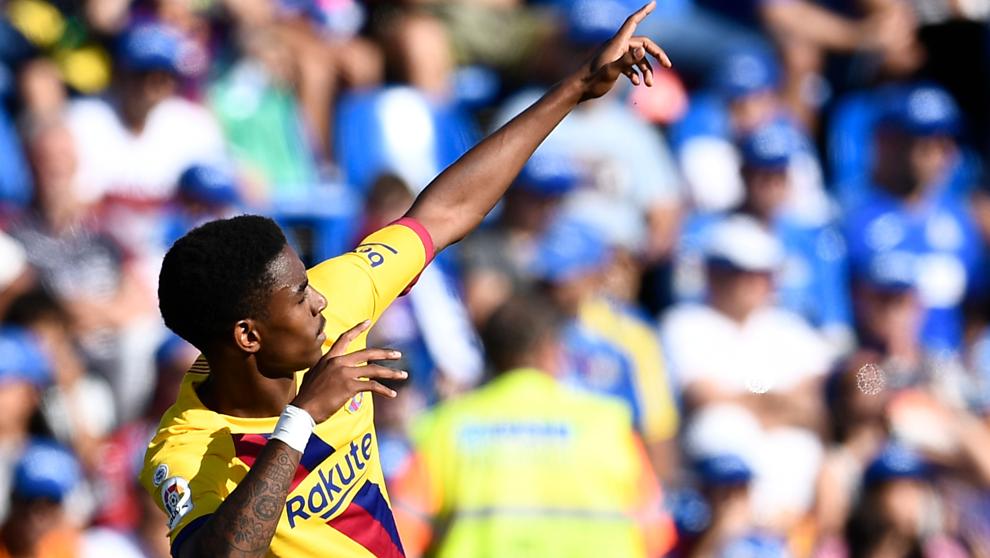 While in confinement, Barcelona full-back Junior Firpo has been interviewed by the club about his adaptation, his time in Barcelona, and much more.
Barcelona signed Junior Firpo from Real Betis in the summer of 2019, for 18 million euros, with an additional 12 million euros in add-ons. The full-back had shown impressive form in Real Betis, and was just half a year later joined by Quique Setién, under whom he had grown a lot as a player, both defensively and going forward.
However, since his move, he is yet to fully convince the Barcelona faithful, and with the injuries that have plagued Barcelona this season, his season was temporarily put to a halt as he was sidelined for 17 days, missing out on fixtures against Inter Milan and Sevilla.
In an interview with FC Barcelona's official social media channels, the Dominican left-back admitted that he is yet to find his best form since his move, but is determined to succeed in Barcelona.
"Any kind of change takes time. It has not been an easy six months for me. I picked up a slight injury when things appeared to be going well. I was coming to a new club, a new city, a big club with great, great players," Firpo explained.
"I am really looking forward to going back to training and playing and really show what I can do as a player and why I was signed, something I think we have not seen yet," remarked the left-back.
Having worked with Quique Setién back in Seville, the player has a good relationship with his manager, and feels that there is a good atmosphere in the dressing room, despite the different types and ages of players in the squad.
"I think there is a good relationship with Quique, [as a] player to manager [relationship], the boss was the first to show confidence in me at a top level and he's still the same person he was at Betis and treats me in exactly the same way," Firpo said.
"The dressing room is a healthy one, [with] players who have won everything, really great players. They always try to maintain a good atmosphere in the dressing room," the 23-year-old defender explained.
A player who been in the limelight for Barcelona this season is the youngster Ansu Fati, whom Firpo gets along with very well both on and off the pitch, partly due to their shared interests.
"I get on well with Ansu [Fati], [and with] Moussa [Wagué] as well, but he left in the winter. I think in the current squad [I get along with] Ansu [the most] — we are both young, we like the same things, and we have struck up a good relationship on and off the field," Firpo said, also mentioning Arturo Vidal, who seemed like 'a warrior', before the Dominican defender got to know him.
"Arturo [Vidal] surprised me a lot because he is the opposite of what I thought he would be like. He is a guy with tattoos and a mohawk — he seems like a warrior, but he's a real top guy," he explained.
While in confinement, the diet is not as strict for the players, according to the Dominican, although they maintain constant contact with the first team's fitness coach.
"I am in permanent contact with Antonio [Gomez], the fitness coach, we speak him every day. He tells us what we have to do the following day, and for the whole week," Firpo told Barça's social media channels, in the interview, where he also spoke about his day-to-day life in confinement, his favorite TV shows and movies, among other things. 
Junior Firpo's contract with Barcelona runs out in 2024.