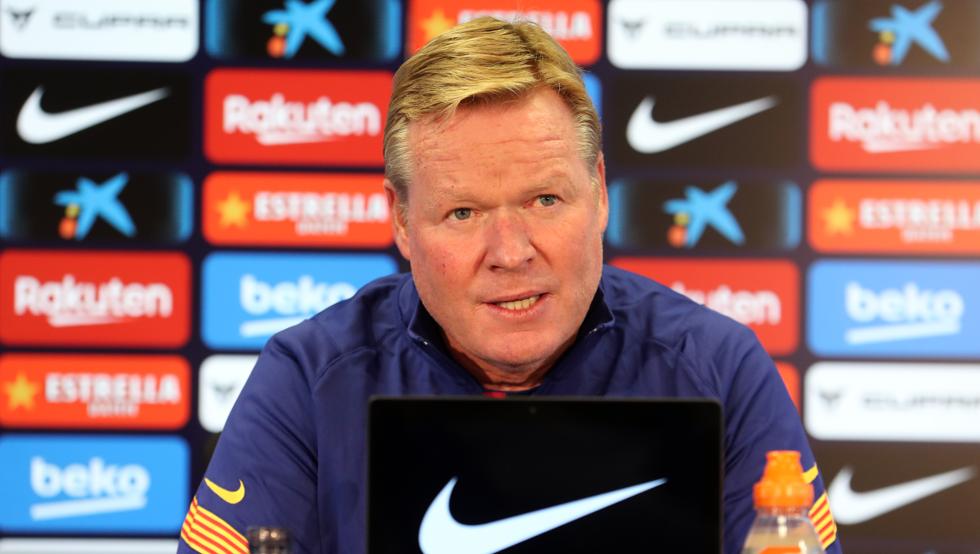 After the impressive comeback victory against Sevilla in the second leg of the Copa Del Rey semifinal, Ronald Koeman addressed the press, ahead of their league game against Osasuna on Saturday.
On the game against Osasuna
"It is a very important game because we know that on Sunday Atlético play Real Madrid and one of the two or both of them are going to lose points. It is important to win tomorrow. Osasuna are a strong opponent at home. We need to be prepared".
On the new 3 Center – Backs system
"You can continue with the three center-backs, you don't have to be obsessed with a system. The important thing is the attitude of the players. We have improved a lot without the ball, pressing and stealing balls." 
On his future
 "This is not in my hands. The only thing I know is that I have one more year on my contract. In two days there will be a new president and he will have to lead the way. I am focused on winning games. We are in the Cup final and we can win an important title. The rest is not in my hands."
On the Madrid derby
"The first thing we need to concentrate on is our game. We must not forget that we have to win and then the most important thing is that the team that goes up loses points."
On the chances of a new manager coming in
"These are normal things that always come up when there is a new president. In the press it is interesting to put names to create controversy, the most important thing is that it does not bother me. I am involved in my work, the names of Xavi or others, it does not interest me. The new president is the one who decides. I'm sick of answering these kinds of questions."
On whether the team is stronger than its rivals
"At the moment, I don't know. It's a long season in which any team goes up and down. The team is doing well and putting in a lot of energy. Our game with the ball is very good. The others need to do their thing. We have to concentrate and continue, because there is a lot to do."
On defensive solidity
"Lately it has changed since we have not made many mistakes individually. We have been able to press well against the opposition and having three behind has given us a little more security. We have also improved the concentration from set pieces."
On whether he considers that the team has reached its highest level
"It is true that the latest results, especially the comeback against Sevilla, have given us a lot of morale. The Champions League match is on Wednesday, we have to think about tomorrow's game right now. As of Monday, we will think about the Champions League."
On Ilaix Moriba
"He is one of the young players we have. He has played with Barça B and is training with the first team. He has entered some games and has done very well. He can contribute a lot, just like Riqui. At this time, young players are knocking on the door for opportunities to play."
On the refereeing controversy versus Sevilla
"These are things that happen, the same thing has happened to us too. In the first leg there was a penalty against Alba and they did not give it. Sometimes there are things against them and others in their favor. They have been two games played at the highest level and we deserved to go through. If there is no emotion in these games, it is not good." 
On whether the people have started believing in the team again
"You can already tell on the street and the people who talk to me that they are happy. Bad times have passed and the feeling I have is that people are with the team. We have worked hard to have this feeling with the people. I hope soon that the stadium is full, to have the atmosphere and enjoy a night like the last against Sevilla."
On whether he wants to see a new president
"Of course I would like to. Having a president in a club like Barcelona is very important, because we are the biggest club in the world."
On the team's dependency on Messi
"It is very important to be more effective with other players. Not everything can depend on Leo. It is important that there are people who score goals and it is a good sign. Hopefully Leo and the others will score as well."
 On what he likes most about the team
"I like to answer this question at the end of the season the most. We have things ahead of us with the Champions League, LaLiga and the Cup final. One thing that makes me proud is the atmosphere of the team. With the changes we have made, the team believes in itself. The other day when I saw the team celebrating the goals, even the substitutes, for me it was very important. The unity of a dressing room is the most important thing, it is a sign that I really like."
On whether his relationship with the new president will depend on who wins
"It doesn't have to be this way. In general, the three candidates have done a good campaign. The phrases and words are to win votes and it is normal. I do not have a preference. I do not know the three personally, I greeted them the other day with Tusquets. The votes are from the partners and they will decide who the president will be."
On whether it would be a miracle to win the double
"First of all, we have to be realistic. We cannot change our opinion about the chances of winning. We have to keep winning and that is the most difficult thing. We are a few points behind Atlético and we cannot afford to drop more points. There are eight players who have played more than anyone in Europe. What the team is doing is incredible and hopefully in the end we can say that we have done well and won titles."