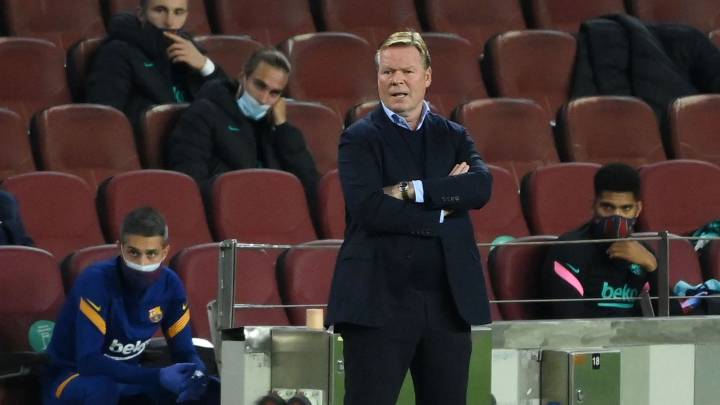 After his first Champions League victory, Ronald Koeman talk to the media, where Pedri, Trincão, Ansu Fati, Araujo and Sergiño Dest also commented on today's match.
About the result
"In general, I am not worried about the game on Saturday. We played a good game. We had a hard time getting into the game. Sometimes we have the problem that if we lower the intensity and let the opponents play, we are in trouble. If we command the rhythm of the game, we are very good. There was a great Barça in the first 20 minutes of the second half. "
How did you see Pjanic and De Jong
"Today Pjanic played who when he arrived was below the others. And now it's close to one hundred percent. We know that with Frenkie and Busquets there is competition ".
On the effectiveness of the changes in the game
"They are players who need to have minutes to be able to play to the fullest. Both Pedri and Ousmane have scored one goal each and I am happy with them as a coach. They are gaining pace and intensity and that is very good for everyone".
About Ansu and Pedri and the recent opportunities
"We can be happy with the evolution of the two players. We know how old they are. Pedri always contributes something for his naturalness, for his game, for being smart. We are happy. Not only for that. They have a great future at the club. "
On Piqué's sending off
"I sincerely believe that the red card is excessive. It has been a very harsh punishment, but we have no choice but to accept it and adapt ". He added with irony " we are used to having a player expelled in a very rigorous way, but instead of harming ourselves we are capable of winning and scoring goals" referring to the match against Celta.
About Araújo
"I have full confidence in Araújo because he is performing at a very good level and I know he can calmly replace both Lenglet and Piqué. In this aspect I am very calm ".
On Messi's performance
"He's still hungry, he's working to get in good shape. He scored a penalty, he assisted, I am very happy to have him in the team. I see him with the usual good attitude ".
About El Clásico
"When you arrive after winning 5-1 with one less footballer, it is to face it with great confidence. As for the team's performance, I couldn't be happier"
On whether Griezmann on the bench today means he won't play on Saturday
"It doesn't mean anything, because we look at each game which is the best team to put on. We opted for Trincao and then Ousmane for speed and depth. We'll see on Saturday, it's my job to see which is the best team at all times ".
Ansu dreams of playing El Clásico
"Let's let him dream and we'll see if he comes out to play. I don't have my thoughts. As I have said to the players, we go game by game. Starting tomorrow we think of Madrid. We can be happy".
Ansu Fati named player of the match made several statements after the match.
Fati was the first Barça footballer to analyze the game after the final whistle and commented that "it was a good victory, we started with a 5-1 and a good victory, we have to continue adding".
When asked about his goal "it's thanks to the teammates who make it easier for me. It's a fantastic pass from Frenkie and I just had to push in it". And he clarified that the dedication "is for my niece, my older brother has had a girl."
On the matches against Real Madrid and Juventus : "Playing El Clásico is the maximum possible illusion, it's El Clásico and I've always dreamed of playing it. Now it's time to recover well because there are two very beautiful games that I've always dreamed of playing and hopefully I'll play "
One of the scorers against Ferencvaros , Pedri González , who made his debut scoring with Barça, radiated happiness after the game.
"I have fulfilled the dream of any child. I've been loving football and this club since I was born, "said the 17-year-old.
Pedri confessed that "when I was in the sideline waiting to get in, I couldn't believe what was happening but once in the field I escaped and pretended I was playing at home with my brother."
The Canarian attacker explained that the goal was "for my grandmother, who is no longer with us, and for my brother, who I promised
He thanked his companions, expressing himself in an act of humility . "It was thanks to my teammates. I'm very happy to make my debut and to be able to contribute a goal to the team ", he concluded.
Francisco Trincao was also optimistic about the future and after the meeting, he assured that "little by little I am gaining confidence and I feel very well physically." He added that "I am very happy to be able to help the team and I have to take advantage of my opportunities."
Ronald Araújo spoke about the opportunity to play against Juventus due to the expulsion of Piqué: "I work hard to have these opportunities and if I have to play against Juventus I will do my best".
Sergiño Dest: It's a great feeling playing champions league again, the game was pretty hard because they drop back all the time