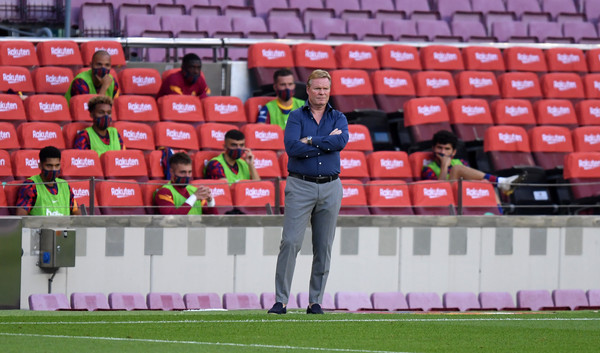 Barça coach Ronald Koeman once again sat down for his pre-match press conference prior to Sunday's clash against Sevilla at the Camp Nou.
The match against Sevilla the most important one till now?
"Sevilla is a strong team that aspires to win titles, with a great and well-worked coach. We have many things going for us, but it will be a fighting match for 90 minutes. We are confident."
The progression of your team has been good?
"It's only been five weeks, there has been a change of system, and we need time, but we are working well. The other day against Celta was remarkable, with one less player on the pitch, the team played the second half with great enthusiasm and I loved that. What we want is to do our best to win the game and it was very good. We trust ourselves, but each game is different."
Will Eric Garcia arrive to strengthen the defence?
"There is a deadline until Monday, and it is true that we want to have this player here because we only have three-four center-backs, but I can't say more. I have also seen Pep's comments from City, there is interest, but I don't know if we can bring him this season."
What's Dembele's situation?
"I can't say much more about this issue. I always try to get the most out of the team and if there are changes, it is for something we are planning. Pedri has entered both games because of his work in training. The other day, Trincao and Pedri, both were subbed in because they deserved it, and Dembélé is a player with more depth and we needed more of a profile to defend. I haven't talked to him about his future."
Will Dest be called up for the game on Sunday?
"I don't know if we can include him in the squad-list, we are trying to get the license, we will wait for tomorrow's training session in the morning, but hopefully he can be there. He is a very good player, he is young, and he gives competition to both the right and left flanks of full-backs, defensively, but he especially has offensive qualities."
Why the team change?
"If I talk about this season it does not mean that it is a criticism of what has happened in the past. I look for intensity in training, because the game is played as it is trained. The season is complicated by the calendar, but I do not go out to the field to rest. Tomorrow there is tactical training, I am looking for the players to know what they have to do on the field, apart from the fact that we have a squad with very good players. We have improved in the physical aspect and it shows in the environment, the players themselves are footballers because they like to play and we have to demand the maximum from them every day and hopefully we will continue to win."
Coutinho has been reborn?
"The question is a good one and the answer is easy: he is a very good player, he has learned a lot in England, he has learned a lot at Bayern Munich and my role as a coach is to get the most out of each player. And then he gains confidence, but it's all about his quality and he's a great player."
Would you prefer an easy start to the season?
"No, it is better to start strong. We had two high-quality rivals, we suffered the other day, we must highlight the team's work to play with one less, and tomorrow is a good match because to win the game we have to play well. It is better to face strong teams to know where we are."
Thoughts on the Champions League draw?
"As I said, we can be happy, not confident. In principle, Juventus and we are the strongest in the group, but we have to play every match with equal respect. We are going to have a very tight schedule and we have to be prepared. It is important to start by winning against Ferencvaros at home."
Thoughts on Messi this season?
"From day one, Leo has trained well and played well, and has done his best for the club and for his teammates and I have no complaints from him. The other day against Celta he helped the team play from behind, there is no discussion about his quality. For me, he has always been the best in the world, and now that I can see him in training, he is involved in the subject and is an example as captain for the team."
What about Depay?
"There are two positions in the team that would be good for us to reinforce, which is the center-back and the '9', it would help us to have one more alternative."
Dembele will have few minutes?
"First we have a lot of competition and quality in his position such as Ansu, Konrad, Trincao, Griezmann. That's why Ansu has played the two games ahead of Dembélé. The only thing I try to tell is that if a player is unhappy, he should talk to me. They may be pissed off because they don't play and that's why they are unhappy. If he doesn't tell me anything, I'll count on him and he'll have options to play."
What does the team needs to improve?
"You can always improve things, but in general I am very happy because the work that the players do every day, their attitude, is fundamental, it is very good. They are working every day to improve in the change of system. I hope that keeps going on."
Who would you clone from the dream team?
"Myself, (laughs), well, it's not a criticism of the center-backs, today it's different than 20 or 30 years ago with the whole issue of social networks, but today this team is very good, they want to play, they want to learn and that is very important."
Dest is the present or future?
"First, if he can play tomorrow, he will be there, he does not need to wait. He is just starting but has competition, but the fact that he is the future does not mean that he cannot play today, he has a lot of experience already, he has played with Ajax in the Champions. If I can play him tomorrow, I will not be worried about putting him on the pitch."