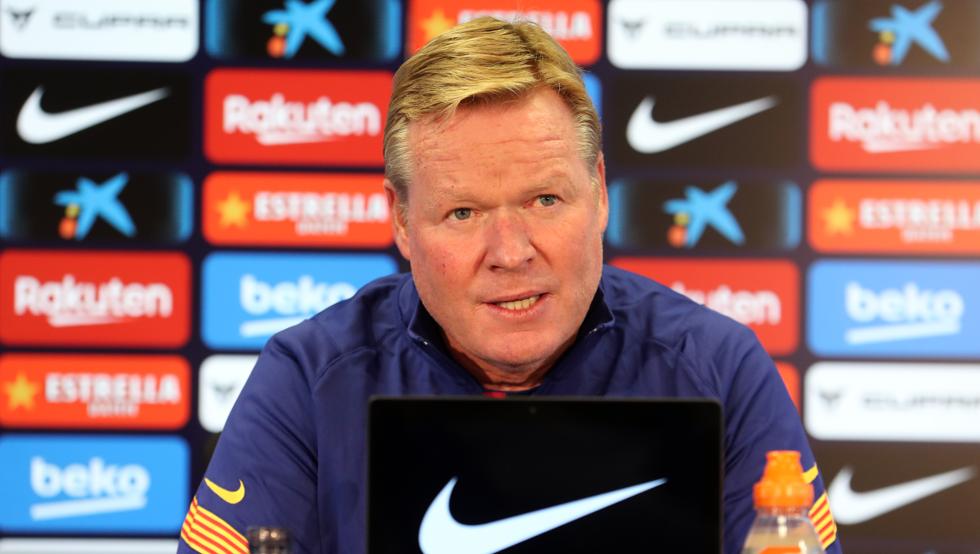 After beating Sevilla in the last match and giving life to hopes for a comeback in the Copa del Rey, Ronald Koeman talked about the upcoming game against Sevilla, injury update of the players, the presidential elections amid other things.
On facing Sevilla once again :
"After the result of the last match, we are confident that we can win, but we are down by two goals. We have to play a better game than Saturday to get through. Nothing is impossible. It is important to come back. It is a very important game for the future of this season. We think we can do it, but we have to prove it."
On Pedri :
"There are things that can hardly be explained. I was also surprised yesterday that he already trained individually. Today he has trained without problems. We have to wait until tomorrow, but he can enter the list."
On Bartomeu's arrest :
"For the image of the club, it is not good. We have to wait for what can happen, I was not here at the time the incident took place. We have to concentrate on our work and win tomorrow's game. When the news came out I was shocked because I know Bartomeu and Oscar Grau well. I feel very bad for them, I had important moments with them. Bartomeu has always been an exceptional person for me."
On his message to the players :
"We know we are behind by two goals and it is difficult to come back, but there are options. We have shown that the team is hungry and is focused on doing good things. We need more effectiveness like we have shown lately. We have created more chances than the rival, but we have to ask for more effectiveness in the chances we create in addition to the clean sheet, which will be vital in tomorrow's game."
On Xavi becoming the manager :
"I'm not worried. I have a contract. When we know who is going to be the president, he has to show me his way. That is for next week. We know that there are debates and names have come up. This does not worry me much. I have not spoken with anyone. We have to wait for who comes as the president and his plan. I do not see a future where we are going to have problems, because I have one more year of the contract."
On the club's situation :
"In all clubs there are difficult and complicated moments. It is true that a lot has happened this season, but we are happy and fighting to win things. The important thing is the field and the games. I am in a better place, knowing the problems that exist. Until the last day I will be giving my best for Barça, be it one year or five more years."
On whether he wants to continue as the manager :
"My motivation is the same from day one. I knew that arriving as a coach at Barça with the Covid situation around is complicated, and more complicated with things that have happened. In a club, you have complicated moments, but also moments of pride. I want to be there and it is my job. The new president's job is to mark his path. Tomorrow there is an important game."
On the change in the system :
"The most important thing in the system is the mentality of the team. You have to try to pressure the opponent and be together when possible. The other day we played with three center-backs, but we also pushed a lot. The most important thing is the team and that they work and press the opponent. When we have the ball we play a good game. In every game we create opportunities.
On how he escapes the media noise :
"There are things in life that you do not know what can happen in the future. The day they called me to come as a coach I was determined to accept it. Knowing that it was a delicate moment and that the club had lost money due to Covid. Life is full of ups and downs and facing problems and opportunities."
On Araujo :
"Araujo has not been training with the group because he has some discomfort. We will see tomorrow in the last training session and we will decide if he enters the list."
On the 3-4-3 system :
"It is possible to play with three at the back. Our team is a very offensive team and we create many opportunities. There are moments in the game when we arrive with 6-7 players in the rival area. It all depends on the coach and the players' mentality."
On why Barça always have issues apart from the game :
It's because it's the biggest club in the world, everyone looks at Barça. A lot is happening at the club and the press is trying to get information, it's normal."