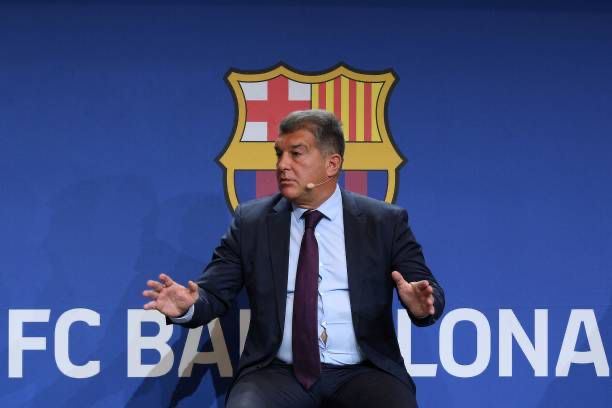 FC Barcelona president Joan Laporta addressed the media at the dawn of a brand new month. He was accompanied by Eduard Romeu [economic vice-president] and Jaume Campaner [lawyer]. They talked about, Bartomeu's tenure, payments to journalists, Espai Barca, and a lot more.
Laporta felt the need to face the media to address suspicious financial mishandling under the previous board of directors, led by Josep Maria Bartomeu. Additionally, the current board of directors have filed several complaints to the prosecutor's office on the financial mismanagement of the previous board.
Here's what Laporta had to say:
"We carried out due diligence to understand the economic reality of the club, which was done by Deloitte. Deloitte detected dubious operations that needed more in-depth analysis. We hired Kroll Agency, who identified excessive payments to intermediaries. The previous board displayed disloyal behavior to the club's patrimony. The prosecutor's office has been informed of these facts. This is the best decision in the interest of the club. The club members deserve to know the actions which have led the club to be in such a delicate situation. We also don't want to be accomplices to such acts. Eduard and Jaume are here to give more explanation."
On the investigation:
"From now on, the investigation will be carried out by the prosecutor's office. The culprits of these behaviors must be identified. When we took over, we imagined the economic situation to be poor, but it was even worse. Due diligence detected some things which needed further analysis."
The previous board:
"It is the prosecutor's office who has to determine if there is negligence or fraud. The previous board of directors cannot fix things now. Our board has no intention in entering in a game with the previous board, opting for the prosecutor's office is best for all parties involved."
"I want to highlight that there was a particular way of doing things that avoided internal and statutory controls. The most visible are sports contracts and salary bills. They had to be aware it was skyrocketing and that it would be difficult to compete in the medium and long term. We are talking about millionaire amounts, with commissions out of the market and difficult to justify. Additionally, the growing debt of the club never went through the assembly.
"We have bought these facts to the attention of the Prosecutor's office to determine who is responsible for these conducts. The complaint is based on indisputable facts and documents. It took us a lot of time to prepare it, the forensic department has worked hard."
"I don't wish anyone badly, nor to people who can hurt me or my enemies. Our responsibility is to act in the best interest of the club."
"I haven't spoken to them yet, but I am open to talking."
On the previous board stealing:
"This is a very serious issue. I have never said that they have done anything like this. What I think, is irrelevant because the prosecutor's office will determine this. The problem is that internal guidelines were ignored. Previously, whenever La Liga received documentation from any board member it was never corrected. La Liga sent us an army of auditors to review our audit. Fortunately, it was resolved.
On the wage bill:
"It has been reduced by 159 million. I want to thank the club workers."
His worries:
"Today we are giving sad news. We are doing it as an exercise of responsibility and to show that we are not involved in these malpractices. This is not good news, I like to give you good news. Yesterday the winter market ended and Barca incorporated several players into the first team. Possibly, at the end of the week, Aubameyang will be introduced too. Now our job is to reverse the economic situation of the club. We are about to close a dark stage of history."
Payments to journalists:
"Some have been made with a reasonable cause and some not. If the prosecutor's office requests an explanation, there will be no hesitation."
Dembélé:
"It is one of the surprising cases. Barca offered Dembélé a renewal which was a very good offer. He wanted more. The agent positioned himself without saying anything. We presented two proposals and they were good. I am surprised that he has not accepted them. An English club came for him at the last minute but he prefers to stay here for another 6 months. It's not good for him or the club."
The commission's to Haaland's potential signing:
"I will not make payments without cause. Barca will not make disproportionate payments. If we pay a shocking commission, I will explain it."
Espai Barca:
"We have detected a very specific fact that is the payment of an amount that we think does not correspond to the cause of the contract. We think it was paid for another reason that is not in the documents."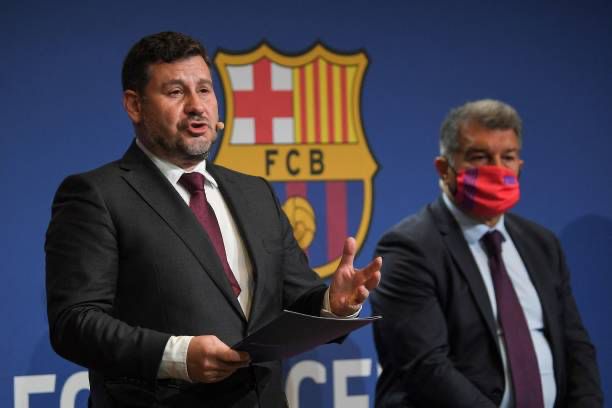 Here's what Eduard Romeu had to say:
"The elections were won very clearly. The board sensed that the situation was complex. As soon as we arrived in the club's office, there were some folders. Two of them were very dangerous; short-term debt and lack of liquidity to pay salaries. The members wanted to make a strategic plan to fulfill our commitments to the club. It had to be a thrilling plan. Which included recovering the concepts of La Masia, the Espai Barca project."
"Barca has a debt of 1.3 billion euros: 389 million in deferred salaries to players, 160 million in player purchases, 80 million in litigation, 79 million in television rights, 56 million with commitments related to Espai Barca. In the last two seasons, Barca has lost 600 million and only 135 million of them are because of COVID. In the last seven years, there had been no investment in the club's facilities. If we had to open the stadium earlier, we might have not been able to. Everything's resolved now."
"Barca's wage bill is above 40% compared to our competitors. It's a complicated situation with players because you end up dealing with people who have signed commitments. In these 10 months, we have achieved savings of 159 million in mass wages. We must comply with the parameters of La Liga. There was a time when the salary bill was higher than the club's income. Barca has a great brand value and it must be put into play. The sponsorship issue has been delayed a little, but there will be good news soon. We are convinced that we will reach the figures we propose. Barca is already being competitive in the market. The board is convinced that the situation will be reversed."
Here's what Jaume Campaner has to say:
"The prosecutor's office represents the law and has power, something the club does not possess. I want to make it clear that this press conference is not about shaming the previous management or debating which one is better. We have identified several serious criminal behaviors, which can not be tolerated from any point of view. No complaint is filed without facts. If I were to describe what we discovered with a word it would be disloyalty. Since it's the money of the members. The board can't abuse or give away money as if it is ours. Commissions should be close to 5%, but commissions close to 33% have been detected. There is a company which was created to only invoice FC Barcelona."
"There are a couple of unjustified payments. Firstly, 2.5 million euros for a contract. Secondly, another 7 million for intermediation in a signing. These two payments fit into unfair administration. Moreover, there was a deliberate distortion with the exchange of players. Players' market prices were greatly inflated. The sale is counted as an income in the same year in which it occurs and the club has financial muscle. However, the cost is an expense that pays off over several years and dilutes. This is a crime of accounting forgery. The club must show these facts to the prosecution.
That concludes the press conference.