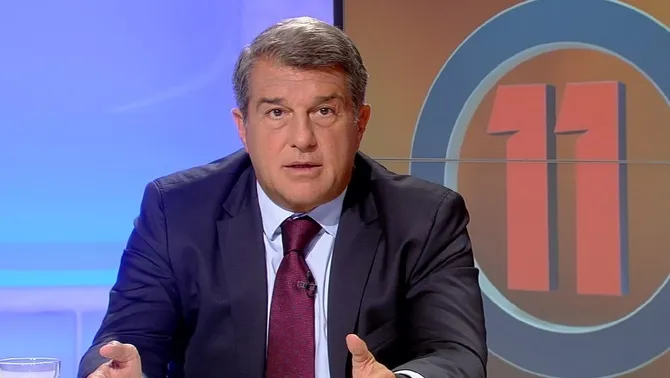 This article was written in collaboration between Omar Hawwash, Tushar Saini and Ritvik Singh.
Joan Laporta sat down with Esport3 for their show, Onze, for a lengthy interview, where he tapped into ongoing transfers, Xavi, and much more.
Following up on the Barça president's interview with TV3, where he spoke about the club's financial situation, LaLiga's involvement and his second stint with the club, he joined Onze's panel for a lengthy interview Thursday night.
The interview was focused on many different topics, including Messi's return that didn't materialize. It also tapped into the transfer rumor mill, potential exits, and the club's future projections, including the new Camp Nou.
On Xavi's future:
"Xavi has a contract [with the club], he knows we believe he is the best coach for Barça, and we're very happy with him. He's a great person, knows the club very well, respects [Barcelona] the entity and helps the people he works with a lot."
"When the time comes, we'll talk about his future."
On whether Xavi's renewal is imminent:
"There are priorities. It's important that we have a team that's always competitive, and Xavi perfectly understands that. We also have the viability plan that has to be approved by LaLiga… we had to register players, and now that phase is over. Xavi understands that perfectly."
"We will sit down and talk about Xavi's renewal in peace, but we want to let him continue and he wants to continue with us too." "I am convinced that he will achieve [even] more with us. We have not set a date for the negotiations yet, but we have talked about the subject."
Laporta mentioned that Mateu Alemany and Deco, whose incorporation into the club is yet to be made publicly official, are responsible for Barcelona's signings, but emphasized that those signings also have to fit into Xavi's plans.
On the core players and playing style:
"There are players that represent our style of play. Moreover, they're fundamental for a team that wants to be competitive and progress, Laporta said, adding that the club wants those players to stay at the club, so they're here in the present and the future. This was said in relation to players like Ronald Araujo and Frenkie de Jong being mentioned by name.
He also confirmed that the club has received offers for all of Pedri, Ronald Araujo, Frenkie de Jong, Andreas Christensen and Ansu Fati.
In the same breath, he said that some players make up Barcelona's core, and that the club wants those players to stay.
On İlkay Gündoğan:
"A lot of great players are interested in coming to Barça. We are a club that operates at a very high level of spending."
"Gündoğan has chosen Barça even though he had an offer from Manchester City with a higher salary. There are other great players who are interested in joining us as well."
"We must not make signings just for the sake of big names because we have a lot of talent in our academy too. We must not stop the growth of young players."
On Joshua Kimmich (Bayern Munich) and Martin Zubimendi (Real Sociedad):
"Due to their high market value, we are not considering them [as options to reinforce the midfield]."
On Vitor Roque (18, Athletico Paranaense):
"We are working on it."
On Oriol Romeu:
"There are a lot of names that are liked by the technical staff & we're working on it [signing players]."
On Arnau Tenas:
"We had the option of renewing Arnau Tenas but it could not happen due to economic reasons." "He is an excellent football player and a team player who creates a very good environment within the team."
"We will talk with Arnau next week and I think we will be able to reach an agreement after which he will be loaned [out]."
On Pablo Torre:
Laporta confirmed that the club are working on a loan deal for the player to help him grow and gain confidence.
On exits:
Joan Laporta said the club is working on exits, with Clément Lenglet and Samuel Umtiti being some of the names. He stressed that it's about finding an agreement that suits all parties, which takes time.
On La Masía:
Laporta mentioned that Barça should focus on not hindering the potential of youngsters, and emphasized that the club has a lot of great midfield talents in La Masía. He name-dropped Pau Prim and Marc Bernal, then talked about first-team midfielders, where he specifically mentioned Kessié and Sergi Roberto with other household names, like Pedri and Gavi.
On the new stadium, the new Camp Nou:
"If everything goes according to plan, by the end of 2024 we'll be able to return to the Spotify Camp Nou with a 70% capacity. In 2027, more or less, we'll have 100% capacity."
On his trips to Qatar:
Laporta mentioned that the club is working on different types of negotiations to promote Barça's brand, and promote some activities related to the club.
On Lionel Messi:
"Messi wanted to come back to Barça. He had a tough time in Paris. His father told me he didn't want to have this pressure." "I hope he does well in Miami. We are planning on a tribute [for Leo]. The first day after the reconstruction of the Spotify Camp Nou would be an excellent date for that event. The Catalans respect him. Barça will always be his home."
"There are decisions that have to be made as president. I've known Leo since he was a child. I had to put the institution above everything and I'm sad we couldn't bring him back."
The 60-year-old president is now in his second stint as club president for Barcelona. The first time, he stepped in to take over from Enric Reyna, who was the interim managing president after Joan Gaspart left office in 2003.