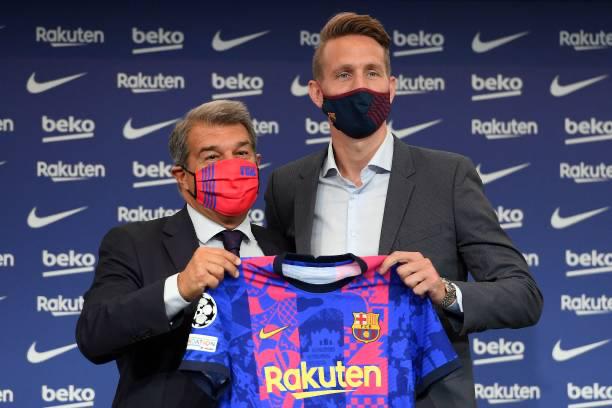 Luuk De Jong was officially presented as an FC Barcelona player today, after being announced as a new signing in the final hours of the transfer window.
A week after the official announcement, Luuk De Jong was presented at Camp Nou today. Laporta and Luuk appeared first, for the signing of the contract. The Dutch forward was then presented with the FC Barcelona jersey by Joan Laporta. He changed into Barcelona's brand new third kit and made his way to the Camp Nou pitch.
Luuk arrives from Sevilla for an initial season-long loan deal. However, there is a buy option included at the end of the season for an undisclosed fee. Which the Catalan club can activate to make the move permanent.
After the presentation, Luuk De Jong, Joan Laporta, and Mateu Alemany spoke to the media.
Here is what Luuk had to say:
His reception at the club:
"The first days have gone very well, the club has treated me very well. I have a good relationship with the coach because we already know each other from the national team. I am very happy to be here."
Memphis:
"I have a very good relationship with Memphis. I know him from the national team and PSV. We have a connection without words. We use the language of football. I hope the connection continues. I know Frenkie and as a striker, it is important to have quality behind to help you upfront."
Debut against Bayern:
"I feel very good, I had a knee injury which kept me outside the pitch for two months. I have been training for almost a month now and I feel fit and prepared. I don't know what plans the coach has but I feel ready. I think Koeman wants a forward, a little different from the ones he has. I can give him the type of game he wants and I hope it goes well."
Scoring Goals:
"I enjoy the game, when I was young I scored a lot of goals. I have been fortunate to score in important games and stadiums. I enjoy it a lot. It is good to score in important games to help the team win."
His role:
"It is amazing for me to be here. The coach wanted a forward and that's why he thought of me. I have shown my quality at the highest level and I hope to do it here at Barça. I hope the fans love me, help me feel at home. We will all fight together to have the best season possible."
Loan deal:
"It is true that the signing is for one year but I will work as hard as I can and we will see what happens in the future."
Playing for Barça:
"It is a big step in my career. It is important to have reached the best club in the world. I have achieved things like winning the Europa League but playing for Barça is a dream come true. I hope to leave with good memories."
Here is what Laporta had to say:
Message for the fans:
"This team will try to win. Obviously, we will compete and do very well, we have a very good squad. You can always improve but we are satisfied with what we have and we will compete to win. A new stage in Barça's history has begun and we have a team with very talented players. The manager's job is to bring the team together. They are very good players and are highly motivated. Who need the support of the fans."
Sergi Roberto:
"It is progressing very well. Everything has been agreed, only the signature remains. We have just closed it and the documentation is missing but in principle, everything is agreed upon. Sergi, like the other captains, has made this gesture to support the club. These gestures will not be forgotten, they are unprecedented gestures of Barça fans, they were and are Barça heroes."
Mbappe:
"I respect what other clubs do. It is their concern, not ours. As long as it does not affect us. I have nothing more to say."
Transfer window:
"I am very satisfied with the squad. Even in such difficult conditions, the football department led by Alemany has done an excellent job. I am very grateful to Rafael Yuste, Mateu Alemany, and his entire team. They had to reduce salaries and speed up departures. Today our wage bill is 80% of our income. When we came it was 110%. It will be lowered to 70% if everything goes well. This will permit us to act more normally in the next transfer window. All levels of the club have worked hard to achieve what has been done. I want to publicly thank the good work that has been done."
"I am very grateful to the fans too. They have understood that these decisions had to be made. We inherited a situation as such that we had to make bold calls. I have said a lot, the institution is above all, even the best player in the world, which is Lionel Messi."
Ronald Koeman:
"I have always talked to coaches in a very direct way and I have always given them support. He has my full support and respect. I may have disrespected him at some point with my words but it is because I like football. I am a football fan and I have the right to comment on certain aspects according to my vision."
Dembele:
"This morning, Mateu told me that a meeting with his representatives is being organized. The relationship with them is good, we will propose a renewal and hopefully, it will be of interest to both parties. His number has been changed, he likes 7, he told me he wants to get back on the pitch. With everyone's work, we are going to ensure that Dembele plays frequently and does not get injured again. So that the player expresses all his talent and quality. This is the plan of the club."
Here is what Mateu Alemany had to say:
Luuk De Jong:
"The last day of the market was complex. There were many movements in the market and the signing of De Jong was a planned situation. When Antoine left, we did work with Sevilla and the player's agent. They were players with different characteristics but the best option in the market was Luuk. We were coordinating the two operations because one depended on the other. It was in the last minutes, literally, that the two signings registered. I still don't know how but they did."
Dani Olmo:
"We could talk about many players. During the last week of the market, we opened negotiations with a lot of players, mostly those who played up front. I don't like to talk about players from other clubs who are not here. It may be one of the names because our goal is to always have the market under control. Many things could have happened but in the end, one happened, which was the arrival of De Jong."
Coutinho's clause:
"Sometimes, transfer contracts have bonuses. So that the club sells the player, but I will not talk about specific clauses in a confidential contract. If there is a clause or not, it has no relevance because we need the player in the field. The important thing is that Coutinho does well and is great signing for this season."