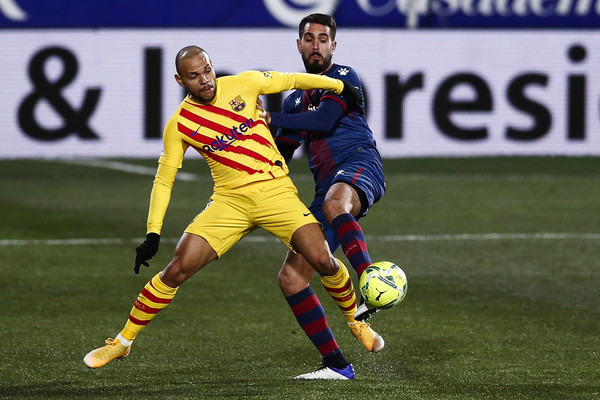 Martin Braithwaite has opened up about the possibilities of FC Barcelona signing another forward in an interview conducted by TV3.
The Dane, who has failed to start the last two matches against Athletic Bilbao and Granada, has enjoyed a fair share of minutes this season. As it seems, the match against Dynamo Kyiv was the breaking point and Koeman realized his team needs a focal point in the attack. In the matches following, Braithwaite has rarely been left out of the starting XI. Nonetheless, with Griezmann finally improving his form and rumors of a new forward joining, Braithwaite is not expected to play a prominent role anymore. The 29-year-old seems unmoved by the rumors and strikes as very determined.
"I like it. That is amazing (on signing new forwards). That is how it is supposed to be in a club like this. You want all the best players to join the club and to push yourself to the limits, so there has to be competition. You cannot just rely on a few players, you need to have a big squad with quality players. That is how you keep pushing yourself and make sure that you perform every weekend. So, for me, it is only a good thing", he told TV3.
This hardly comes as a surprise, as Martin has been very vocal, motivated , and self-confident from the very moment he put his signature to the paper. It seems highly unlikely that he will break this commitment anytime shortly either, as he also affirmed in his interview: "There is no chance of leaving Barça in the winter. Or at the end of the season either. I am staying to fight for my goals here in the next season too."
Motivated as he is, he is showing signs of being more than ready to challenge for his first t**le as a Barça player. The chance to turn his dreams into reality will come as soon as this week when Barça faces Real Sociedad and possibly Real Madrid or Athletic Bilbao for the Spanish Supercup. "We have a lot of t**les we can win this season and this is my ambition. I am not thinking about anything else. I am here to win t**les and that is why I am waking up every morning ready to work hard", he added.
One thing Barça fans cannot hold against Braithwaite is his determination to work hard and succeed where many of seemingly greater quality have failed. This has paid its dividends as the Danish forward has already featured in 19 matches this season, scoring 5 goals and assisting another 2.