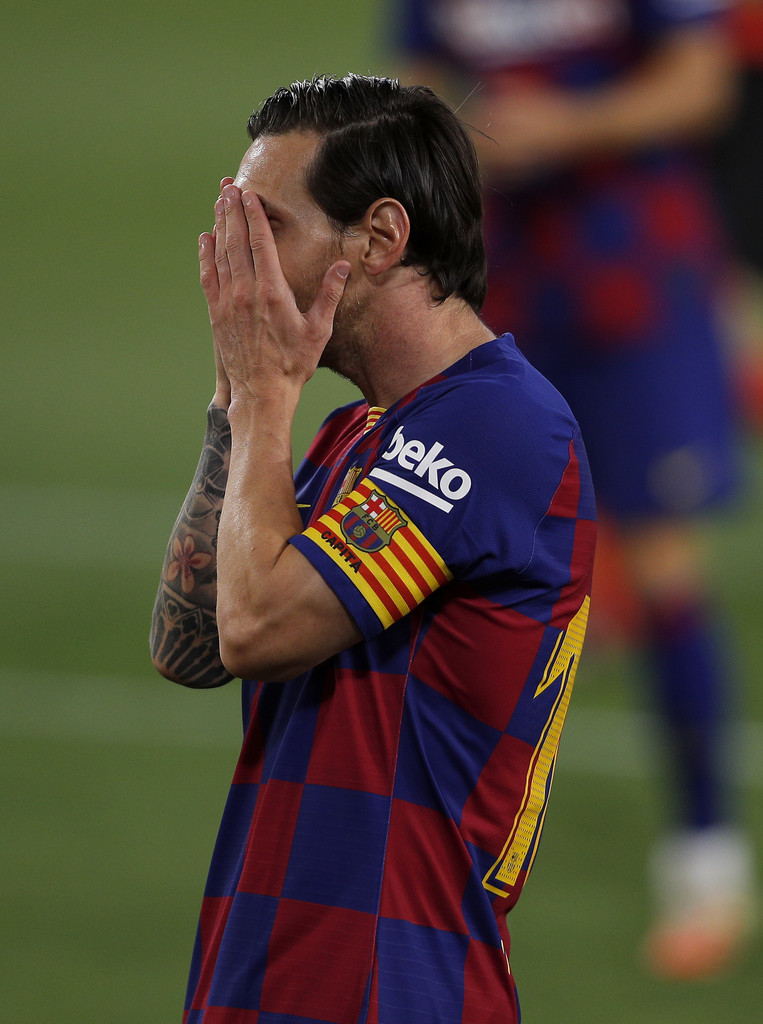 Barça lost LaLiga after the defeat against Osasuna. The team captain, Lionel Messi, self-criticized and made it clear that the team has to react if they want to aspire to win the Champions League.
This Thursday with the victory of Real Madrid against Villarreal and the 1-2 defeat of Barcelona against Osasuna, Zinedine Zidane's team became LaLiga champion and left Barça very touched for the Champions League, more by the poor football showed by the Blaugranas rather than the results.
Barça captain Lionel Messi spoke to Movistar LaLiga, at the end of the game and made self-criticism about his team this season.
"We didn't expect or want it to end in this way, but it's a reflection of our season. [We've been] an inconsistent, weak team that has been beaten in intensity and desire. It has been easy to score goals against us."
"Madrid did what they had to do. They haven't lost a game since the restart, which deserves credit, but we have helped them by dropping points we should not have dropped."
"We must be self-critical, starting with the players, but across the whole club. We are Barcelona and we're obliged to win every game. We have to look at ourselves, not the opposition, and the performances in recent games have left a lot to be desired."
"I have said before that if we continued playing as we were it would be difficult to win the Champions League and now it's clear it wasn't even enough to win La Liga."
"We have to change a lot because if we don't, we will lose against Napoli as well. We need a little time to clear our heads and then to think about the Champions League, which starts from zero."
The Argentine genius ended up apologizing to the fans.
"The fans are angry with all that's gone on this season and it's normal, we are also angry," he said. "It's normal that they feel like this and that, after the defeats against Roma and Liverpool, they are losing patience because we're not giving them anything."
On the other hand, Quique Setién spoke concerning the defeat and the losing of LaLiga after the team left so many points coming back from the break.
"The feeling is one of sadness and frustration because defeat is absolutely unfair. Perhaps not to have lost the league, because we have left ourselves points to keep up with the rival."
"It is frustrating to have the ball close to the other goal but don't score it in."
"[On continuing to be Barça's coach for the Champions League] I hope so."
"I also agree with Leo. We have to do self-criticism and do better things for the Champions League. There are things that we have to improve, although we have also done some things well."
"I am sure the team will come fresh and manage the new tournament with maximum energy and with maximum optimism and do things that we have not done so far."
"Self-criticism has to come from everyone, although now we are sad. I am convinced that we are going to be a different team, with a full attitude and we are going to face the competition with the maximum guarantees."