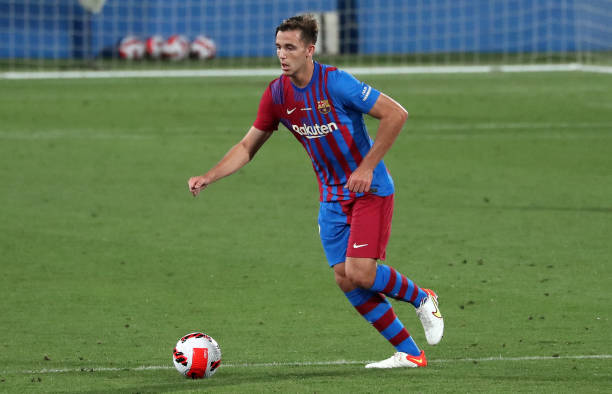 Nico Gonzalez, the 19-year-old midfield revelation at FC Barcelona this season, sat down with Mundo Deportivo for an insightful interview, in which he talked about his younger days, comparisons to his father, and his breakthrough into the first team this season.
Being a son of football legend Fran, he is battling even higher expectations than most young footballers. Nonetheless, he does not take it as an impossible-to-overcome challenge, but jokingly admits he sees it as an objective to overcome his father's legacy.
About his beginnings in football, attracting interest from bigger clubs, and his father's influence:
"I began playing football relatively late. Some kids start at ages 2 or 3. I went to the first training at 6 or 7 and I initially stayed in the car crying, as I did not want to go. In the end, I went only because I had friends there."
"There has been a little added pressure when I was a kid due to people knowing who my father is. I was asked a lot whether I was going to be better than my father. I always answered yes and I still do. Joking about it makes it more comfortable to talk about. There has always been a tendency for comparison and I do not have a problem with it."
"When you play with friends at first, you just see that you are good at something. But as a kid, you are not aware of what you can really do. Barça and Madrid both came with offers. Before I joined the club, I went to several tournaments with the team and made a lot of friends here. That was when I decided to come. We had a great team with Ansu, Eric, Take, Guillermo Amor, and later Adrián Bernabé too.
About his family's influence and support during his younger years:
"The family accompanied me when I moved to Barcelona. I realized only later just how important and huge that was for them. I will be grateful forever. It made things much easier for me. If I had to go live with the other kids at La Masia, which was the only other option, it would be much more complicated for me. This way, I always felt comfortable and happy after coming here."
"In my younger years, my father always accompanied me. Now he works as a youth coach at Deportivo. He is happy to be working there and is doing a great job. They even won the Spanish Youth Cup against Barça with Gavi last season. I am glad for him. We would still like to experience first-team games together though."
About his beginnings at the first team, Koeman offering him his first chance and publicly criticizing him:
"I honestly did not expect to have such an impact so soon, even after renewing. I ended up starting six matches. But I think I took the opportunity well and earned my minutes."
"It was not an easy situation for a youngster to be publicly criticized by his coach, but he talked to me in person and we resolved it. He gave his opinion of what he saw on the pitch. In the end, I am thankful for it, as it helped me grow."
"The day Koeman was sacked, I sent a message to him. He believed in me from the first moment. Even last year, there was news that he liked me. He gave me the opportunity and put me in play in many matches. For that, I will always be grateful to him and I wish him all the best in the future."
About Xavi:
"He is amazing. Not just for me, but the whole Barça community. He generates a lot of expectations, which you can already see in training. Everyone is eager and open to what he tries to transmit to us."
About gaining physique:
"I have an advantage. I am tall and bulkier. There are also smaller players in modern football, like Pedri and Gavi, but I do not see it as a problem for me. I think my physique is an advantage."
"I saw improvements as I was gaining on minutes last season already. I improved physically the most by playing. I already noticed a big change by the middle of the season. And now, as I am training with the first team, it is even more evident. I agree with my father when he says that training with professionals has the most influence on your physique. I am already noticing it this season."
About the upcoming derby against Espanyol:
"I have played many, although none yet with the first team. In the Infantil or Cadet, it was the biggest match of the season. The tension and emotion you went into the match with were just beautiful. The next match is key now, a derby at Camp Nou, my first derby in the first division. A special match."
"Having so many homegrown players in the team is important for such derbies to feel special again. Someone who has spent nine years here sees it differently from a player who joined from abroad. I really want to play against Espanyol."
About his injury:
"It is not a problem anymore, I am recovering well. I was a bit worried after the match in Vigo, but I am fine now."
About his position:
"Last year I played as a pivot the whole season and I also played there in the preseason this year. Recently though, I have mostly played as an interior and I feel very comfortable there. I like to get close to the box and get a shot in. If you asked me four months ago, I would say that the pivot is my natural position, but now that I am playing as an interior, I feel very comfortable and I think I am playing fairly well. I am comfortable wherever they put me."
About Dani Alves joining and his impact in the dressing room:
"Dani is one of those figures that always seem happy when you see him on television. He is very down-to-earth. The dressing room appreciates him coming here. He transmits a lot of joy to us and is already helping us a lot. It is not that there was sadness in the dressing room before, but players like him are always necessary to have in any team."
About reaching the first team together with Ansu, Eric, and Gavi:
"It helps a lot with adapting. When Ansu broke through, there were not as many youngsters, so he had it a bit rougher back then. We are all very close and help each other in the team, but having guys with whom you have played for six years together next to you makes it all the easier for you."
About his love for Barça, rejecting City and Madrid in order to succeed here:
"I started watching football in 2008, 2009, and 2010. Everyone became a Barça fan at the time, as simple as that. I always said that my wish is to stay at Barça and work on breaking through here. It turned out quite well for me."
About winning t**les at Barça, repeating the achievements of Messi, Xavi, Iniesta:
"I have a lot of trust in this new generation and the ones who are still here. This is not just the future, but also the present. I think we will show that we can already compete for everything. I obviously dream of winning everything here. I hope for this season to be successful already. We are still alive in the Champions League and even though we are considered to be out of the race for La Liga, I still think we can bounce back. We talked a lot after the match in Vigo. And we are determined to go for the t**le."
About breaking into the first team only after Messi left:
"It is a dream for any kid to be playing with Messi. He is without a doubt the best player of all time. I would have loved it, but unfortunately, it happened the way it did."