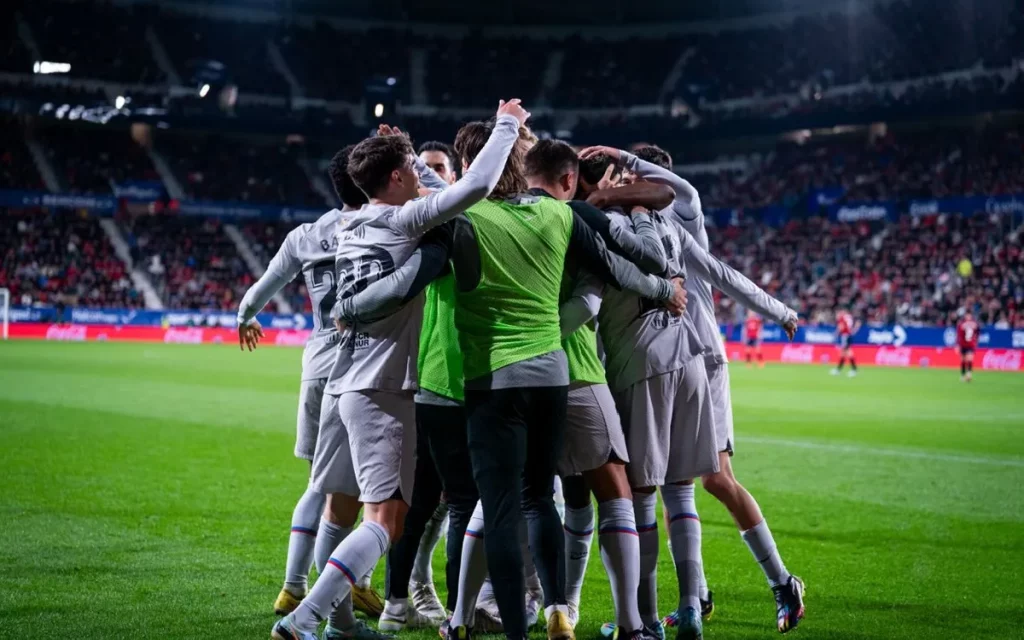 On Tuesday night, Barça came back with 10 men against an industrious Osasuna side to win 2-1, courtesy of goals from Pedri and a late winner from Raphinha. In a game characterized by physicality, aggression, and refereeing incidents, the tactical maturity of Xavi's side in dealing with the well-drilled team of Jagoba Arrasate was put on display.
Osasuna approached the game with their usual vigor, shaping up in a fluid 4-4-2 spearheaded by Aimar Oroz and Chimy Avila. Their game plan was clear: use Sergio Busquets as their press trigger, and create central overloads to facilitate switches of play to the left flank ran by Moi Gomez who had Juan Cruz in support. Doing so, Alex Balde, forced to pivot on his wrong foot in defensive duels, would be prone to overlaps. In set pieces, Osasuna relied on NBA-style screening to pave the way for Unai Garcia and Dani Garcia.
Barça on the other hand set up in their traditional, symmetrical 4-3-3. On paper, Busquets was to be flanked by Pedri to his right and Frenkie to his left. In the build-up phase, Frenkie dropped to the side of Sergio Busquets for numerical superiority, while Pedri angled his movement to be more central. This is the same tactic Xavi has employed since the beginning of the season whenever Frenkie & Busquets start together. Ousmane Dembélé was hugging the touchline, and Ferran situated himself in the left half-space to create a channel for Jordi Alba to move through.
Barça started the game on the backfoot, sitting in a medium, and in some cases deep, block. Osasuna's relentless press out of the gate, their advantage in physical duels, and the technical presence of Moncayola and Torró allowed them to raise their lines to the extent of their centrebacks being on the halfway line for the first 15 minutes. In the 6th minute of the game, Osasuna's aerial prowess came to the forefront as Dani Garcia escaped Busquets to head in a corner. Meanwhile, Alonso had been brought to the ground, signalling success for Osasuna's interesting set-piece tactic.
To escape Osasuna's press, Barça started to rely on long balls to Lewandowski, hoping that the Pole's hold-up play would grant Barça a reprieve and finally allow the team to advance its lines. After a tumultuous 15 minutes, Barça had started coming out of its shell, and the first shot on target was registered by Lewandowski. Pedri moved from occupying Zone 14 in the early offings to underlapping with Ousmane Dembélé, and Frenkie made a couple of third man runs into the box. However, after a cheap yellow card in the 11th minute, Lewandowski headed for an early shower in the 31st minute, rather ironically as a result of a floated ball to him meant to relieve pressure. Chaos ensued in the final quarter hour of the half. Pedri, Frenkie, and Busquets were manifestly shook, misplacing numerous passes as Barça without their offensive talisman rode out the pressure until they could receive comprehensive instructions from Xavi.
The start of the second half signalled a move to a 4-4-1 for Barça. Pedri moved to a false winger role akin to the one so often held by Iniesta in Guardiola's last days and Valverde's first days. Ferran moved to centre forward, tasked with holding up play and stretching the lines of Osasuna. Frenkie & Busquets moved into a classical pivot. The offensive game plan had changed: conservative zonal pressing, escaping Osasuna's press through Frenkie's dribbling and Pedri's "pausa", and vacating spaces for the fullbacks to maraud into. The adjustment paid off instantly; Pedri equalized in the 48th minute after an Alba cross passed back by Ferran.
Osasuna persisted with their initial strategy despite the equalizer, still relying on central overloads, passing triangles, and left-wing overlaps to attack Barça's defence. Nevertheless, ter Stegen and his defence had little to do in terms of defensive interventions, save for a speculative Chimy Avila effort in the 68th minute. Afterwards, Osasuna altered their strategy, intent on ending the game with 3 centre forwards to whom crosses would be sent. A muscle overload for Christensen meant another change of position for Frenkie de Jong who moved to centreback. Gavi occupied the midfield role beside Busquets as Barça continued to survive this war of attrition waged by the Pamplona team.
Barça made another tactical adjustment to clinch the game. Raphinha and Fati replaced Dembélé and Ferran. This initiated a temporary conversion to a 4-3-2 structure. Pedri, to compensate for the lack of control imposed by moving Frenkie to defense, tucked in to a more central position, and Raphinha played on the shoulder of Osasuna's left back instead of hugging the touchline. Frenkie took over a libero role. Ansu, instead of holding up the ball, played a mobile role moving horizontally across the pitch to offer a passing option. Alonso also made runs from deep. These alterations gave Barça control for 10 minutes, yielding a terrific goal from a looping Raphinha header off of a scrumptuous Frenkie de Jong lofted through ball. Barça successfully exploited the stiffness of Osasuna's defense due to their exhaustion, and won an encapsulating game.
After the game, Xavi commented on the spirit of the players, their psyche after Lewandowski received a red card, how they needed to keep their cool, and how this was a victory of heart. This is all true, but the tactical aspect of it is not to be understated. Barça masterfully soaked the pressure of an excellent team in a hostile environment, only conceding 1.06xG according to FotMob.com despite playing over 70 minutes of football with a man down. The several in-game changes, the fluidity of the approach, and above all, the desire of the players handed Osasuna their first home loss of the season. They may feel hard done by, but it is difficult to argue Barça deserved anything less from that game.