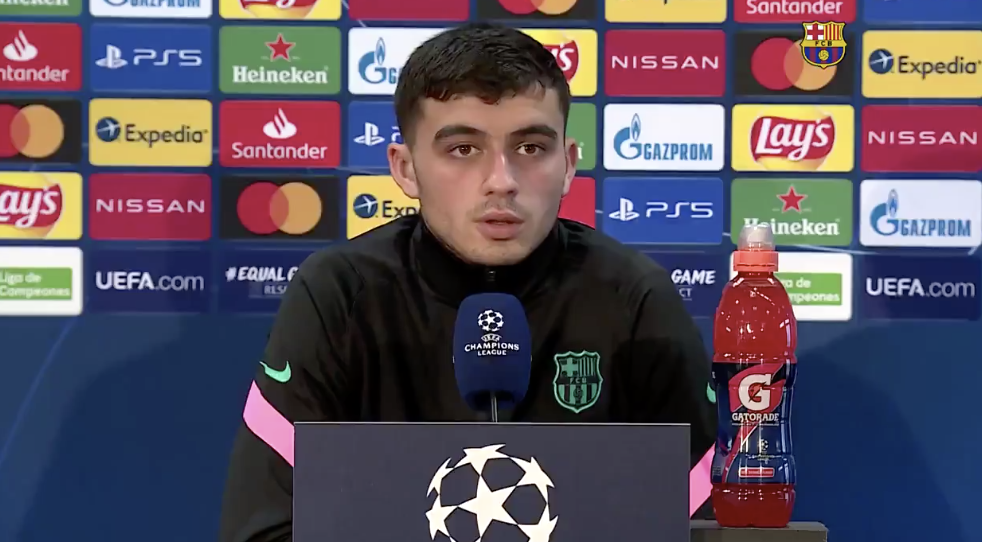 Pedri and Ronald Koeman were sent to host the pre-match press conference before their game against Dynamo Kyiv on Wednesday evening.
Pedri was first up:
On Dynamo Kyiv having players out with covid-19
"We have to attack the game like all any other game, and finish our chances"
Adapting to Barcelona
"It's going well, which is what my family has always told me. I have to keep improving, training with the best (players in the world)."
Messi possibly leaving
"I have to enjoy learning from him. Whatever he decides to do, we have to respect it."
What's Pedri's best position
"It's good to play in different positions, but as I've already said, I feel the most comfortable as a number 10 (attacking midfielder)."
What has the veteran players said to you?
They all tell me the same thing, (that they were once a young player too) and have already gone through this. You have to keep your feet on the ground and keep working."
Did you expect to play so many minutes?
"I didn't know i was going to play this much, but i hope to keep working to play as many minutes as possible."
What do you talk about with Messi
"In the changing room, we talk about normal things."
Scoring your first goal for the club
"It was a dream come through, it is a day i will never forget."
How the veterans integrate with the young players
On Messi: "Messi is a wonderful person and we have to enjoy him for as long as we can, he's helped me a lot."
Pedri then left the room, and Ronald Koeman arrived to answer the press' questions.
Goal for tomorrow
"The objective for tomorrow is to play good football, create chances, and win the game."
Dynamo having multiple covid cases
"We have spoken about it, i know Dynamo has problems with covid (cases). This morning, the tests have been done and we will have to wait for the result this afternoon, but hopefully we can play the game."
Ter Stegen returning
"He has been training with the team for almost a week and it's going well. Tomorrow morning we have our last training session (before the game), and we will make a decision after that."
We need time in order to see the team at their best
"It's like this, two points from the last 4 games is not what we want, but I'm hearing that people are happy. The image that we send across, giving chances to young players is something positive, but we have to win more games."
Signing a striker in January
"Everyone knows my opinion on this matter, we have to wait. I know about the financial situation of the club and if we can't bring anyone in, we will work with what we have."
The young players performing well
"We don't play them because of their age, but because they deserve to play."
Remembering the Dream Team's game against Dynamo
"I don't know if it was the best game we ever played. When i speak with Pep (Guardiola) we always remember this game. Hopefully we can repeat it tomorrow."
Setién saying Messi is hard to manage
"We respect everyone's opinion, but i can only say that he is a very good player, the best in the world, but for me it's not hard to manage him. It depends on the personality of the person. I don't agree (with Setién), but respect his opinion. I speak every week with Leo."
On Matheus Fernandes
"He has qualities to play as a 6 (defensive midfielder), but he knows he has players in front of him in the pecking order, like De Jong, Pjanic and Busquets. He has to improving and keep working."
On Covid-19
"All our lives are influenced by Covid. Dynamo having so many players out can affect them, but we also look at Shakhtar Donetsk who won in Madrid (with many players out with Covid.)"
Memories of Tonny Bruins Slot
"It was very sad to hear about his death because he knew him very well, and i know his family very well. He was a wonderful person, we will miss Tonny."
Missing external support
Criticism is normal, I'm working on improving things. We know where we have to improve, there are also positive aspects, but what counts is winning games"
What do you like and dislike about the team?
"I like the attitude, how the team works, the desire. What i don't like is that we lack performance, we create clear chances but fail (to score)."
Plans for Konrad de la Fuente
"He's a part of the team. There's a lot of competition in his position, so we want him to play for the B team to get more minutes, but I'm very happy with his work."
Resting Messi
"Tomorrow the squad list comes out. I can't give you an answer right now. Regarding (Dynamo's) injuries, we will see if their performance level drops. We expect an opponent who will make it hard for us, and we will have to work to win the game. We've already seen Shakhtar beat Real Madrid with a lot of players out."
Are you going to be a Barcelona coach for a long time?
"My future is not important right now. I'm comfortable with the team and players. It's a great club and i hope to be here for a long time."