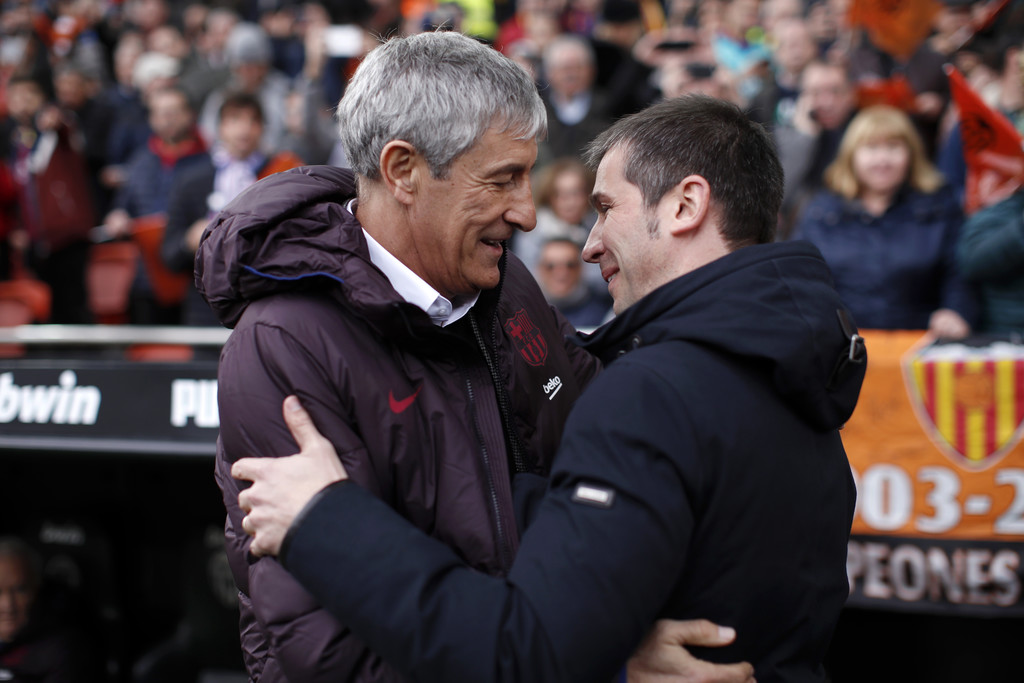 Barcelona will face Athletic Club at the San Mamés, and newly-appointed Barça manager has looked ahead to the fixture, when speaking with the club's official media team.
Friday, the draw for the Copa del Rey quarter finals was held. A surprising win by Segunda team Mirandés will see the underdogs face Valencia. Meanwhile, Real Madrid will face Real Sociedad, while Granada face Villarreal.
Barcelona will be guests of Athletic Club's famous San Mamés stadium on February 6. The Catalan side's manager, Quique Setién, has spoken about his expectations for the game, and has praised a Bilbao team that have shown promising signs, despite seeing themselves ninth in La Liga, in what has been a very competitive season for all teams included.
"I would have obviously preferred to be playing at home. But at the same time, it's obviously going to be a hard fought tie. I think the teams are very equal – they're both teams with a bit of history in this competition, and they [Bilbao] are going to make life difficult for us. I think we've got the ability to be able to get through, although it's not gonna be easy – not for us nor for them," Setién tells FC Barcelona's official media team.
Bilbao come into the game with five draws from their last five games, and while they have not been high-scoring fixtures, the white and red Basques have only conceded three goals, having faced teams such as Real Madrid and Sevilla. Setién only had good words to say about Barça's upcoming opponents.
"I think they're having a good season, they're a solid team. They defend well, they do what they do, and play, really well. They've got the playters up front who can cause you problems.They don't score a lot of goals, but they don't concede a lot of goals, either," the former Betis-manager analyzes.
The newly-appointed manager, who most recently saw his team thrash Leganés in a 5-0 victory at the Camp Nou, acknowledges that Barcelona are the favorites going into the game. However, he also warns the Blaugrana team to not be complacent, as Bilbao, despite not being known for having big names on the team sheet, can be lethal in transition.
"The advantage we could have, in principle, is that we'll take the initiative in the game, but I don't think that means that we're going to get the most out of the game. The difficulty against these kinds of teams it that they defend well, and they've got quick players that can hurt you on the counter-attack. But it'll be a very close fought tie," Setién says.
With the two teams having clashed in two Copa del Rey finals in the past, namely in 2012 and 2015, not to mention having had a big amount of Liga encounters, Setién has no doubts that the game will be good, but tense.
"Obviously, I think it's gonna be a very good game, with pace and tension, with two teams that will battle to get through to the next round. All I can say is that [it's a match-up between] two teams with great history in the competition, who have played the final a couple of times – so it's almost like a final," the manager explains.
The game kicks off at 9:00 PM CET, and is the last game of the four quarter finals in this round of Copa del Rey football.