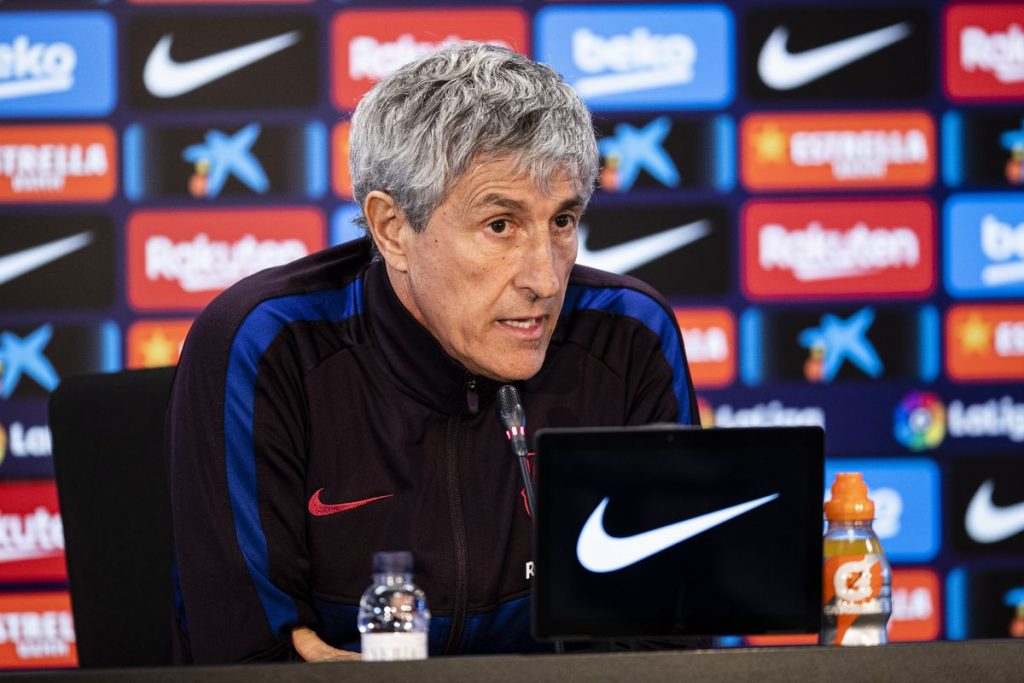 With many issues to discuss, Quique Setién spoke at the telematic press conference before the clash against Celta de Vigo in Balaidos.
The offices of Can Barça have not stopped working. According to several news outlets, the agreement with Juventus for an indirect exchange between Arthur Melo and Miralem Pjanić is very close to being announced, and ahead of the important match in Balaidos, both the operation and the situation of the Brazilian were topics of discussion at Quique Setién's press conference.
"In principle I still have Arthur, he is important like the rest of the players. He is going to train and in principle he will travel with [us] with the possibility of playing tomorrow. I hope that all this noise does not affect him, and that he shows the best version of himself if he plays."
"Arthur is going to train, he is going to travel and he is sure to be with us until the last game, and I am going to manage it saying that he must keep his commitment until the last day and be a professional in the club that pays him. I am sure Arthur will keep at it until the final day."
"What is happening is abnormal. Any player in this situation must take into account that the season is not over and that if he has to leave, he must leave a good memory and try to win a title. I hope that the honesty and professionalism of all the players will be shown until the end [of the season]."
"What can happen with Arthur has happened to many clubs and players. There will be those who will think that it is a good opportunity or who believe that they should wait on him due to his young age. We will never know that. In general, and not only because of Arthur, he is not the first or last player with high expectations where things in the end do not turn out as expected."
"I can only talk about the time he is with me, and he has shown a lot of interest in doing what we have asked of him. We have indeed had to emphasize some things, and he has tried to do those things. Perhaps he has lacked some consistency, but sometimes it is not easy to change things that other players have said was very good. Before, they told him to hold the ball and take it somewhere else and now I ask him to play it quick … Yes, it is possible that he was missing consistency, but he is on the right track. These are things that can help him in the future because they are decisions that are not easy when he is on the pitch, [to know] whether he must retain the ball or play it with [just] one or two touches."
The manager was cryptic when talking about Miralem Pjanić.
"I am not going to talk about hypotheses although I am in full communication with the technical secretary. I do not ask for too many explanations every day either, because I can't get worn out on things we don't know whether willhappen or not. I focus on tomorrow's very important game."
The manager also spoke on the pressure of giving the youngsters playing time, especially focusing on Riqui Puig and Ansu Fati.
"It could be a good chance for Riqui Puig, with us having absences from players as important as De Jong and [Sergio] Busquets. He also had chances before but these are things that we assess day by day, through the daily work and depending on the game at hand."
"Riqui has had an important development in this time. Indeed, the attitude has always been excellent, extraordinary at work, but we have had to point things out to him so that he adapts to what the team needs and what he can do. We have seen lately that he has shown a good level in the minutes he has played, and in training we have seen the same commitment to what we ask for, and that is the way of doing things. It is a process that for some takes a little longer and others a little less. Now it's a matter of keeping that version permanently because that is what gives more chances for him to play, in considering that we are in Barcelona and that [this club] is the best [club]."
"I am not very aware of everything that is said, because it is true that there are so many and varied opinions that sometimes few people agree with. I do normally listen, but other things influence me more than what I see and what each player can give the team in a certain moment. All this is backed by the closest people who work with me. I accept that there is a variation of criteria but in the end you have to decide and be quite aseptic because I have to pay attention to what I see and what I believe in."
The Cantabrian also emphasized that there will always be controversy in football, whether by referees or in other situations.
"Since I was a player, it was like this. This is inherent in football and what I try to do is stay on the sidelines because it will continue to be like this."
"We are just one more piece in this gear. We don't have much to say, other than to accept what comes and how it comes. Everyone can complain about the signings, the schedules, VAR … I think we should all think that circumstances have caused all this to happen and fortunately we can play a championship that was stopped; but that has a series of consequences that we must accept."
The fight for the title, that at this moment, Barcelona does not depend on itself to win.
"Of course, I am still convinced that Real Madrid, as well as ourselves, can drop points. We have tied. They are in a good stride, like we are in many aspects, but of course I believe that at some point they wlil make a mistake."
"The reality is that [the games against] Celta and Atlético are complicated games, but anyone can provide a complicated game. We are already seeing how tight the results are, but I think we will have to wait for the last day. Two complicated games are indeed coming, like the previous ones were."
"A lot of things can still happen in this league, [even] that we arrive even to the last game and something unexpected happens — we'll see."
About Óscar García's Celta team.
"All the teams would like to defend very well accumulating a lot of people and then when they have the ball, they attack well too. In the last three games they have not conceded and it is a sign that they are doing well. They are also very talented in attack, with players who know what to do with the ball — they are very smart. In principle, it will be a difficult game that I hope to get ahead and win, but [it would happen] with difficulties."
About Rafinha Alcántara, an academy player and former Barça player who is now having a great time at Celta Vigo, Setién had this to say.
"He is playing very well and his team too, by raising his spirits with the results. Rafinha is doing very well, he has a lot of talent like Denis (Suárez) or Iago (Aspas) … There are players in Celta that I like a lot, and when they are associated with each other, it influences the performance of the team."