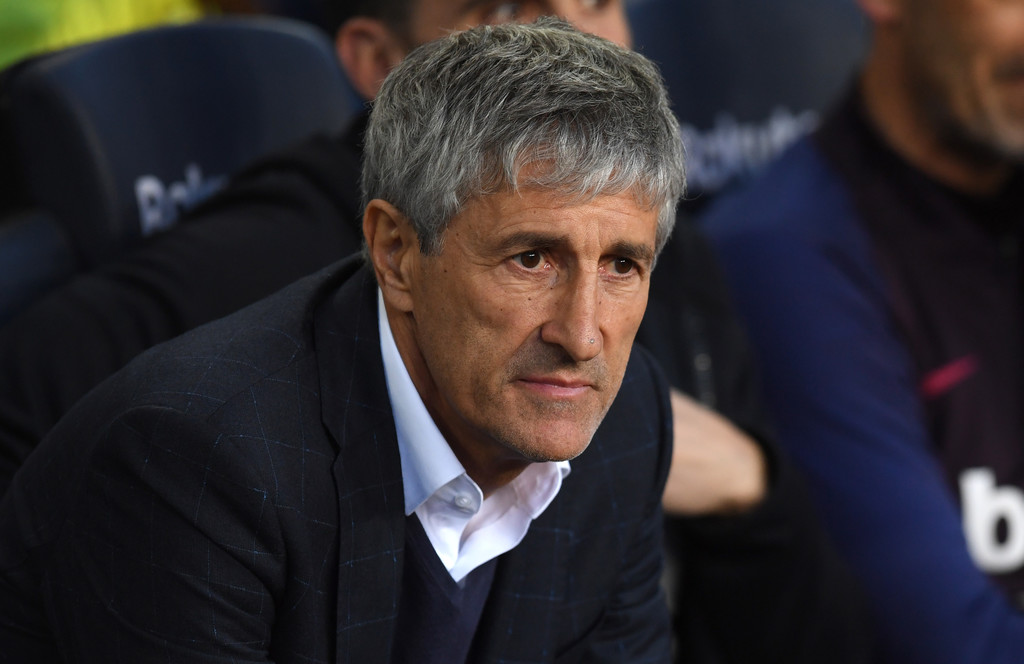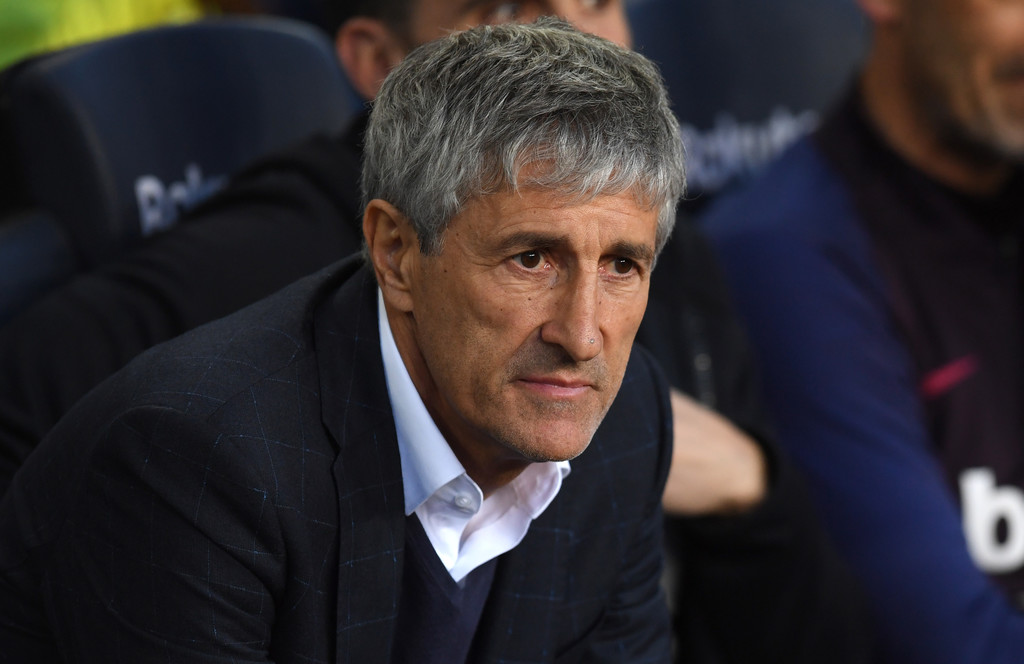 Barcelona's Quique Setién spoke at the virtual press conference before the match against Sevilla.
Barça has two victories in the two games played after the break, and this Friday they visit one of the most difficult spots in Spain when facing Sevilla at Sánchez Pizjuán.
Julen Lopetegui's men come to the meeting with a draw in their last game against Levante, while Quique Setien's men rise to the top and are in high spirits to face the game as if it were a final –because, practically, it is.
Barcelona plays for LaLiga title in every game from now on, and against Sevilla, they have to go for everything if they want to keep their advantage and even increase it.
Quique Setién talks about everything that surrounds his team, new faces in the squad list, missing some of his starters, the rival, the return of Luis Suárez, the Champions League calendar, Ansu Fati, among other things.
The 'final' against Sevilla
"We are facing a team that is third in the standings, plays in their field and will make things very difficult for us. We will have to do things very well. If we win, it will not be definitive but the momentum will be very positive."
"Sevilla is a fairly complete team, very solid and physically it is one of the most powerful teams in the championship. It is a reasonably constant and successful team. When they have to attack they do well, generates occasions, creates danger with the crosses. At set-pieces, they are very strong. And when they have to defend, they do it with solvency. But we also know they have certain weaknesses and we will try to exploit them."
The match at the Sanchez Pizjuán behind closed doors
"It is evident that it is something that can benefit us because it is an audience that always presses a lot."
Quique Setién and Junior Firpo do not feel extra motivation for having past at Betis.
"I suppose for me as for Junior it is one more game. Important because what we want to win because that would bring us closer to the title and if we win it would be a huge boost to our confidence considering that they are a great team and what we have left."
Frenkie de Jong and Sergi Roberto are missing the game due to injuries. Barça B's Kike Saverio, the novelty of the call-up, and Chumi take their place.
"It was a shame because we did not expect to lose him [Sergi Roberto]. We will see how he evolves and as he can endure the pain he will gradually be incorporated. He endured the minutes he played against Leganés very well, but we do not have a specific date, it will be a game or two. We'll see. Frenkie [de Jong] had a problem that was not completely resolved and therefore, we prefer to wait and lose one game and not four if things get worse."
"It is true that [Frenkie de Jong] will be out for two games but the cycle is three days. Under normal circumstances, one week, only one game would be lost. He is a very strong boy, who gives us many things, but we have others players to supply this, we hope that it remains an incident and will soon be in a position to return but I am with complete confidence in those who will play."
The return of Luis Suárez
"You want me to tell you if he will be a starter … The games are very close and he is still not there to play the whole game. We will talk and see if he starts or plays after a few minutes."
Arthur Melo's future
"It is not something that worries me right now. Now the important thing is that he is focused on the games. It is the important thing for him, the team and the club. The rest will be seen."
Champions League one-legged match-ups confirmed
"I think it is worse for everyone, but we have to adapt to that and not make mistakes. It is something for everyone and we have to accept it because UEFA has decided so. What I do hope is that we can play against Naples here and not on a neutral field. "
"I think that playing on a neutral field against Naples would give them an advantage, they played the first leg in their field and with their public. In the rest of the qualifying rounds, if we go through, I would prefer to play two legs game because you have more options to correct mistakes, but nothing can be done about it."
"I think the team is capable of winning all the remaining games, although it is very difficult. We have six goals in favour and zero against. The outlook is good, the best compared to the rivals, but one of them may probably fail in some time because it is difficult to make all the points although it is probable."
Barcelona (first place) faces Sevilla and on the other hand, today Real Madrid (second place) faces Valencia, a very strong rival. Both games could be decisive in defining the championship. Setién gives his opinion on the matter.
"I do not think this is a key day for the league because we have seen the surprises that football brings. We must continue working match by match to maintain the advantage because fortunately, we depend on ourselves. It is not easy to win all the matches and maintain this advantage but that is for everyone. All the games are complicated, there is no great superiority in any game, except in the one of Mallorca for us, but we all have a hard time winning and getting the games going."
"You have to be fully involved in the whole game because the rivals can have an opportunity at the beginning but also at the end. Against Leganés, there were 60 minutes that we played in their field and that has the merit of doing so long. Indeed, rivals will always have their chances, but concentration should indeed be maximum not only in the first minutes but throughout the match."
Lionel Messi is one goal away from reaching 700 goals, and on Friday he could do it.
"It would be very good if he did it in a field like that and against a rival like Sevilla. These are figures that are only available to the chosen ones. Hopefully, he will put that one in Seville and then many more."
Rotations to Leo Messi
"A player like Leo Messi who has lived like this for 14 years old knows his body and his reactions. For so many years he already knows the workloads he has to do. I have confidence in Leo and three or four footballers who have that knowledge and I don't have to ask them. They will decide and will notify me to rotate them, although I set the guidelines for when they should play."
Ansu Fati and Riqui Puig
"Fortunately Ansu Fati is much better from the small problems he has had (physical) but he is a 17-year-old boy who must be managed as we have done so far and as we do with others. Little by little he will get to know himself better and we also, to get him to offer the performance like he did the other day."
"Ansu, Riqui and Araujo are three very different but very good guys who give us things and that we will use when we need them, as we have done so far."
"I have already congratulated him [Riqui Puig] for his good game, it was a shame he did not score and we will take him into account for the future. His journey is being good in terms of what I perceive and see, and if he deserves it and does like the other day, he will surely have more minutes."
Griezmann and Dembélé
"Griezmann can play more centrally or on the wing although we do not make him play in wing-wing. Although we started him there, he does not maintain that position because he breaks with runs and tends to go inward."
"Dembélé has the correct evolution from what we have been informed, although there is still a little time left before he can join the group's work."