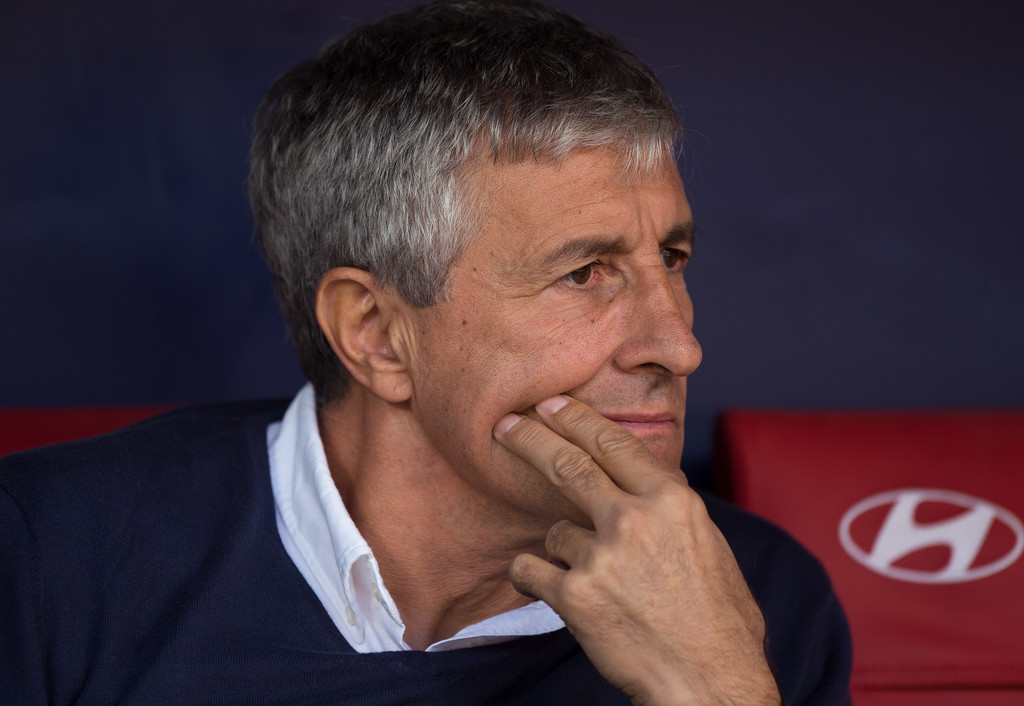 Ahead of the Barcelona game on the LaLiga return, Quique Setién held the press conference where he spoke about several topics.
This Friday afternoon, the Cantabrian coach Quique Setién, starred in the press conference before the match between Mallorca and Barça. Barcelona football returns and many of the continuing concerns ahead of the match were addressed by Setién.
Quique Setién began the press conference with a message to those most affected by the pandemic, before speaking about the state of his players, the games behind closed doors, the return of Suárez and Messi's shape, among other things.
"I want to send a message of solidarity to all the victims of the coronavirus and to those who are ill, I wish a speedy recovery."
On the shape of both teams
"If we are going to be Barça from before or Mallorca from before or a new Mallorca. We will be solving it. We are well, with motivation. We must demonstrate our intelligence," he said.
About Nélson Semedo, among physical discomforts and off the pitch behaviour
"I have not yet decided whether or not he will play. The decision I'll make will not be for this unfortunate or careless reason. I have spoken to him. It is a situation that will not affect me," he clarified after the news that pointed out that Semedo skipped the LaLiga health protocols.
"He [Semedo] was tremendously concerned, it's a mistake. He was not aware of the situation. I have spoken to him. He has apologized. It was simply a mistake."
About the players recovering from injury
Samuel Umtiti, who was injured after returning from confinement: "He is the only one who has not been training with the group. He has tried to be one hundred per cent fit. It's fine but, logically, he lacks rhythm. "
Luis Suárez, who after the surgery at the beginning of the year has already received the medical green light: "He is here to be a starter, but not to play for the complete match. He is fit, but it is logical that after five months, he will need some matches to find the best Luis Suárez."
On what can happen with the Champions League and the options to end the competition, as well as playing in Lisbon
"They are still assumptions, we will see if it is carried out. It would hurt us a little to play against Naples on a neutral field when they did it on theirs. But if so, we will accept it. In LaLiga, we depend on ourselves. It will be difficult for us to win all the points. The options are the same. And in Champions, the same ones, but we have the best in the world. "
The before and after of LaLiga
"I wouldn't know what to say. The break has gone well for us, the break to clarify things, to correct things … Of course, the rest of the teams have also been able to enjoy themselves. Mallorca may have done well too. They are hypotheses. "
Speaking of patience on the situation
"Ideally, we should all have patience. Nor do I claim it. This is the same situation that all teams will experience. We must demonstrate if we have worked. We have only played one training match, it is not much. It has nothing to do with a match against a team that will play at home. "
On Arthur after rumours about his future, in addition to his physical and mental state
"It is true that we have talked about the market somewhat but not too much. What is spoken now will affect the market. I am clear that those who are on the squad I count on them and I need them all because there are many games and I need their help. On the speculations, I do not enter."
"Arthur had a problem that has solved it well. Resting was good for him because of an ankle problem. He has returned well, he has trained well and he is like the rest. He is a great footballer. "
Play before Real Madrid
"You don't know how that influences, but given the choice, I prefer to play before. Waiting for the rival to lose. I prefer to play before."
"Pressure for Madrid? Can be. But we must see it on the go. You can go around this a lot. First is to win against Mallorca and maintain the advantage. "
On Lionel Messi and the fixed calendar of 11 games in 29 days
"He is perfectly well, and he trained rightly. He's very good."
"We will see what happen once we start. Messi and other players know how to measure their efforts. If there is any risk, he will be the first to say it. I trust the players, who control the inconvenience very well."
On the new five changes rule
"You don't know, it can be a problem. Perhaps there may be a problem. This is something that can be beneficial and also harmful. All arguments are valid. It is a new situation, we will see how it turns out."
Barça's improvements
"It is true, we must improve the build-up play. That has taken us time and hours of analysis and how to improve it and like other aspects that we have tried to improve, both in defence and attack. We have reviewed many things that have gone well and that we have had continuity."
"I wish all the messages arrived at the players. The amount of information we give them must be processed, it is a process of improvement. We try to help them and tell them the fundamental things, but there will be times that will come but in others, it will have to be repeated. "
On Barça B and the players who are in first-team dynamics
"There are six and seven players who have been training with us for days and will be with us until the B team trains to prepare for the promotion phase. They may have their opportunities. 23 players can be on the bench, except for Ousmane (Dembélé). There can always be opportunities for them."
The match between Mallorca and Barça at Son Moix will be on Saturday at 10:00 pm Spanish time.