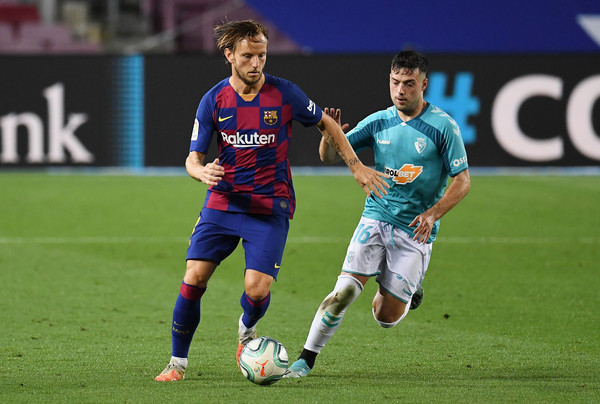 FC Barcelona midfielder Ivan Rakitic sat down with El País to discuss about the Champions League and his future at the club.
Question : Have you cleared your minds as Messi and Setién asked after falling in the League?
Rakitic : We are always a little in touch, but it was necessary to disconnect and rest. After confinement, things did not turn out the way we wanted; It was time to think of us, to improve many things. We must be very sincere because we have not done things as we should. You have to get up now. We have Napoli and it's up to us to play a great game and qualify.
Question : They will also have to overcome the defense, presumably of back five. Why is this defensive system choking?
Rakitic : Attacking is always more difficult than defending. And it is difficult to attack a team that is ordered behind and accumulates men to wait for the failure. You have to move the ball, be very precise, fine and play calmly and confidently. You have to play patiently as well.
Question : Do Barcelona lose the ball frequently?
Rakitic : No. But when there are many people in the rival area, you have to look for other ways. We have it clear. That and that we really like to attack, to be up. We are Barça and it is clear that we are going to leave spaces. But sometimes you also have to have a head. Think about what can happen next. We try to get the ball back as high as possible because with the people in front of us, we can do a lot of damage. Although we have to do it very together, very united, because at the minimum the teams attack us the same and we have to run 70-80 meters backwards. And so it gets complicated for us. So we must be aggressive, all together, smarter and sometimes make a mistake, that for a card nothing happens. Know that if you cannot reach the rival goal 20 or 30 times, with 10 or 15 it is better if you do not let them pass behind.
Question : Years ago you said that you make the runs for Messi on the pitch because he has earned it. Do you still stand by your words?
Rakitic : That does not change now or ever. But he and those above know that good advanced pressure is important, but that they also have to help us. They all have it clear. If we can't attack well, we must rest in our position, together, so they can't hurt us. And if we are strong in defense, in attack we will be better. There is no more winning player than Messi, he is our captain, he is ahead and we will work so that he can enjoy as much time as possible near the other goal.
Question : Although it seems that Setién's proposal still does not work. Is that so?
Rakitic : The coach arrived in January, straight to compete. Then we were locked up at home and back to compete. We must trust ourselves because we know what we have; be positive because what we have done we have done together, always. It is the same group as other years mixed with some new and young people who are rising. There is desire; It is not necessary to enter debates but to work well to teach it.
Question : Why has the arrival of Setién to the dressing room been so difficult?
Rakitic : I don't know. The results set everyone's spirits. And with the confinement we have not been able to have much contact, closeness. Both for them and for us. It's complicated and let's hope we connect more.
Question : Is it difficult to teach this dressing room, which has had such a clear idea of ​​the game for a long time?
Rakitic : Of course it is difficult. But if we take 100 coaches, they will all be different because of their idea, because of their treatment.Here, in a club like Barça, there are strong characters in the dressing room and it has to be that way. We have lived a lot and I think we do it for the benefit of the team.
Question : Did the dressing room understand the change of Setién for Valverde when they were leaders in the League?
Rakitic : Players do not put or take anything away. It is a decision of the board, of the president, and we have to adapt to ideas. In this club there is a lot of demand. I remember one of my first games with Barça when we won 5 or 6-0 at Granada and when we reached the mixed zone, the first question was: "What is it that you are not fine?" I understand!
Question : You, Piqué, Busquets, Suárez and even Messi are ageing..
Rakitic : This 30-something movement has been generated a bit, but they are players that anyone would want on their team. I can speak for myself, I take care of myself more than ever and I am better than ever.
Question : Is your work not valued so much because it is not so colorful?
Rakitic : When you don't see a game, you ask: "How have they looked?" And then: "Who has scored?" Not who has played well, who has saved a goal, who has made many interceptions.But the thing is that each one has their role. I would like to dribble like Messi or score Luis' goals but this is Barça and each one has its qualities. I'm here to help, to run, to contribute what I can in attack and defense.
Question : When you weren't playing, you said you were sad.
Rakitic : Anyone who knows me knows that what I want is to play. I have a lot of respect and I didn't want to put myself ahead of anyone or do something that could create a bad atmosphere in the group. That's important to me.
Question : Do you want to continue at Barça next year?
Rakitic : I have always said yes. I don't have to think otherwise.
Question : What do you think about Arthur's situation?
Rakitic : If you can't help for whatever reason, you'd better not be with us. If he or the club have decided that way, you have to accept it. It's a shame because he is a great player. But we must think about those of us who are here.
Question : Another mess in the locker room this year has been seen with the board, with the sports director (Eric Abidal) and even with Setién. Isn't it a lot of noise to compete?
Rakitic : Well, it has been seen that yes. But we must all learn because together we make Barça. The important thing is to go in the same direction, knowing that we will not all think the same. It is a club that is used to going up, winning, being even superior, and then you see that it costs, that it hurts more to lose. And that makes you think a lot. But sometimes arguing can be beneficial.
Question : If you win the Champions league it will seem that nothing has happened?
Rakitic : This works like this! It is a great opportunity and you can do a lot in a short time. It's like going to the World Cup with your country. We don't have to think about Lisbon yet but of Napoli. I am convinced that we are prepared. We are ready go all out.
Question : Can this team win the Champions League?
Rakitic : Of course we can win it.
Question : Are you calm, due to the pandemic, when travelling to Lisbon?
Rakitic : I would be lying if I say yes. It is not a pleasant situation. But let's hope nothing happens.